Last updated on December 7th, 2021 at 08:07 PM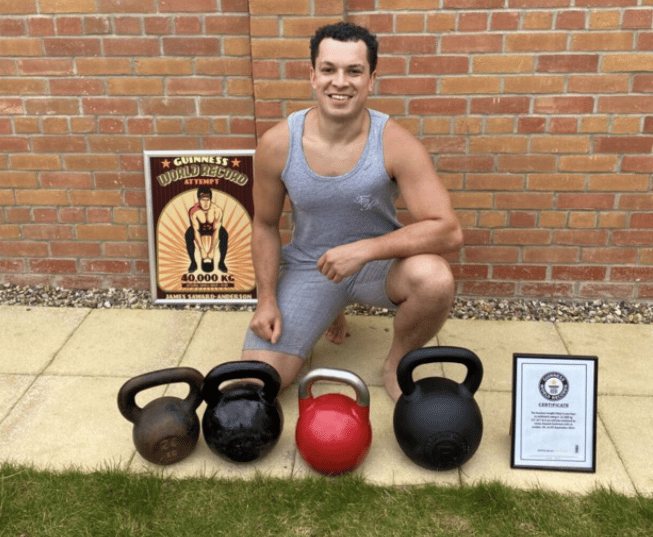 Suffolk-based entrepreneur, endurance athlete and new father, James Saward-Anderson will be attempting to lift over 40,000 kilos in under one hour using the Kettlebell Swing to raise vital funds for My Wish Charity and Great Ormond Street Hospitals.
The attempt will take place in Burt St Edmonds Leisure centre on March the 4th, 2022, and will be streamed across James' extensive network on LinkedIn as an influencer and social media agency co-founder of Social Tree Global)
The event will be streamed across all Social Tree Global's networks, with the plan to have 10,000 virtual attendees watching the attempt virtually.
Speaking about the challenge, James says: "This challenge will be the hardest physical feat I have ever come across. Lifting 40,000 kilos equates to over 2500 swings of a 16-kilo kettlebell or 1250 swings of a 32 kg kettlebell.
40,000 kilos is heavier than almost all cars and lorries we see on the roads today and weighs the same as a small commercial plane.
"I have been training for this challenge since March 2021 and have been subjecting myself to 6 days a week punishing sessions to prepare my body and mind."
"I would love to beat the world record and also raise £40,000 for two charities that are very close to my heart after my wife and I recently had a baby girl."
"The work of the staff at our local hospital was incredible, and I could not be more thankful to have them help us during a stressful time."
James is no stranger to extreme fitness events, and holds an 8-year world record for Kettlebell Swings and Squats in one hour:
He also has the record for fastest run from Canterbury to Rome in 58 days, which he completed with his business partner Max Hannah.
https://www.justgiving.com/fundraising/james-saward-anderson1