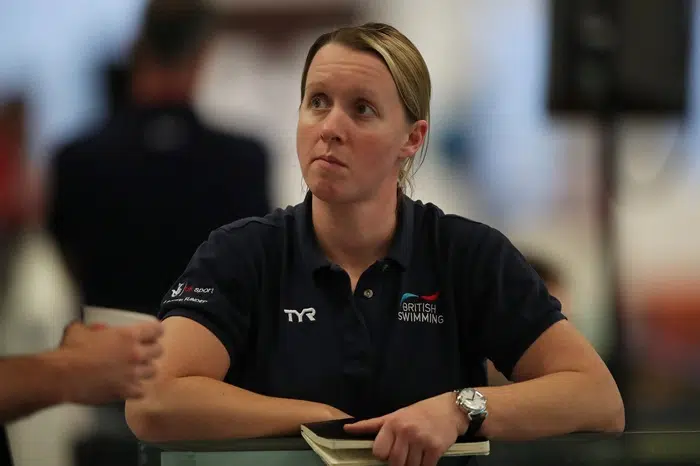 Officially beginning today is the second edition of UK Sport's ground-breaking female coaches leadership programme, which forms part of a plan to more than double representation in the Olympic and Paralympic high-performance community in the three years from Tokyo to Paris.
A new set of 24 promising female coaches from across 17 sports will work with a highly respected group of five coach leaders. The coach leaders include two graduates from the 2021 programme in Monica Greenwood (British Cycling) and Jen Leeming (British Diving).
Claire Morrison (Boccia UK) and Tracy Whittaker-Smith (Trampolining, British Gymnastics), who coached at their third and fifth Games respectively in Tokyo, will reprise their roles as coach leaders while former GB and England Hockey coach Karen Brown will once again act as a mentor to the 24 coaches.
Greenwood and Leeming's transition for the second edition of the programme demonstrates the progress that can be made within 12 months. They were part of a group of four participants from the 2021 cohort to have coached at the Tokyo Olympic and Paralympic Games alongside Leah Crane (Climbing) and Coral Nourrice (Athletics) while Jo Ryding (Alpine Skiing) is likely to attend the Beijing Winter Paralympic Games.
"I am really excited and honoured to be selected for the programme. I am looking forward to have the opportunity to learn and develop as a coach and person in different environments and from experienced and successful coaches."

Vanessa Ellis, GB women's basketball assistant coach and head coach for the Sheffield Hatters women's basketball team
The programme is designed to help some of the brightest female coaching talent from across sport to hone their skills. It also plays a critical role in demonstrating that coaching on the Olympic and Paralympic stage is a viable career for women. The new set of 24 coaches have been identified as having the potential to coach at the summer and winter Olympic and Paralympic Games from Paris 2024 and Milan-Cortina 2026 and beyond.
Each will be offered support and development opportunities, including observing their assigned coach leader in their environment, exploring three fundamental topics to career development – namely leadership, environment and transition – as well as continuously engaging in discussion and debate to consolidate their learning.
Five of the coach leaders from the first programme – Paula Dunn (Athletics), Jane Figueiredo (Diving), Kate Howey (Judo), Mel Marshall (Swimming) and Bex Milnes (Triathlon) – will act as inspirational figures for the 2021 cohort. The 24 coaches are:
Anita Richardson (athletics)
Lorraine Rose (fencing)
Catherine Walker (athletics)
Nicky Hunt (archery)
Zoe Brookes (gymnastics)
Vlada Priestman (archery)
Michelle Flemings (gymnastics)
Zoe Chasemore (shooting)
Emma Collings-Barnes (swimming)
Fern Cates (para-Nordic skiing)
Zoe Baker (swimming)
Sarah Young (cross-country skiing)
Rachel Draper (cycling)
Gwen Spurlock (surfing)
Emilie Chandler (equestrian)
Kimberley Murray (rowing)
Michelle Greenhall (climbing)
Jennifer Tong (weightlifting)
Rachel Carr (climbing)
Vanessa Ellis (basketball)
Helen Brown (rowing)
Emily Muskett (weightlifting)
Kathryn Hurrell (badminton)
Olga McGlinchey (wrestling)
Sally Munday, CEO at UK Sport, said: "After the success our inaugural female coaches leadership programme in 2021, I am delighted to welcome another strong cohort of hugely promising and talented coaches as it returns for another year.
"UK Sport is committed to powering a diverse and inclusive Olympic and Paralympic high-performance community.
This programme forms an integral part of our ambition to grow our thriving sporting system and deliver against our ambition to see far more women coaching at the pinnacle of their sports.
"The fact that coaches from last year's programme went on to coach at the Olympic and Paralympic Games in Tokyo, and that two of them are now leaders for the 2022 cohort, shows what a beneficial learning opportunity this is. The programme for this next cohort of 24 coaches is really exciting and I wish them all the very best."