Last updated on June 2nd, 2022 at 11:10 AM
Dance fitness has so many great benefits from conditioning the mind and body, to helping others recover from injury, illness and disease. But taking up dance fitness, especially in adulthood, can be daunting as many people don't think they have the skills.
I recently spoke with Ballet Fusion Founder, Rhea Sheedy, who has been trained in the Royal Academy of Dance syllabus and has over 15 years of experience teaching ballet, yoga and pilates.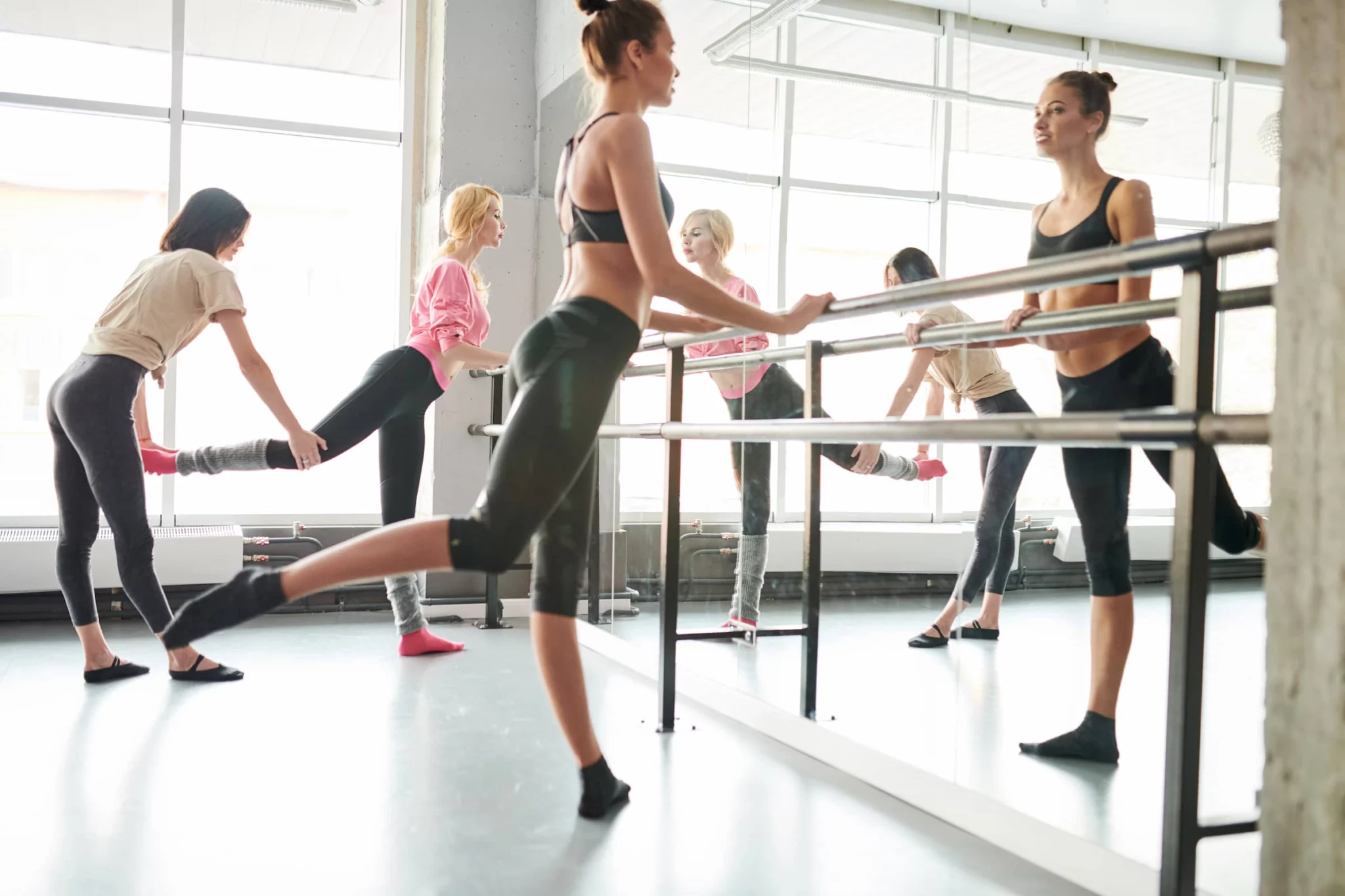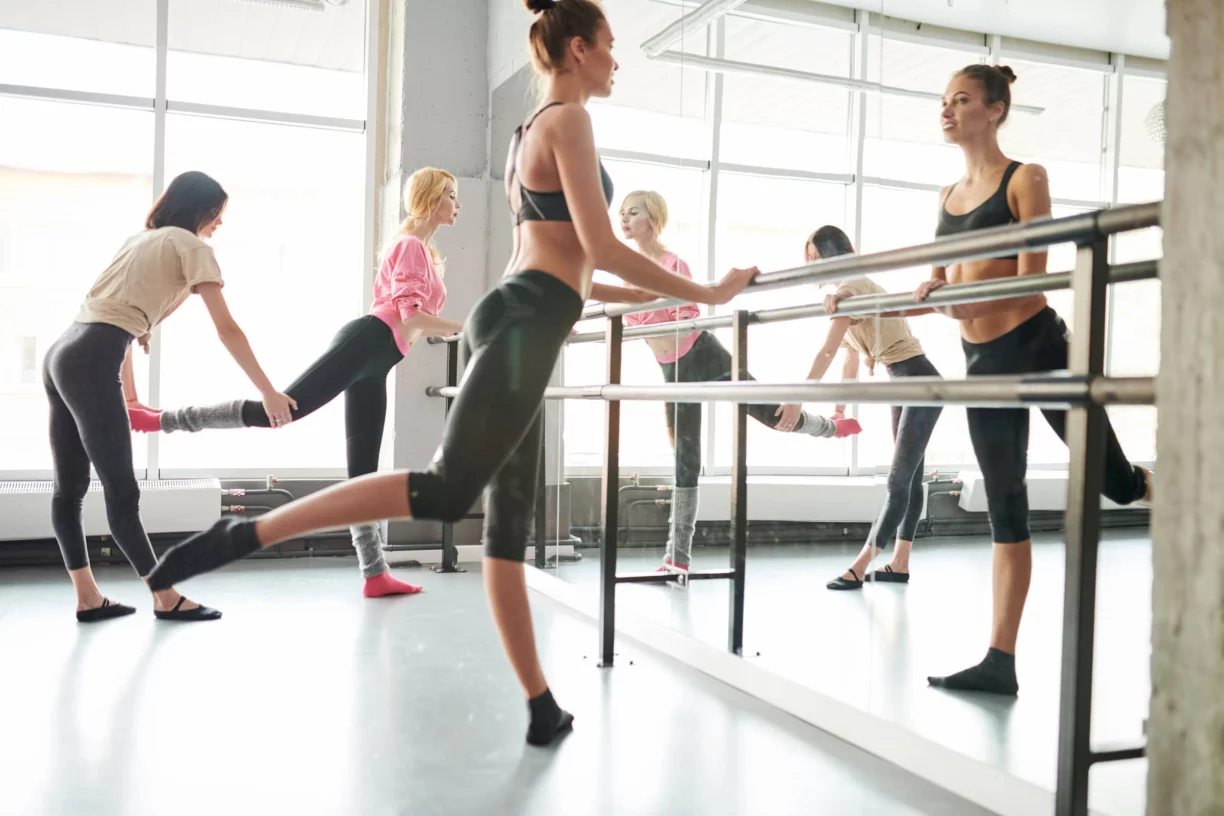 Are dance workouts suitable for beginners?
Most dance workouts are suitable for beginners. It can take a while to get into the groove of a dance class but remember, everyone will be at a different level and as long as you're having fun, how technically good you are doesn't really matter.
Do you need any special equipment to do dance workouts?
No, most popular dance workouts don't need any equipment. Some classes, like our ballet fitness workouts, will contain some floor work or may finish with a floor stretch – which requires a yoga mat or comfy flooring. But otherwise, you'll just need your body and your energy.
Is there anyone who shouldn't do dance workouts? (e.g. reduced mobility, people with certain injuries or have been advised to not exercise by medical professionals?)
It's important to be aware of any injuries you have and consider this when booking or joining a dance class. Be especially careful if you have any knee, ankle or hip injuries.
If you are unsure, check with the instructor before you start your class and make sure that you stop if you feel any pain or discomfort. We always tell people to listen to their bodies. Your body will tell you if something isn't right – don't ignore it. 
If you have been advised not to dance or do certain workouts due to a medical condition or injury, it's important that you follow this advice to prevent further injury or damage.
If you have reduced mobility, search online for dance classes that are adapted to suit different requirements. For example 'dance classes for wheelchair users' 'chair-based dance class,' 'gentle dance class' or 'over 50s ballet' – there are loads out there.
Sheedy went on to say, "Dance fitness can be picked up at any age – at Ballet Fusion, our eldest client is in her 80s! Regular, low-impact exercise can be life-changing as it's a crucial part of recovery for the body and mind and people are really starting to understand this. Exercise as medicine really is a thing and I think we'll just see this continue to grow."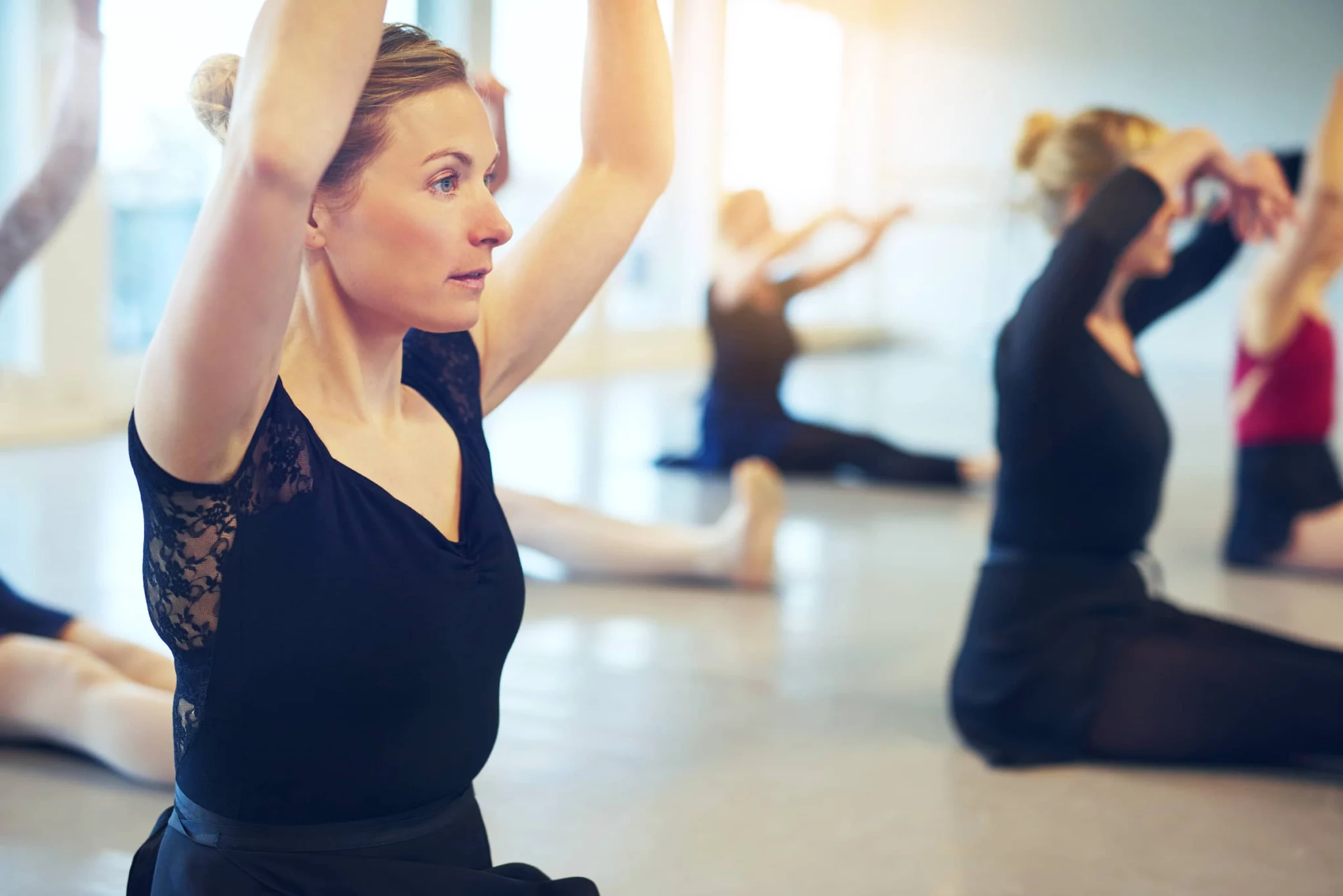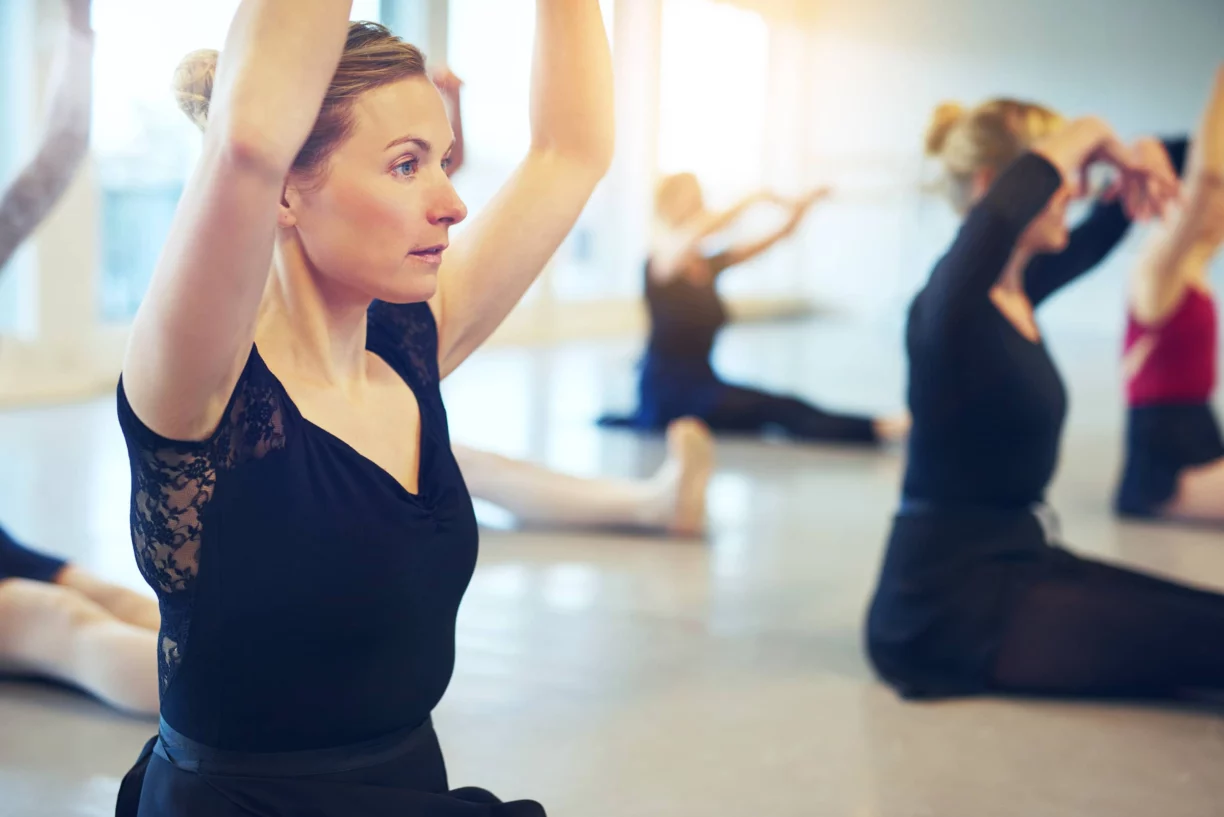 Her top eight tips for getting started with dance fitness are:
1. Find your rhythm
In its most basic form, dance is all about moving your body to a beat or rhythm whether that be the swing of the hips or the tap of the foot.
You need to feel the music move through your body and let go of all inhibitions In the comfort of your home, pop on your favourite playlist and try out a few basic steps to build up your confidence.
2. Don't overthink it
Dancing is meant to help lower your blood pressure, not raise it, so don't stress. Remember, even the most advanced dancers, all had to start somewhere and probably felt the nerves you're experiencing before their first class.
With dance fitness, it's not about being the best but rather moving your body and feeling good.  
3. Take a friend with you
Although you don't need a friend, it can definitely help to have power in numbers. Make a date out of it and enlist the support of a friend and who knows, they may just love it as much as you do!
And if you do have to venture into it solo, remember many people will be in the same position and you may even make some new friends.
Do some online research to find out the class that's right for you – Instagram is a great place to start. 
4. Take advantage of online classes
If you're still battling nerves, so many dance studios have online classes available as a result of Covid lockdowns. At Ballet Fusion, our website visitors have tripled since March 2020 and our enquiries continue to grow week by week.
We've gone from 100% of our clients being in the UK to up to 40% of them now coming from overseas – proving that this trend for at-home conditioning classes is a global phenomenon.
The majority of our clients are aged 25 to 44 but we also have a large percentage who sit in the 55 to 64 age bracket. I absolutely love this because this older age bracket can be more gym-averse but online classes mean they can go for it from home.
5. Try different classes
If you're figuring out how to start dancing, any class with a "beginner" prefix is a great starting point. The most liberating part about being new to something is that you're not restricted by any habits or boundaries.
Try all different styles of dance and focus on how your body feels and how you connect to the music. Floor Barre is one of our most popular classes because it's a cross between pilates and ballet.
No intimidating standing exercises and you don't need much room at all, but you get a real sculpting workout with the grace and fluidity of ballet movements. The best part is, that most studios offer free trials so you can try before you buy.
6. Wear clothes that give you freedom of movement
No matter what form of exercise you do, you need the right clothing for the job. To participate in most dance fitness classes, all you need is a comfortable pair of athletic clothes and shoes.
But all studios are different so it's best to check about studio-specific rules and regulations. For example, in our barre classes, we suggest participants bring along a pair of studio socks with special grips on the sole. 
7. Be patient and give yourself time
It's not unusual for new exercises to feel awkward when trying dance fitness classes for the first time. Rather than throw in the towel, position yourself to the side or back of the classroom and focus on having fun.
After a few classes, you'll get used to the methods and start feeling more comfortable with the moves, enabling you to enjoy yourself and the benefits the workout provides.
8. Wearing tech to class

So many of our clients come to class with their smartwatches now. It's brilliant to see them clock their step counts, calories burned and energy levels after class.
It's great to see the satisfaction on their faces and a tangible, bite-sized way to see progress is really motivating for everyone.
Benefits of dance workouts
Dance workouts are great for many different reasons:
They improve overall muscle strength: especially the legs, hips and core, which enables us to stay healthy, prevent osteoporosis, while reducing the chance of injury.
Great for coordination: It can be tricky at first but the more you do this, the easier it will become and your brain and body will become more coordinated over time. Working your cognitive functions to coordinate your body with music, will benefit your coordination in other areas of your life.
Improves posture: dance is amazing for improving and maintaining your posture. In adult ballet, we hold our core/abs strong and back straight whilst breathing through the exercises. Lifting the arms through the various positions allows us to create space in the spine. At the same time, we're building supporting back muscles and releasing tension from the build-up of bad positions (such as sitting at a desk). The bonus? Good posture reduces our risk of injury or long-term niggles.
Dance releases endorphins: it's been proven that dance releases more endorphins than other forms of aerobic exercise. More endorphins equal more positivity, better sleep, improved cognitive function, happier relationships and more contentment all around. Dance has also been shown to reduce cortisol levels which results in lower stress levels!
Great for expression: dance is a wonderful, expressive form of exercise. Through our movements, we can really feel the music and enjoy its nuances. You can use dance to emote feelings, release stress, enjoy the freedom of movement and really express your mood.
Dance is a great confidence booster: Getting through concerns of trying a new class and focusing on enjoying it, the people and movements is a great self-confidence booster. As you continue with classes you will get to know your body and what it's capable of. You'll surprise yourself with your ability, strength and coordination and your confidence in class will improve.
Combining barre work, flexibility, strength and centre-work, Ballet Fusion is a unique workout that is built upon traditional ballet techniques with elements of pilates, yoga and fitness to shape, tone, strengthen and flex for a happier body and mind. There are over 20 different online and in-studio classes to choose from.
Ballet Fusion's clothing line launched in 2022 and is designed for women, by women. All nine pieces are super-soft, smooth and designed to ensure maximum comfort, confidence and style.