Last updated on November 16th, 2021 at 03:30 PM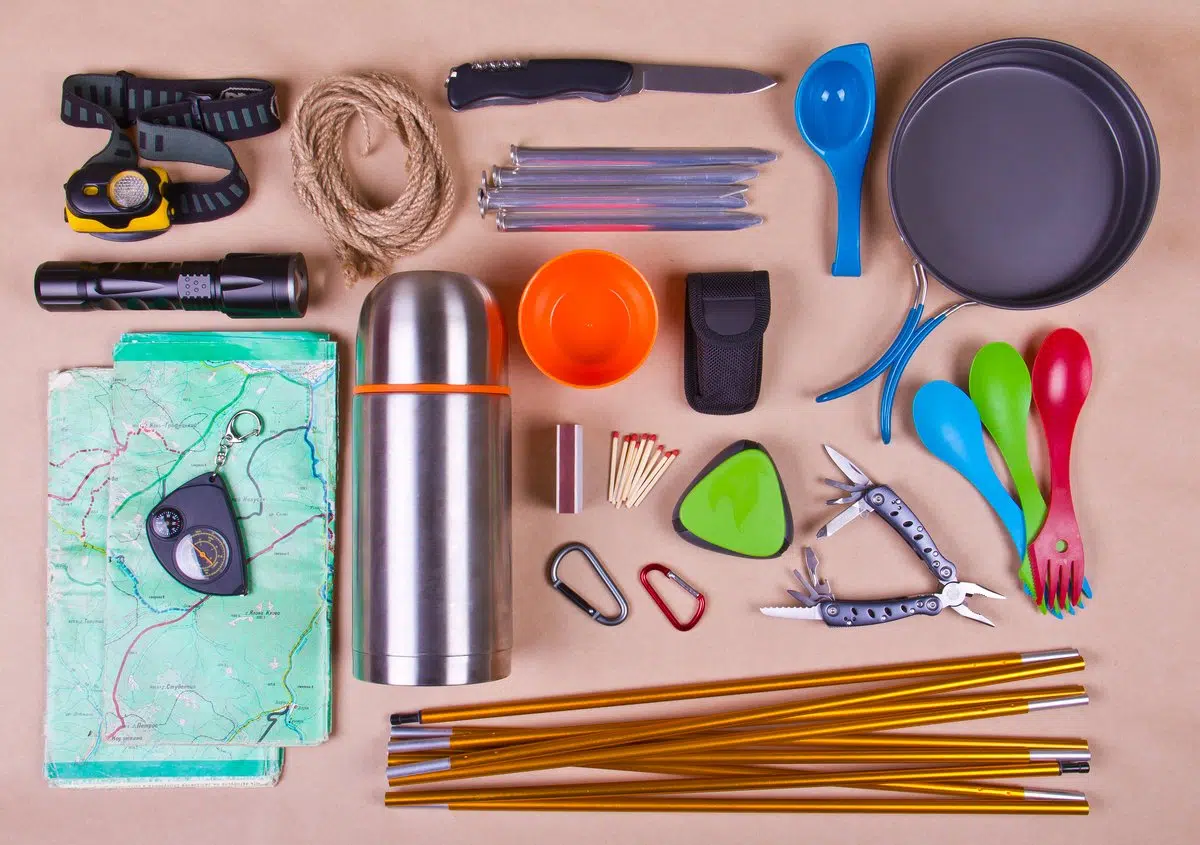 When we pack up a bag and head off the trail, we get to experience nature the way it was meant to be — pure, unspoiled and awe-inspiring.
At the same time, going off-grid means limiting access to things like medical care, emergency services, food and water.
But, like anything in life, backpacking is a game of preparation. If you've got the right safety gear — and the right knowledge — you'll be in for the experience of a lifetime.
Here's everything you need to do, know and pack before heading out for a long backpacking journey.
What to Do Before a Backpacking Trip
Thankfully, backpacking fatalities are not common. But that doesn't mean that your risk is zero.
There are many threats you'll face on your journey, including potentially dangerous wildlife, foul weather, rough terrain and a lack of food or water.
But if you master the art of hiking preparation before you head out, you'll be in a much better position to handle these threats, should they arise, like a champ. 
Order the essentials. At least two weeks beforehand, make sure you order essentials such as your medical ID bracelet and anything you can't get at your local outdoors store. If you have an allergy or disability, consider wearing something that makes that known. For example, many people wear allergy bracelets to alert emergency responders of potentially life-threatening allergies should they become non-responsive.
Study the area. Knowing the area is key to ensuring that you get where you want to go and find your way back safely. Study the map beforehand and create a plan. It's important that you stick to that plan so that rescuers can find you in the event of an emergency.
Bone up on first aid. Remember: When you head out into the backcountry, you're forfeiting all access to basic emergency services, so you are your own doctor or EMT. Before you leave, make sure you know the basics of first aid, including how to clean wounds and get yourself to safety in the event of a serious injury.
Let someone know where you're going. This is absolutely essential. Make sure that you give at least one person back home a detailed itinerary, complete with specific locations of where you plan to be, so that you're easy to locate if a rescue scenario is necessary. Send it in e-mail form to several recipients so they know exactly where you are. 
Backpacking Trip Checklist
Here's a general list covering what to pack for a backpacking trip. While this list can serve as a great reference or starting point, you need to tailor it to your unique environment, needs and, most importantly, the season.
Of course, if you're hiking to higher elevations or during the cooler months, you'll need to prepare by packing more layers.
Wet climates will require full-body rain gear and possibly a groundcover, such as a tarp. With that said, the following items are a great starting point.
Water, including a water bottle, filter or purifier tablets.
Full meals, including packaged dinners, canned goods and dried goods.
Small mess kit with plate, bowl, cup and silverware.
Ultralight burner or backpacking stove with fuel.
Coffee and small coffee maker. Pour-over coffee makers are great for camping.
Snacks, especially compact but calorically dense bars, trail mix, gels, etc.
Tent with a mesh screen to keep out bugs.
A tent ground cover, such as a small tarp, especially during wet seasons.
Tent repair and patch kit.
Sleeping bag and pad, preferably ultralight to save weight.
Moisture-wicking layers, including base layer, mid-layer and shell.
A headlamp and flashlight (trust us, you'll want both) and backup batteries.
A multitool with a sharp knife, scissors and basic tools.
Raincoat, preferably one that's lightweight and packable.
Hat, especially a knit hat in the winter and a sun hat in the summer.
Gloves, including warm or waterproof gloves depending on the season.
Hiking boots. Make sure to test and fully break-in boots before you leave.
Comfortable socks. Pack at least two pairs so you have a backup if yours get wet.
A complete first aid kit plus over-the-counter and prescription medications.
Sunglasses and a visor or hat that blocks out glare.
A solar-powered charger for your phone, camera, etc.
Handheld GPS unit and backup batteries or solar-powered charger.
A compass and the map area downloaded on your phone.
Storm-proof matches and fire starter.
Emergency alerts, such as flares or an emergency whistle.
Emergency radio, preferably a solar power or hand-crank style.
An emergency bracelet with your name, medical info and emergency contacts.
Toothpaste and toothbrush. Consider packing toothpaste powder, as it's more compact.
Feminine products. A menstrual cup can help save space and eliminate waste.
Toilet paper, baby wipes and an entrenching tool for burying waste.
Sun protection, including sunscreen, neck gaiter, sun hat and SPF lip balm.
Bug spray and a bug net for sleeping.
Duct tape, carabiners and bungee cords.
A small amount of cash and a credit card.
Staying Safe On (Or Off) the Trail
Backpacking is an activity that forces us to open up our eyes, ears and hearts so we can take in everything around us.
The tradeoff is that it is one that puts normal comforts, including emergency care, out of reach.
The last thing you want is to put yourself in danger or face an emergency scenario, but as long as you follow the above tips and pack the right gear, you'll be in a safe position to see the most spectacular natural sights without issue.