Last updated on April 5th, 2023 at 05:29 PM
When it comes to holidays, Brits are combining wanderlust with wellness, as new research reveals 7 in 10 (70%) are prioritising healthy habits, with 50% even using holidays as a way to kick-start a new self-care routine.
New research by Hilton* reveals that nearly half (47%) of Brits find being away gives them more time to focus on their mental and physical wellness compared to when at home.
In fact, holidaymakers who said they do a workout on holiday said they spend an average of 49 minutes exercising per session each day of their holiday.
Some Brits are even intentionally looking for a more adventurous getaway, with 37% more likely to opt into activities than sip cocktails and 31% more likely to prioritise an activity that supports their wellbeing than lay on a sunbed.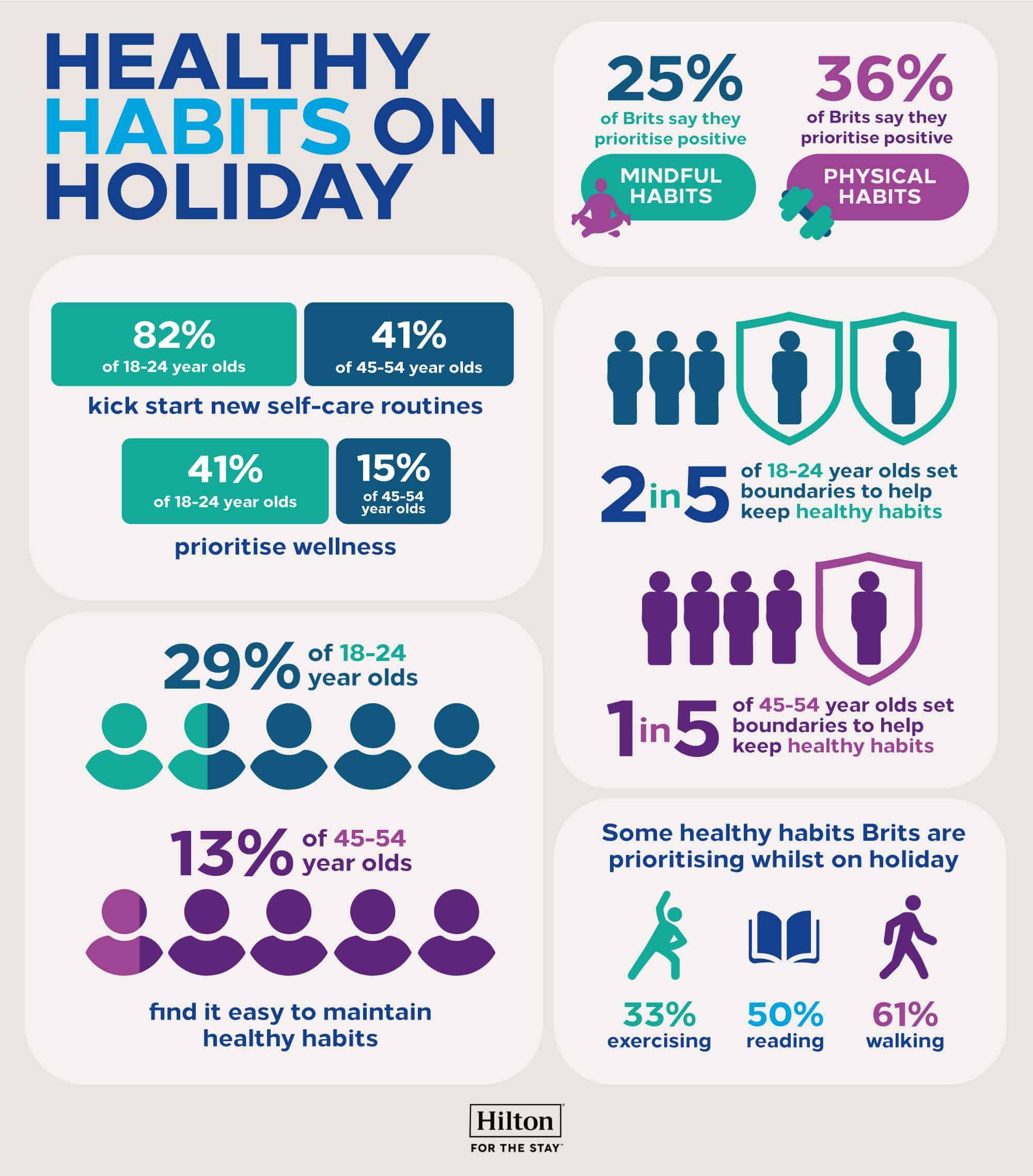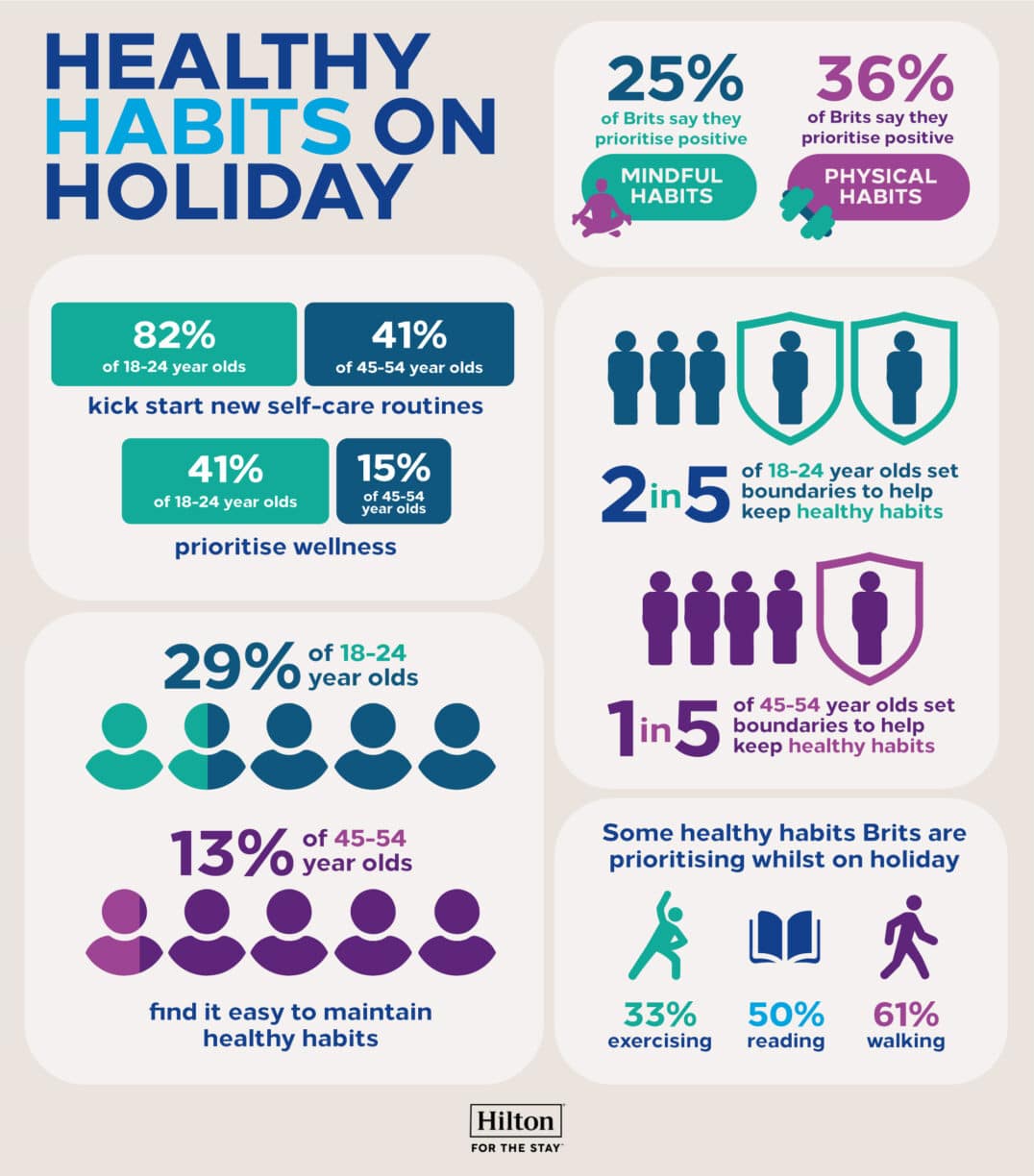 As Brits look to swap self-indulgence with self-care, healthy habits such as walking (61%), reading a book (50%), exercising (33%) and swimming (31%) top the list of activities to maintain or upkeep on holiday.
To help Brits kick start their healthy habits when away from home, Hilton has expanded its industry-first partnership with Peloton offering Peloton Bikes to hotels across the UK, Germany and Puerto Rico, and participating properties in Canada.
Holidaymakers can start to enjoy access to Peloton Bikes across Hilton's family of brands from early June 2023 – from Waldorf Astoria to Hampton by Hilton.
With Hilton's research revealing almost a quarter of Brits (23%) prioritise exercise facilities when looking at where to stay, the hotel company's new partnership with Peloton will help meet this guest need.
Following a successful rollout in the US, there will be at least one Bike in every fitness centre in each participating Hilton hotel in the newly announced markets.
However, not all Brits find it as easy to keep wellness front of mind – while the majority (87%) leave home with the intention of maintaining at least some healthy habits when away, 14% find it difficult to stick to them. Among this group, the most cited reason for struggling was not being in their everyday routine (74%), and 31% state that not having the equipment needed is a barrier.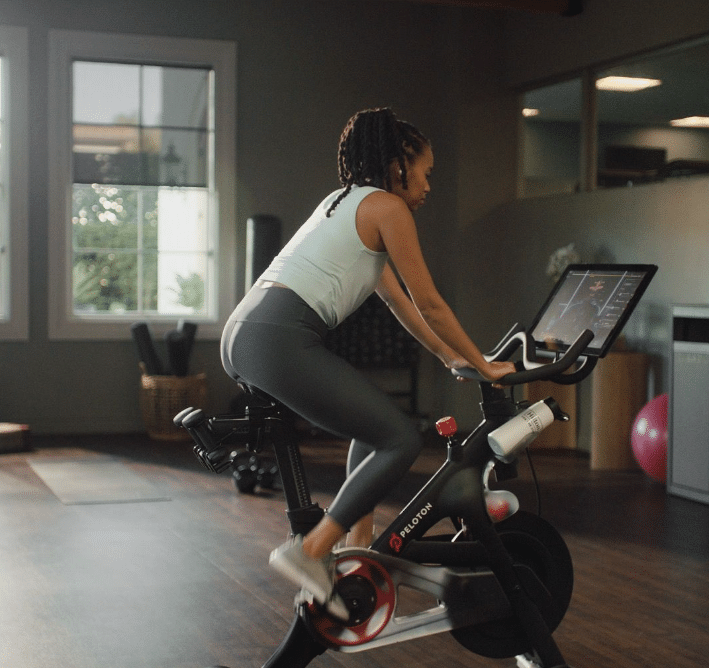 The research also indicated the top five tactics that can help Brits stick to their wellness routine:
Making a plan of what to prioritise before leaving for holiday (30%)
Setting time aside each day (29%)
Focusing on smaller habits (28%)
Setting boundaries for more mindful choices (25%)
Making a daily to-do list (22%)
Amanda Al-Masri, Vice President of Wellness at Hilton, said: "Wellness can be an influential factor when it comes to holiday choices for some travellers – even when people are away, they don't want to break their routine or healthy habits.
Expanding our industry-first partnership with Peloton allows us to offer an elevated wellness experience, whether guests are starting a fitness routine or are looking to maintain the habits they keep at home."
"We are constantly innovating to meet our Peloton Members and prospective Members where they are," said Daniel Sprung, Senior Director International, Partnerships and Commercial, Peloton.
"Expanding access to our Peloton Bike and extensive content, in partnership with Hilton, was a natural next step for our business. Those unfamiliar with our platform can engage with Peloton for the first time while at a Hilton property, and our existing, loyal Members are able to continue their routines on the go."
Travellers staying in Hilton hotels across the UK, Germany, Canada and Puerto Rico will have access to Peloton's world-class instructors through its connected fitness content, allowing them to seamlessly integrate wellness into their stay experience.
Hilton Honors members who are first-time Peloton users residing in Canada, Germany or the UK can also receive a 90-day free trial of the Peloton App until 4th July 2023, which offers thousands of live and on-demand streaming classes, with no equipment needed. Preferred pricing on select Peloton-connected fitness products will also be available for any Hilton Honors member in these three markets during the same 90-day period.
For more information, or to book a stay, visit hilton.com/pelotonuk. To join the Hilton Peloton community, use #HiltonRidesTogether during your workout.
Bradley Rose's Top five tips for staying motivated on holiday
Make a plan – You know the phrase: fail to prepare, prepare to fail. And staying motivated on holiday is made that much easier if you make a plan before you arrive. If you already have a rough itinerary for the trip, think about when you can build in your exercise. Depending on where I am I'll adapt my training accordingly. Maybe wake up an hour earlier than everyone else to fit in some self-care or spend a little less time getting ready for dinner so you can enjoy a swim in the hotel pool.
Choose your location carefully – When planning your trip, try to visit a location with ample activity-based things to do, or choose a hotel that has a quality hotel gym and the equipment you need to make it easy to workout. Hilton has recently partnered with Peloton to bring Peloton Bikes into all hotels in the UK, making it straightforward to take your routine with you when travelling.
Build it into your day: Think about staying active as something to look forward to rather than a chore – in order to do this, try and build it into the activities you're already doing. Going on an all-day excursion in the mountains? See if there's anywhere you can hike. Open-top bus tour of the city? Scrap it and opt for a walking tour instead. Part of going to a new city or area is getting out and about and I like to go for a run or a walk. It's enjoyable because you get to see things from a different vantage point and you're staying active at the same time. Something short, something accessible just to move the body when I'm on holiday is a great release for me mentally and physically.
Connect with others: If you're on holiday with your family, a friend or a partner, get them to join you for a workout, which always makes everything way more fun. If you can't rope anyone in, think about a guided workout whether that's using a Peloton Bike or App to connect with the global community – having someone there virtually to guide you or do the workout with you is great for motivation, but also means you don't have to think about your workout structure or timings.
Be flexible – When I'm travelling, whether it's for holiday or for work, the first thing I'm focussed on is not being too hard on myself. It's unlikely you'll be able to keep up your full workout routine on holiday, so give yourself grace and remember to set realistic goals of what you can achieve each day. If you only meet 50% of your normal exercise routine – that's a success, a little goes a long way even if it's just ten or twenty minutes.