Last updated on March 30th, 2022 at 05:26 PM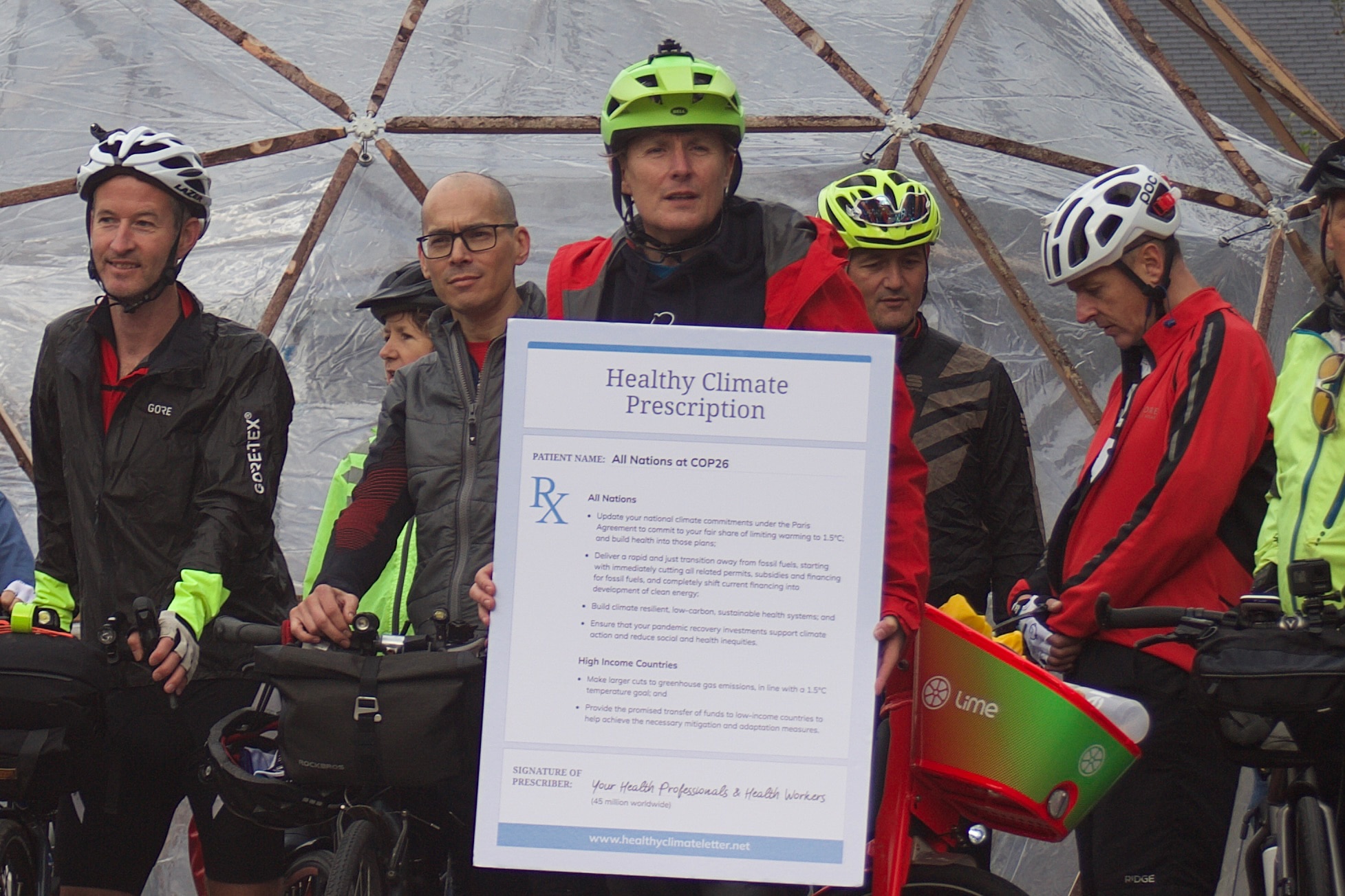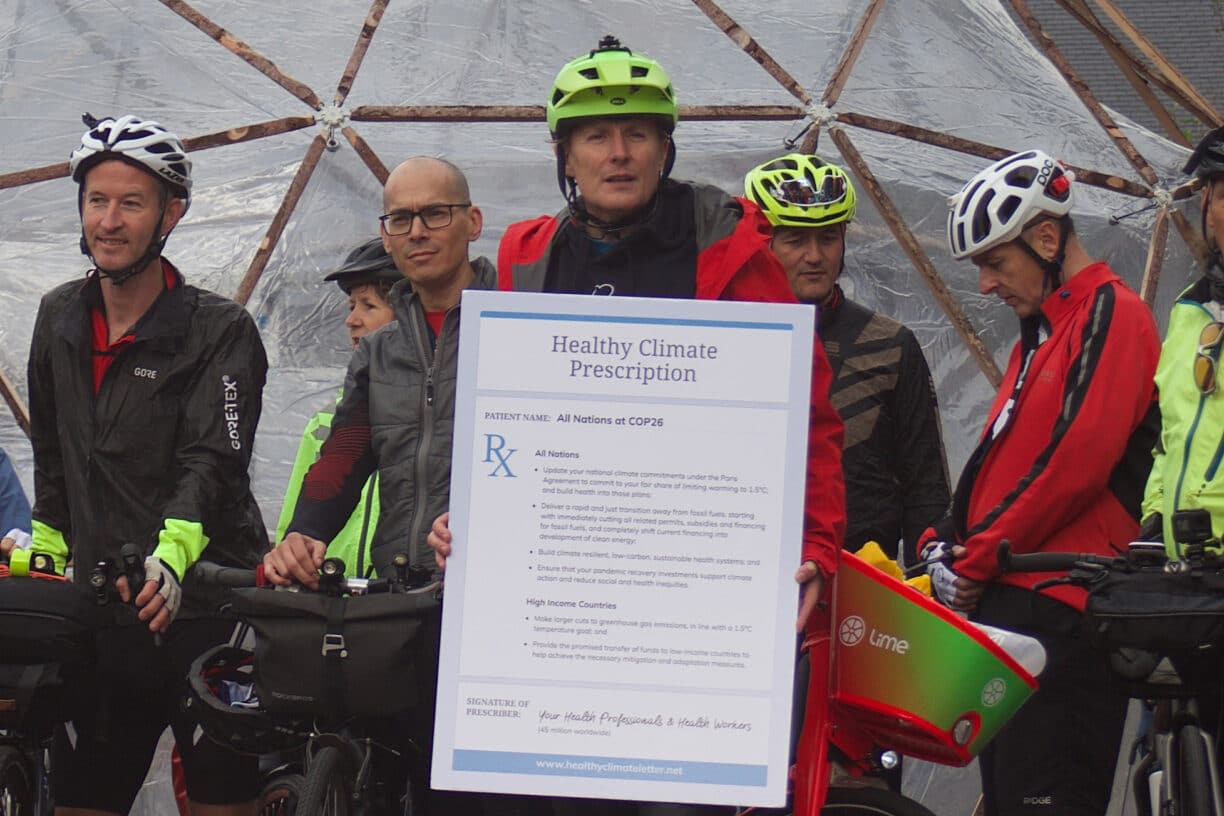 Today, 39 children's hospital staff and health leaders complete an 800km bike ride carrying an open letter from 45 million health professionals.
Their mission is to raise awareness of how air pollution and climate change are causing illness and death, especially in children – and demand world leaders act now.
They will be welcomed by a senior representative of COP26 as they arrive in Glasgow.
The Healthy Climate Prescription letter, signed by organisations representing 45 million health professionals around the world, says: "The climate crisis is the single biggest health threat facing humanity", with air pollution at the top of the list of deadly impacts. It calls for a rapid and just transition away from fossil fuels, the cause of both problems.
The cyclists have carried it from London, along with the World Health Organization's (WHO) COP26 Special Report on Climate Change and Health, which starts with air pollution.
The riders and the Pollution Pods will be welcomed to Glasgow by a senior member of the COP High-Level Champions for Climate Action team, along with John Brown, Chair of the Glasgow Health Board.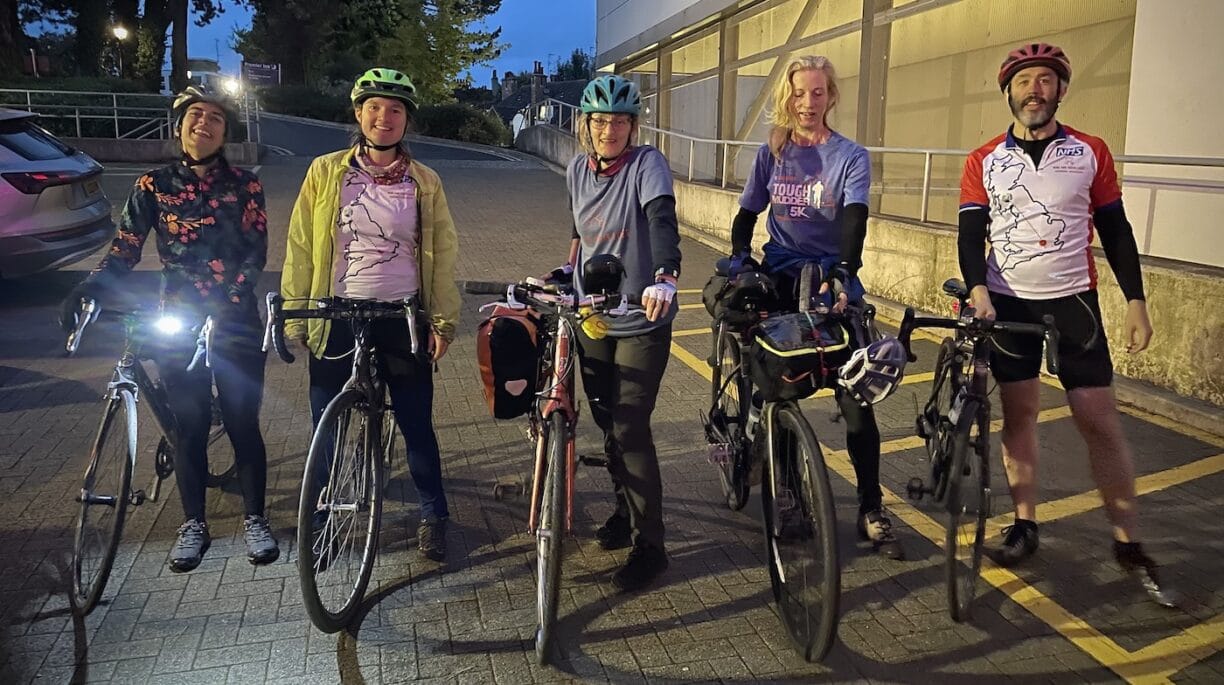 The documents' journey started with Diarmind Campbell-Lendrum, Dr. Diarmid Campbell-Lendrum, WHO's Head of Climate Change and Health who cycled from Geneva to London.
He then handed the letter and report to Dr. Finella Craig, palliative care consultant at Great Ormond Street Hospital for Children.
And they are now carried for the final leg of the 800km journey, by 18-year-old Toby Hancock, a patient at Great Ormond Street Hospital and vice-chair of GOSH's Young People's Forum. 
The ride was organised by children's healthcare providers because they know children are worst affected by air pollution and the climate crisis.
Zeshan Rawn, senior information manager for the London Neonatal Network and the Evelina London Children's Hospital, said: "The warmth of the public's response has been overwhelming, we've approached people, and they have stopped us to talk about the ride and even cycled along with us.
Many of them know friends and relations working in healthcare, or children with health conditions affected by air quality, and are asking why this hasn't happened sooner. This is only the beginning.
I hope to see more bike rides organised around air pollution and other aspects of climate change, not just country-wide but across the world.
If world leaders don't want to read the letters we're delivering or listen to the scientists, I say spend a day cycling around your cities and your rural areas.
If you don't think air pollution is a serious problem after that, I'd be fascinated to know why."
Catriona Mellor, a child, and adolescent psychiatrist at Oxford Health NHS Foundation Trust said: "One of the best things about this ride has been speaking with different professionals – working in mental health, acute medicine, occupational therapy, physiotherapy – all thinking about the same issue which is how to improve our children's future with a focus on the climate crisis and air pollution.
Ride for their Lives is uniting people who wouldn't normally work together behind a common cause, and laying foundations for future collaborations.
There's a role for everyone, together we can do things we thought were impossible, and no one should get left behind." 
Tom Clark, CEO of Climate Acceptance Studios which brought the pods and the ride together, said: "A study by neuroscientist Kris de Meyer shows the best way to inspire climate action is through action.
By cycling this epic journey from London to Glasgow these heroic riders are showing their fellow healthcare providers, the public and COP26 that action is possible.
By bringing the Pollution Pods along with the riders, healthcare providers can bodily experience the effect of air pollution first hand.
We hope to combine the riders' action and this experience to bring about real change on the air quality crisis."
The riders are self-organised, have self-funded their participation, and are now inspiring worldwide support.
A global Ride for their Lives has reached cyclists from countries around the world, with child and adult healthcare providers, as well as the public, pledging their distance in October. 
More than 1,370 people around the world have already joined the ride remotely from countries including Chile, Australia, Singapore, United States, South Africa and more with 750,000km cycled in support of Ride for their Lives.
Health leaders on the ride include Matthew Shaw, chief executive of Great Ormond Street Hospital, Fiona Godlee, editor in chief of the BMJ, and Richard Smith, chair of UK Health Alliance on Climate Change. 
They are joined by doctors, nurses, anaesthetists, occupational therapists, electricians, sustainability officers and other children's hospital staff.