Last updated on May 3rd, 2022 at 04:08 PM
The official Healthspan Elite CurraNZ® product, used by the internationally revered team, has just launched as part of the UK company's new supplement range in New Zealand, the United Kingdom and Ireland.
Health Currancy, which manufactures and distributes the award-winning proprietary New Zealand Blackcurrant anthocyanin extract, CurraNZ, launched in the UK in 2014 and New Zealand in 2017.
Sports Nutrition Product of the Year USA, Europe, and Asia 2020/2021, CurraNZ has been the subject of over 30 peer-reviewed published studies for health and sport across a ten-year research program.
The Healthspan Elite range provides first-ever insight into the tried-and-tested supplement regime of the indomitable team that is renowned for delivering repeated success on the big stage.
Described by All Blacks Performance Nutritionist Katrina Darry as 'one of the tools in their performance toolbox,' the Healthspan Elite CurraNZ supplement is a home-grown supplement used by the New Zealand team for training and competition.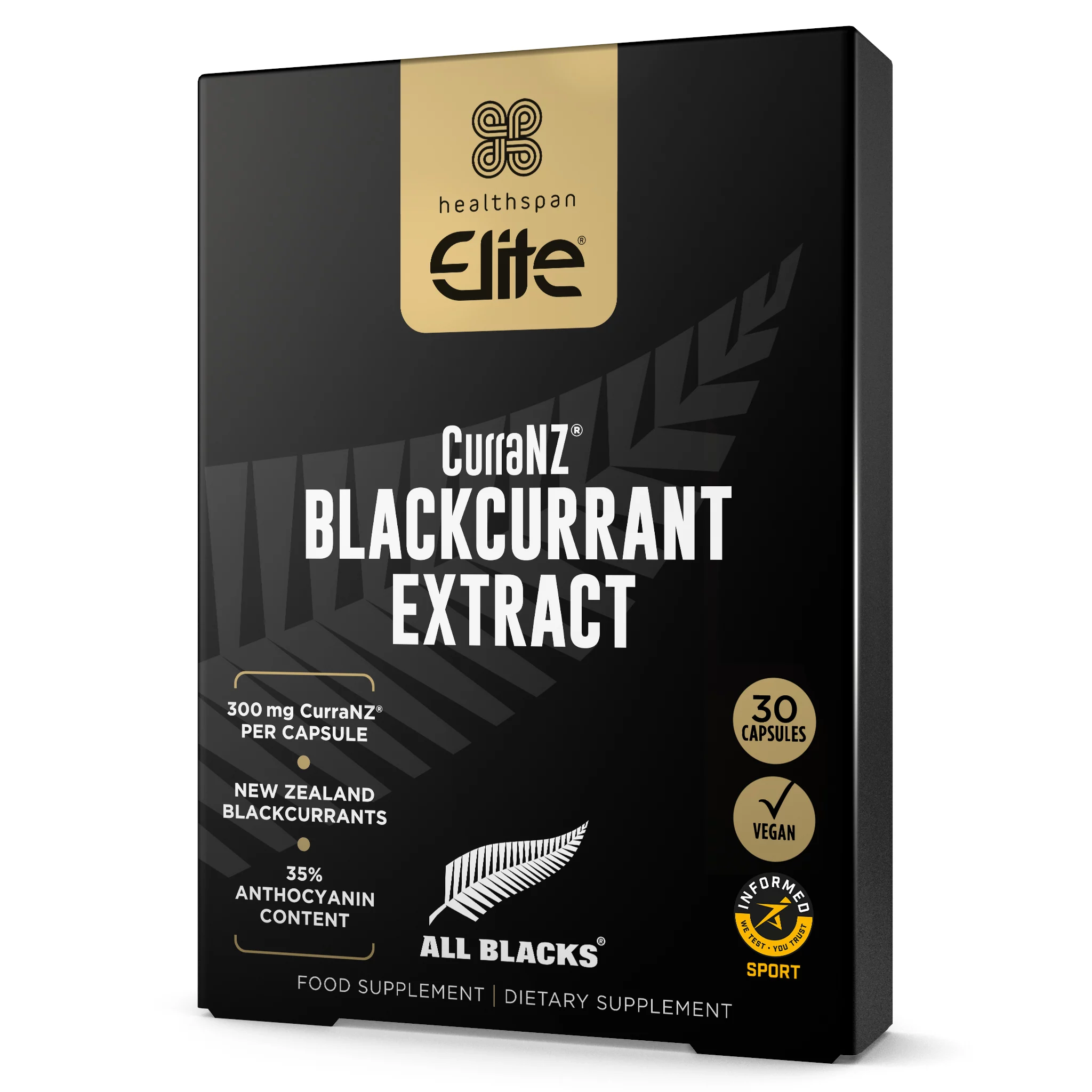 Darry, Performance Nutritionist to the All Blacks since 2008, says: "We started using CurraNZ a couple of years ago when the research was building pace around New Zealand-grown blackcurrants and their ability to help with vasodilation, so it allows individuals to train longer than what would be anticipated.
"There's growing research around its ability to burn more fat while training and conserve carbohydrate, which potentially helps reduce the build-up of lactic acid and resulting fatigue.
"The polyphenolic properties of blackcurrants support our food-first nutrition strategy and they also have a role in muscle recovery.
"So, there are a number of variables that CurraNZ can assist with – and we've had good feedback from players around its use."
Health Currancy Founder, Fleur Cushman, says: "I'm absolutely delighted to see the official Healthspan Elite All Blacks supplement, using our award-winning CurraNZ blackcurrant extract, launching across the wider consumer and elite sports market in Ireland, the UK, and New Zealand.
"We are amongst a few select New Zealand brands that Healthspan has collaborated within this impressive new range, which has been created for all consumers, not just the elite sports market.
It is fantastic to bring a uniquely 'Kiwi factor' to the party, being a recent ingredient discovery in sports nutrition.  
"CurraNZ is a 'small but mighty' product that dietetically captures the best that New Zealand blackcurrants have to offer in a consumer-friendly, dose-controlled format.
The evidence from our ten-year research program speaks for itself – and we haven't stopped yet, with more compelling studies on the way.
"I am hugely proud that the All Blacks use Healthspan Elite's CurraNZ supplement, which is helping to power this internationally revered team with a uniquely New Zealand product. "
CurraNZ® is made from a 35% New Zealand blackcurrant anthocyanin extract formulation, characterized by Enzans™, key identifiers of the high-potency bioactives that deliver the supplement's evidence-based properties.
30 capsules of the official Healthspan Elite All Blacks supplement, containing 300mg (105mg anthocyanin) of CurraNZ blackcurrant extract, retails for £24.99/Euro29.99 and is certified by Informed-Sport.