Last updated on August 8th, 2022 at 08:42 PM
Are you running a marathon this year in the hopes of shredding a six-pack, proving to yourself that you aren't a total couch potato, or simply courting those dopamine-inducing 'likes' on social media?
If so (and no judgement if it's the latter), you're probably planning on spending an inordinate amount of hours pounding the pavements over the next few months.
But aside from bags of stamina and a solid game plan – one that's a bit more detailed than simply avoiding second helpings of roast potatoes – what you really need to get your training off the ground is a decent pair of running shoes.
A good pair of kicks can support you through the toughest miles and keep your feet protected from bruises and blisters during long runs (as well as help prevent knee and hip injuries), so finding the right ones for you is a pretty big deal.
And, as an added bonus, who doesn't love unwrapping a box-fresh pair of trainers during the gloomiest month of the year?
With that in mind, we asked running experts for their tips on how to sift through the mountains of sports shoes on offer and find the best pair for you.
How can I tell when my shoes are ready for replacing?
Running trainers are sentimental things. You tend to spend a lot of time in them, and saying goodbye to a pair you've broken personal bests in can be difficult.
So how do you know when the bin is calling? "You should be looking to replace your shoes every 300-500 miles, depending on your gait," says Simon Callaway, technical representative coordinator at Saucony.
Your foot strike will make a big difference to how quickly you whittle down the rubber. "Runners who are light on their feet and use the whole of the sole rather than hotspots will get more mileage out of the shoe," says Jenny Blizard, a physio speaking on behalf of Simplyhealth.
If you're unsure, Simon says the longevity of your shoes is best assessed at a running speciality store, where the staff are specially trained and know when a shoe is ready to be replaced.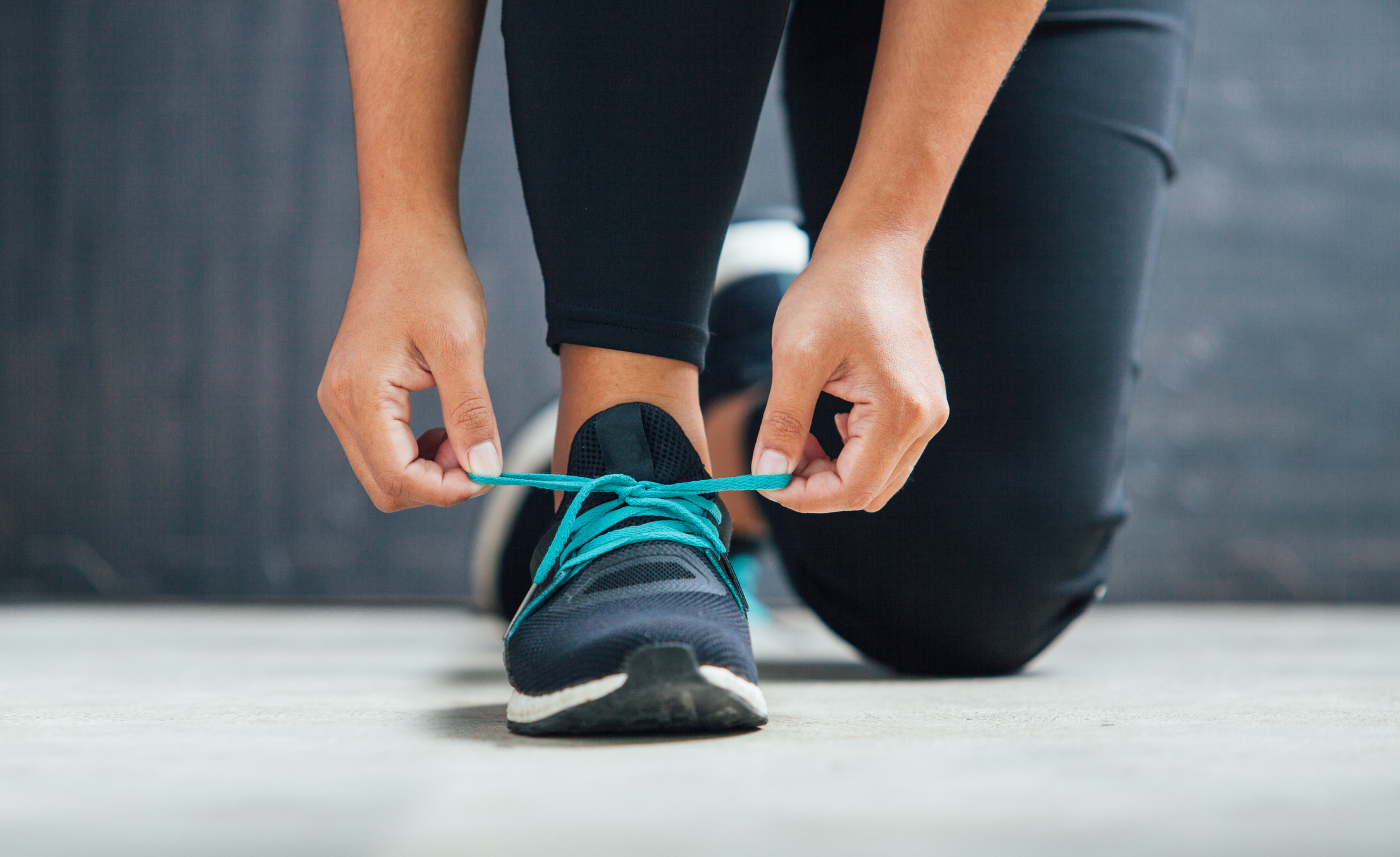 So what other red flags can you look out for? "Check the midsole for signs of compression, you will see wrinkles appearing when the shoes have hit the 400-mile mark, and when the material has become squashed beyond repair, it will feel hard when you try and prod it," says Jenny.
As a general rule, you should also still be able to spring the forefoot of your trainer back to its original shape. "If you hold your shoe at the back and lift the forefoot, there should be a slapping sound if the shoe is still effective," Jenny explains. "Also, check if the tread on the outer sole has become smooth in places – this is usually a sign to upgrade."
Don't be drawn in by fashion…
… or trends on Instagram. Sure, that neon pair with the ultra-thin soul might look great in photos, but they won't be so appealing when they leave you with blisters.
"It sounds silly, but make sure the shoes you're looking at are designed specifically for running," says Simon. "There are many trainers out there that look great, but are not necessarily right for the job."
Do your research online beforehand and make sure you head to a speciality running store, rather than a sports-fashion retailer.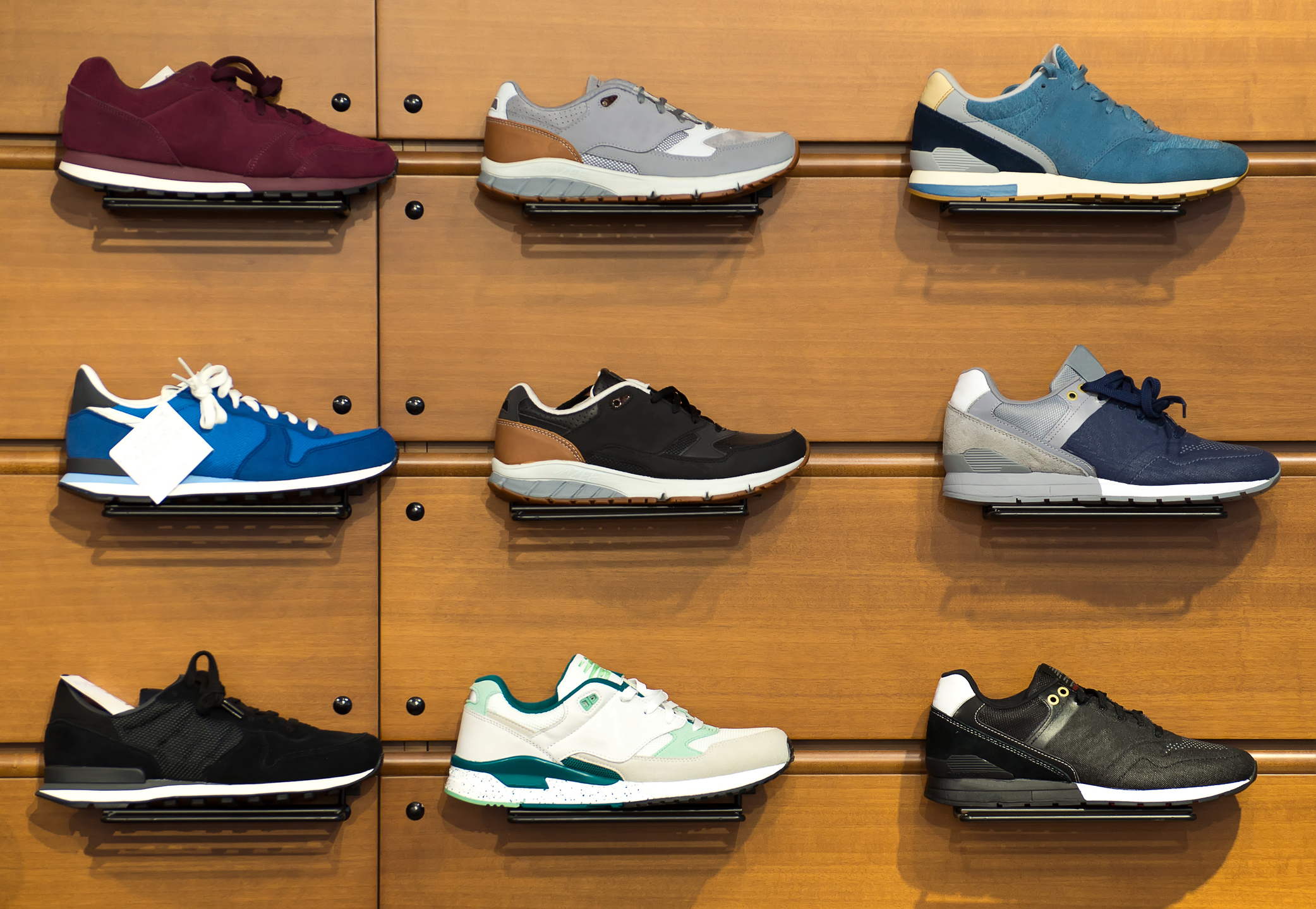 Understand your gait
Your gait is a technical word your manner of running and understanding it can help you to find the most comfortable shoe for your style.
At many specialist running shops, they use a camera and a treadmill to assess your gait using video analysis, checking how your foot rolls inward for impact distribution on landing.
You'll either be classified as an 'underpronator', an 'overpronator', or 'neutral', based on the angle that the outer heel hits the ground.
Make sure you're fitted properly into your shoe by a member of staff who's trained on the various technologies in each style and the intricacies of the gait cycle.
They'll know those neutral runners can wear a wide variety of shoes, but under pronators need a lot of cushioning to avoid impact injuries, while overpronators run best in structured cushioning shoes.
It might sound like a small difference, but getting the right support can protect you from developing painful conditions like plantar fasciitis, shin splints and ankle strain.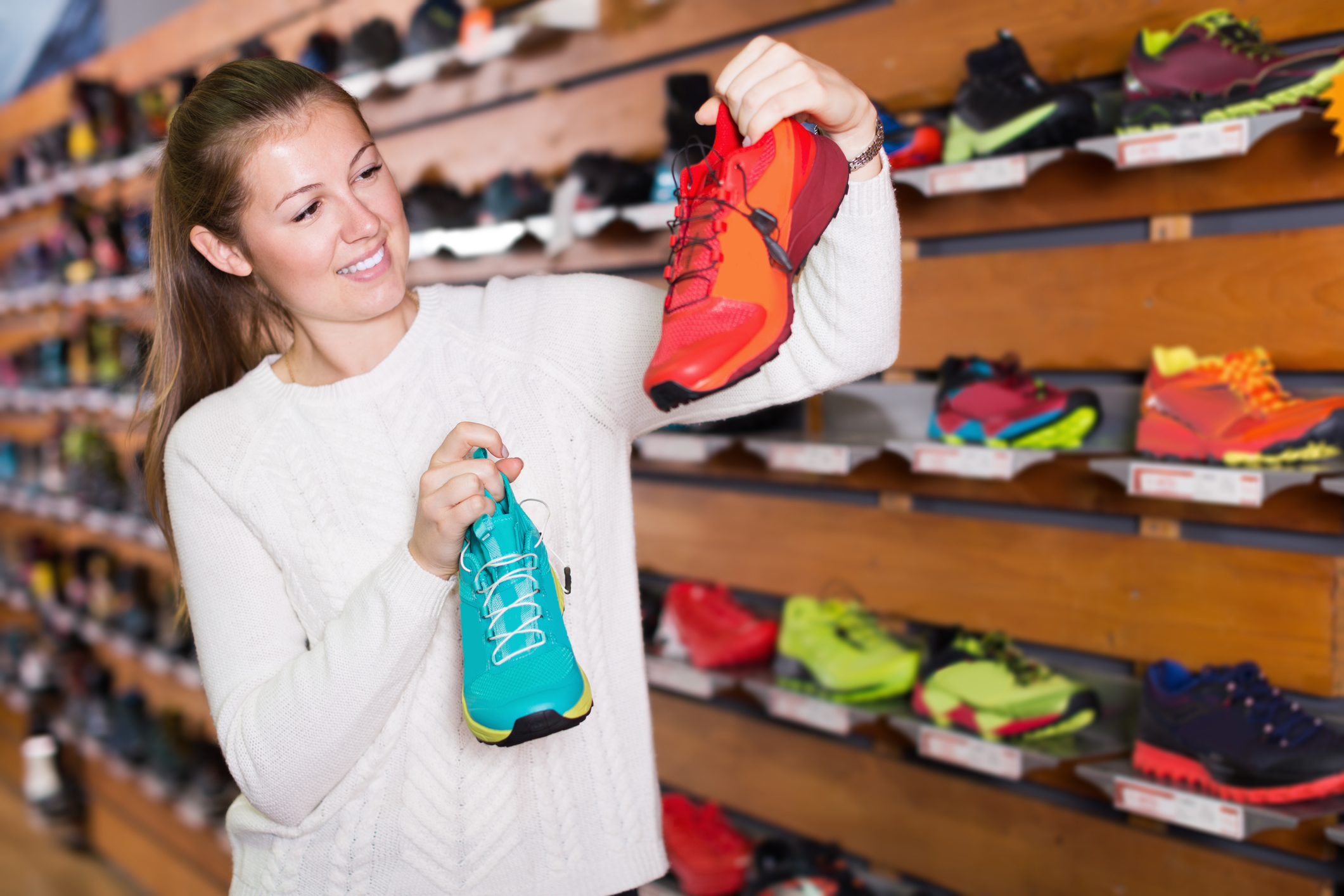 Size up
Many people end up getting a running shoe that's a half size larger than their street shoes. Why? Because the extra room allows your foot to flex and your toes to move forward with each stride.
As a golden rule, when you're standing with both shoes on, you should make sure you have at least a thumbnail of space between the tip of the shoe and the end of your longest toe. "A bruised toenail is not a badge of honour but a sign the runner's shoes are too small," says Simon.
Think about terrain
Not all shoes are made for all surfaces, so it's important to think about the terrain you'll be running on. "The typical runner will mainly run on the road in the winter, due to the lights on the pavement," says Simon.
"All major running brands produce road shoes which have a higher cushioning level to protect the runner's joints against the high impact forces of running on a hard surface."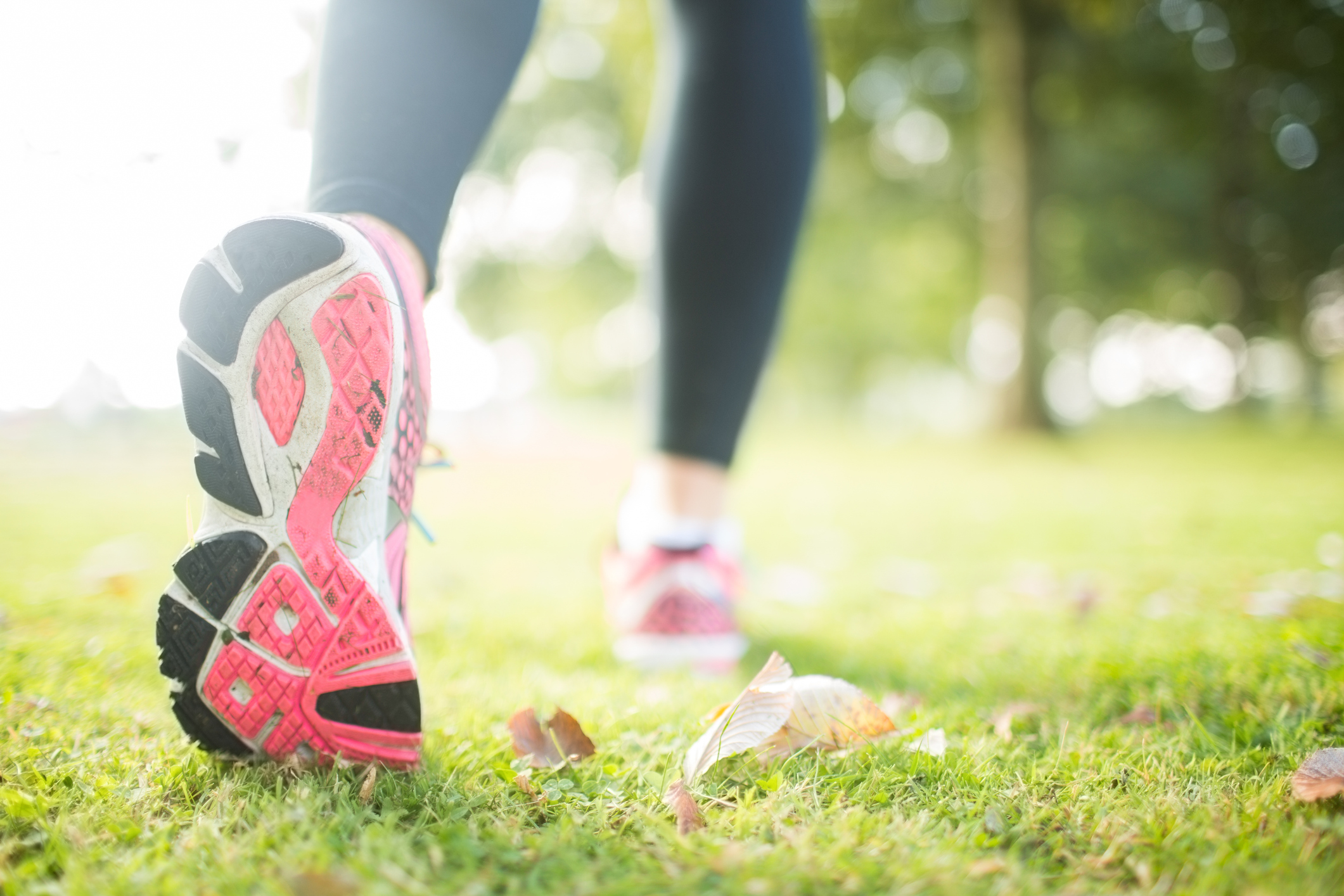 If you're an off-road or cross-country runner hitting those trails, you might want to shop for something less structured, says Simon.
"For natural terrains, you'll want to look for a trail range, where the shoes have better grip and reduced cushioning, so the runner can feel the ground and the body can respond to the rises and falls."
When doing shorter speed sessions, you're better off choosing a racer or lightweight style, as this allows you to get onto your toes and feel the speed.
"Many runners will have a firmer shoe for races," notes Simon, "which can be used for a short, sharp run once a week to improve cadence."
Shop with your socks
Here's an easy tip: when you go on the hunt for a new pair of trainers, take along the running socks and any inserts you've been using. That way, you can make a realistic evaluation of how well the new shoe will feel on your foot.
Finally, don't skimp…
It's easy to be lured in by cheap brands, but bargain trainers are a false economy – you'll end up spending more to replace them more often (and possibly injured, too).
A decent pair of running trainers can easily set you back over £100, but if you really are going to be putting them through their paces, don't be shy about splashing out.
More expensive shoes tend to come with higher-tech cushioning and have better breathability; key qualities when you're running marathons and long distances.
"If you run five or six days per week, then invest in two pairs of shoes," advises Jenny. "When running over consecutive days, the midsole of trainers can compress, so giving the shoes time to expand between runs will help lengthen the life. Alternating between pairs is money invested wisely."