Last updated on September 14th, 2021 at 09:17 PM
For the 2021 Met Gala, Stella McCartney with adidas by Stella McCartney will be dressing Ella Emhoff, a model, artist and fashion and Nia Dennis former UCLA gymnast.
As well as a 30-person marching band from Brooklyn United, a community-based music and arts organisation that serves New York City youth.
Stella McCartney takes us through her and her teams' thoughts creating the looks, the idea behind it all, and what this means for the future of luxury and sportswear.
Can you talk a little about the process and work that goes into creating a look for the Met Gala?
The Met Gala has been such an important part of the Stella story for over 20 years, both for me personally as a designer and my brand. It is the landmark moment of the fashion calendar; a global platform to share our message of sustainable fashion and supporting next-gen talent.
Making the looks is a collaboration between myself, the talent and my team that starts months in advance – once we know the year's theme, we get sketching!
Everything is custom made at our London atelier and, this year, collaborating with our long-term partners adidas – I believe it's among the first and only times a major sportswear label has been on this red carpet.
It speaks to the new world of the Met Gala; one that is more diverse, inclusive and with athletes and activists, not just celebrities and models. We fit the talent and before you know it, it's the big night!
What are the most important things to remember when preparing for such an event?
The Met Gala red carpet is truly iconic, and everyone loves revisiting their favourite looks from the past.
We all know when the person is wearing the dress, and when the dress is wearing the person. I never want that to happen with my pieces – they need to look effortlessly chic and comfortable, immediately recognisable as a Stella.
Success for me is if they continue to look fabulous and timeless in the photos for years to come. 
How have Nia and Ella inspired the creation of the designs that they will each be wearing?
The palette for both looks was inspired by this year's Americana theme, with Nia in blue and Ella in red.
Both were also wearing bespoke masks and embellished custom adidas by Stella McCartney Earthlight trainers, which I am proud to say are our newest technical running shoe that help athletes to move with purpose, crafted with PRIMEBLUE, a high-performance recycled yarn, as well as a partially recycled midsole. 
The looks we created for them reflect them as next gen changemakers and celebrate their femininity, modernity and strength.
I am such a fan of Nia and I'm so excited to work closer with her on some amazing projects we have in the pipeline. 
At this year's Met Gala, Nia is wearing a bodycon jumpsuit from our adidas collaboration – one of my personal favourite styles and something we are quite known for, highlighting and accentuating the feminine shapes of her silhouette with contrasting transparent and opaque materials.
This is also a nod to her gymnastics and athleticism, allowing her to go from doing the routine moment to the red carpet. We then draped her in a Stella McCartney blue rhinestone net layer gown.
For Ella's androgynous look we had fun playing with the dichotomy of feminine and masculine energies that I have always loved, and I thought it was only fitting to dress her in a voluminous pair of high-waisted trousers – made athletic with drawstring details, worn over an adidas by Stella McCartney embellished bodysuit and our Earthlight trainers reimagined for the glamour of the Met. Representing the next-gen activists I want to share my platform with, she will also be the face of our adidas by Stella McCartney aw21 campaign which also launches very soon!
There is also a performance by Brooklyn United happening that is complementing the looks, can you talk about the idea behind connecting the two to create an unforgettable experience.
This year we are celebrating so much – a return to glamour and gatherings like the Met Gala, plus 20 years of Stella McCartney!
Since I couldn't be there in-person, I wanted to create an experience fitting of the moment. I worked closely with Anna [Wintour] and adidas' teams to bring the spectacle to life: a 30-person marching band taking over 5th Avenue, all wearing custom red, white and blue adidas by Stella McCartney jumpsuits and Earthlight trainers.
Nia also did the most incredible gymnastics routine, combining my love of music with athleticism and fashion to truly embody this cultural moment.  
This is a rare moment where high fashion meets performance wear, how does it feel to become the bridge between the two at such an iconic event?
We have been bridging high fashion and performance wear for 17 years, when we launched adidas by Stella McCartney! I am thrilled that people are finally giving sustainable sports performance-wear the attention it deserves, particularly on a platform as globally recognised and prestigious as the Met Gala. Nothing like this has ever been done before.
If the last year has taught us anything, it's that performance wear is not just for the gym – and the divide between luxury and sportswear has never been less relevant. I don't even think this new generation sees a difference between the two. Moments like this progress us forward as a culture today, helping to shape and define what glamour will look like for tomorrow.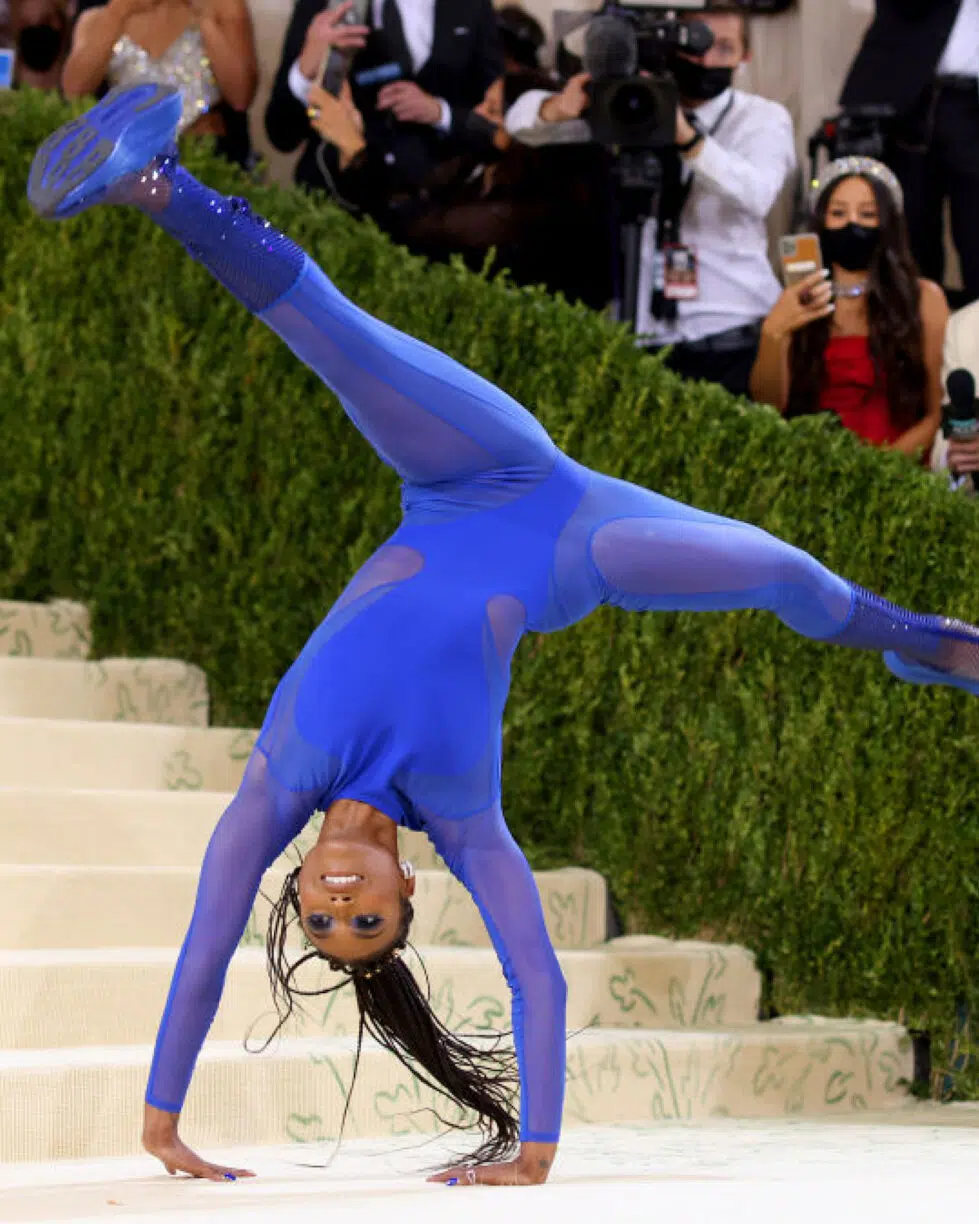 Nia Dennis, Getty Images
Do you think after this we will see more and more of this overlap between performance and high fashion?
Absolutely, it has already happened and will just continue evolving. The clothes you run in will look like those on the runway, and vice versa, whilst still staying true from a performance perspective.
The values of this next generation and social media have democratised fashion, and adidas by Stella McCartney is reflecting their beliefs in authenticity, transparency, and sustainability. 
What is one thing you want viewers to take away after seeing the ASMC outfits and performance?
Fashion is something we should have fun with, to get experimental and push boundaries.
Ultimately, the Met Gala is a joyous celebration after a challenging year and an opportunity to highlight what matters – diversity, sustainability and highlighting the voices of the next generation.