Last updated on December 3rd, 2021 at 07:41 PM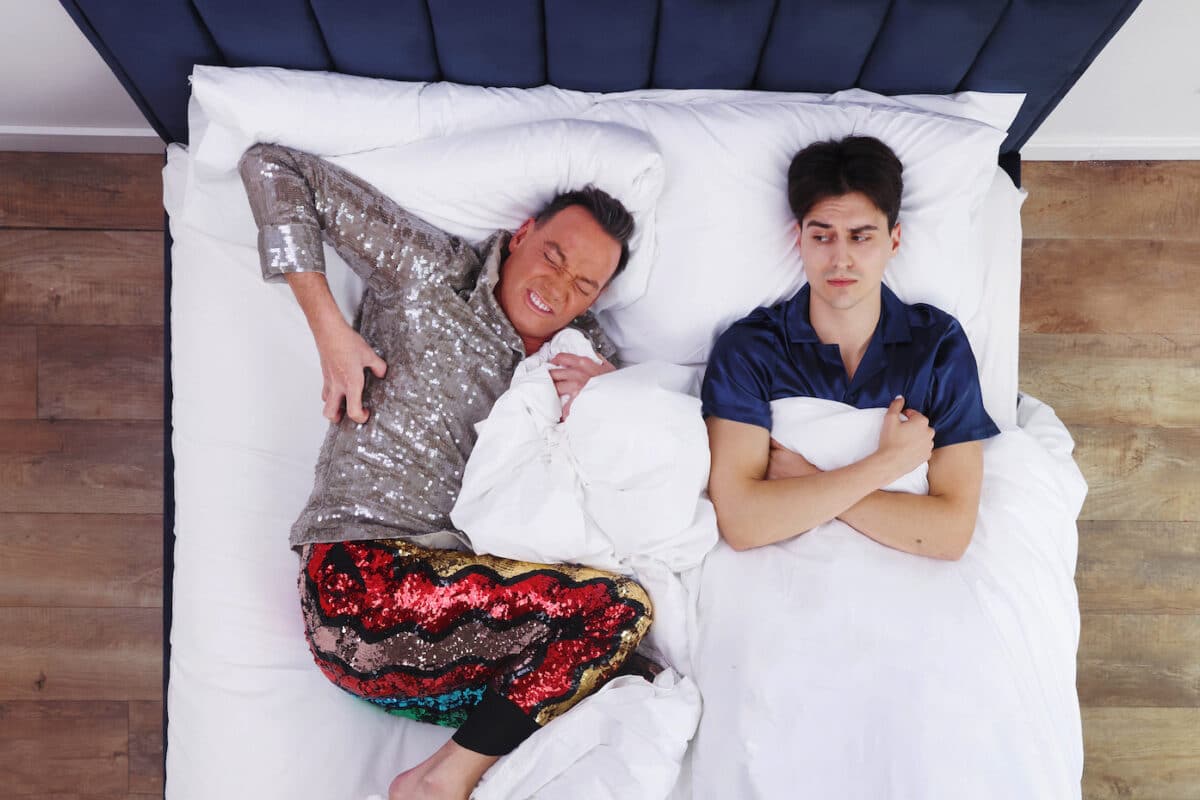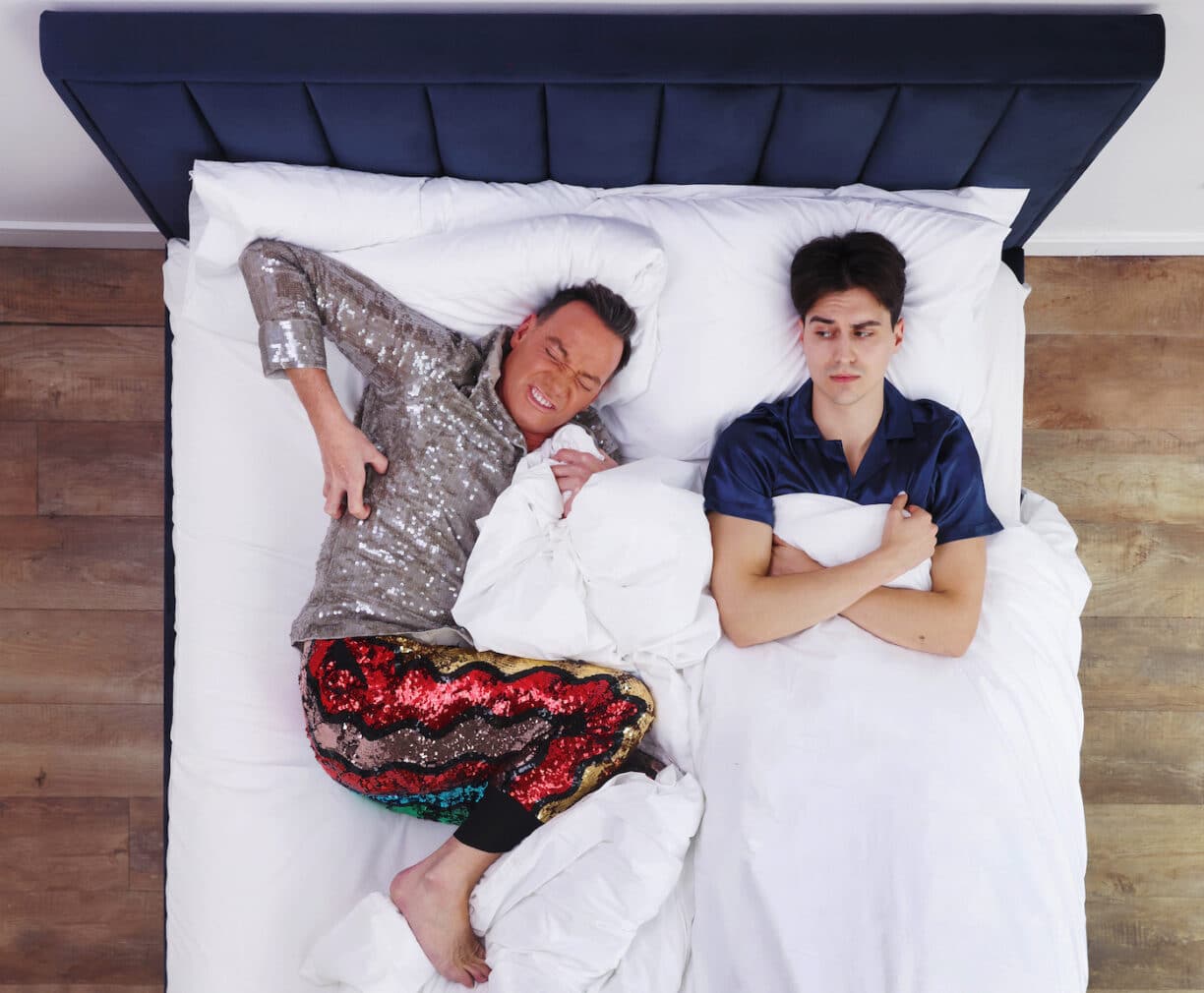 New research has revealed as many as 83 percent of Brits in relationships currently share a bed with someone who keeps them awake at night, with the 'Snorer' emerging as the SINGLE most irritating bedfellow (57 percent).
Almost HALF (45 percent) of the couples surveyed complained that they have to sleep every night with a 'Duvet Thief', frequently waking up to find that they have been stripped of any bedding.
The 'Face Breather' – someone who lies too close to their partner's face (35 percent), and the '3am Phone Checker' – someone who's always on their phone in bed and wakes you with blue light from their device (30 percent) also made the list.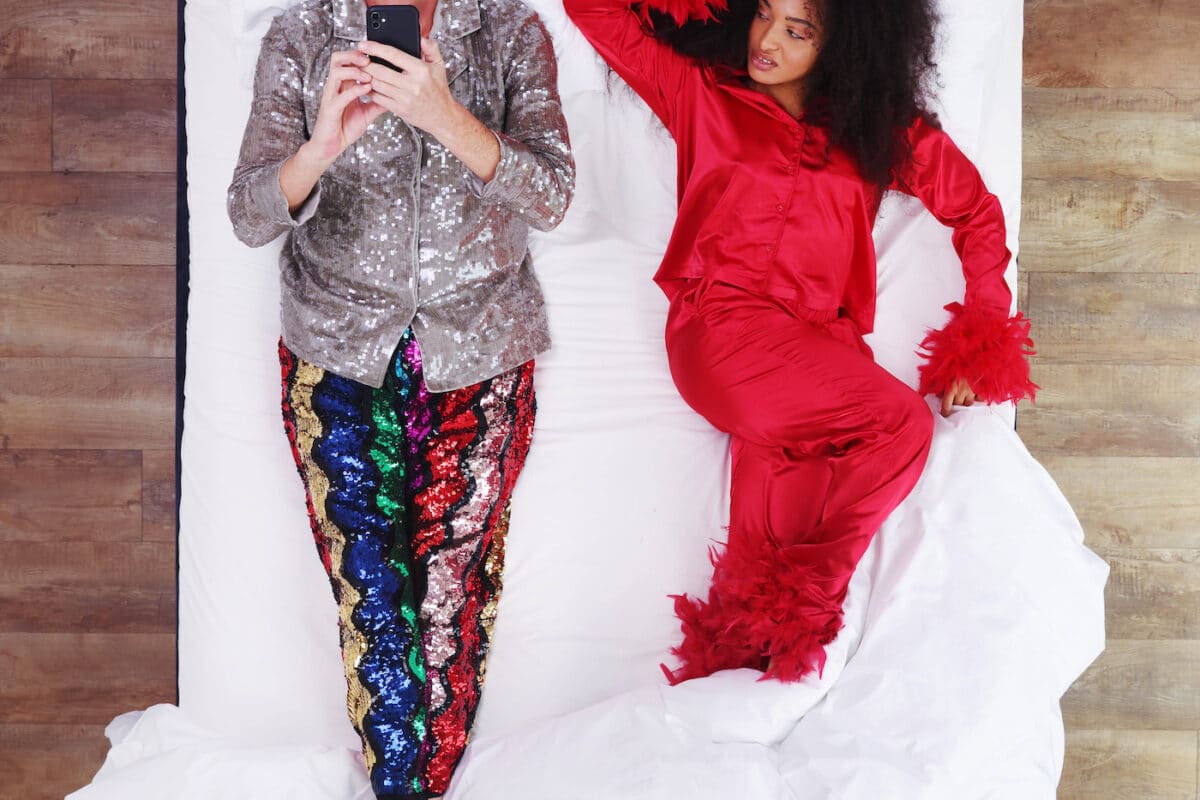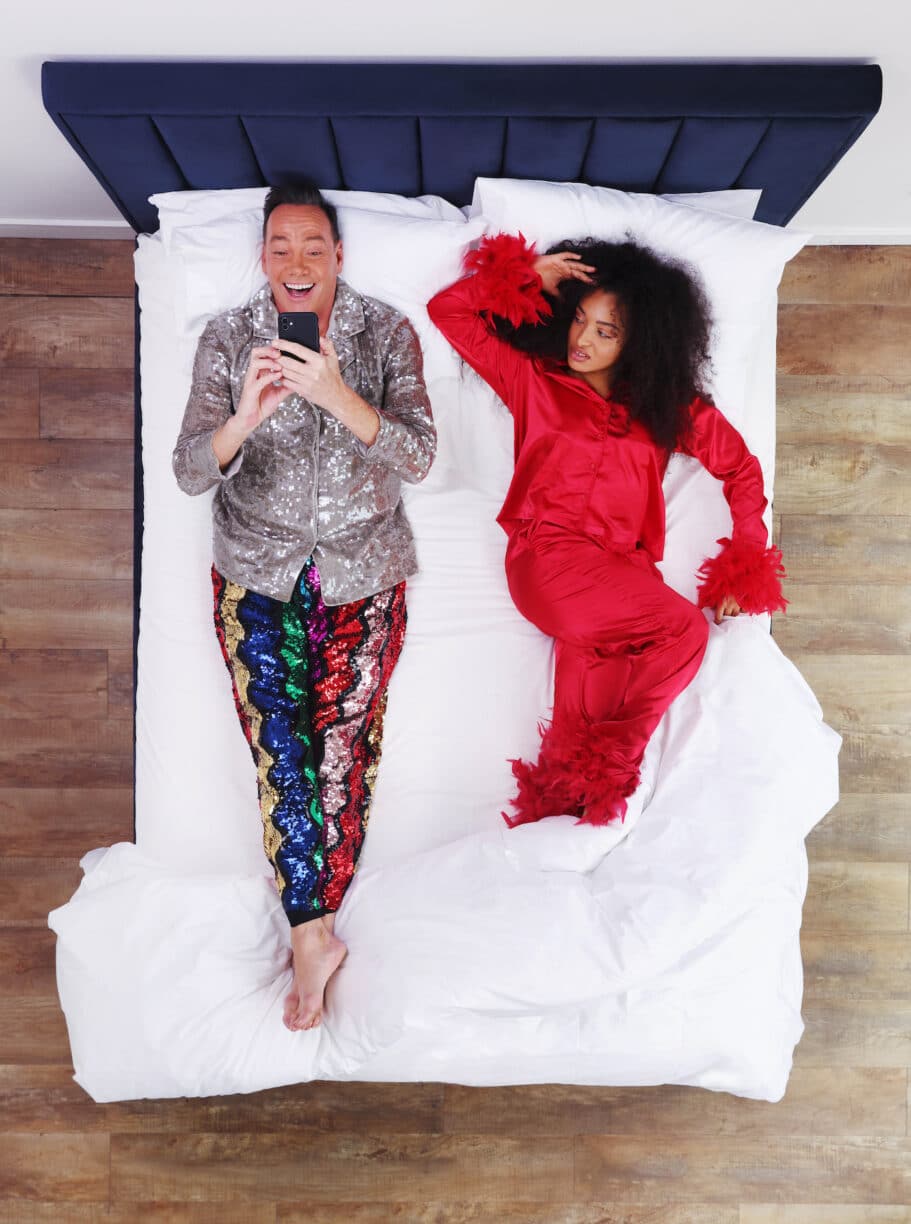 And a quarter (25 percent) of Brits share their bed with a 'Starfish' – someone who spreads out their arms and legs in a starfish-like position, taking up loads of space, while 24 percent are unlucky enough to sleep with a 'Throat Clearer'- someone who coughs and clears their throat all night long.
In fact, so annoying do we find our partners at night, HALF (50 percent) of us have had to leave the bed and sleep in the spare room or on the sofa, just to get a good kip.
The study found that a quarter (25 percent) of the 2,000 Brits in relationships polled complained they do not feel 'in sync' with their partners when it comes to their sleeping positions.
Dreams, which commissioned the research for its Sleep Like Log campaign, has partnered with Craig Revel-Horwood and Sleep Expert, Sammy Margo, to create a visual sleep guide to help Brits 'sync' their way to get a better night's sleep and ultimately "Sleep Like Log."
In a bid to improve the ten most annoying sleeping habits, Craig and Sammy have come up with six dance-inspired sleeping positions everyone can try at home.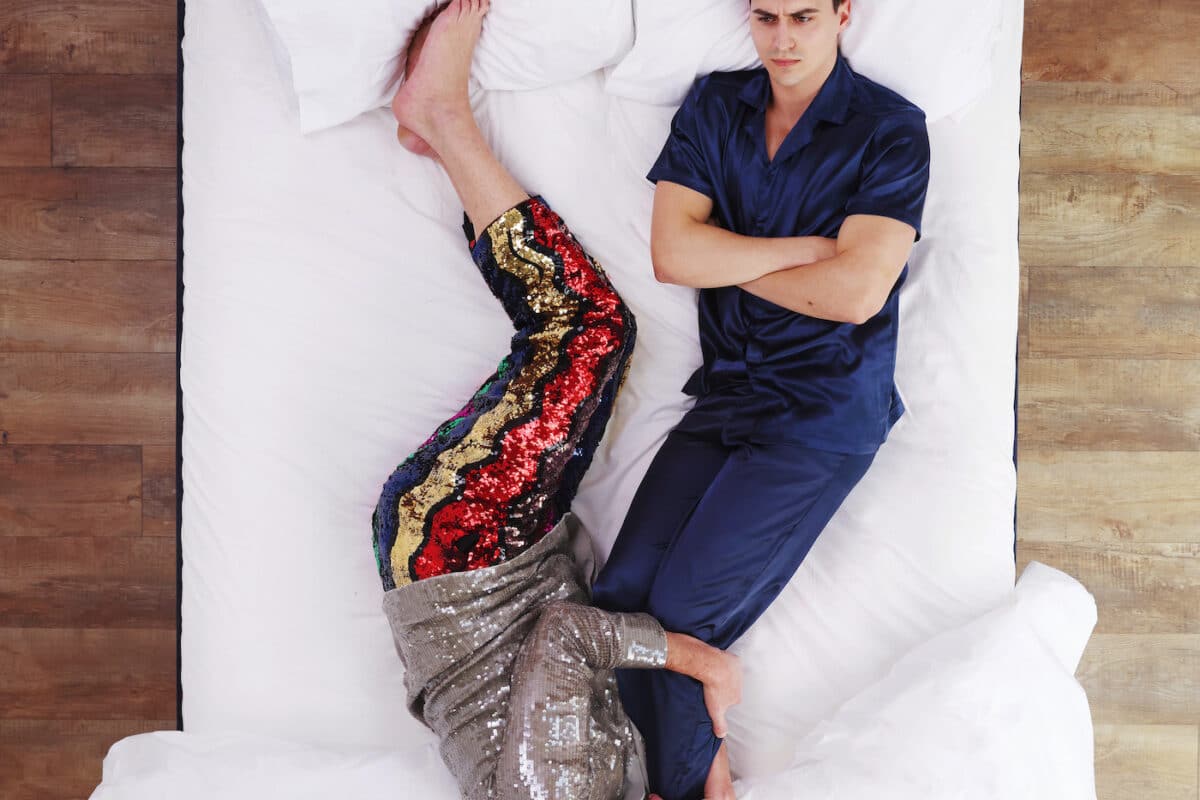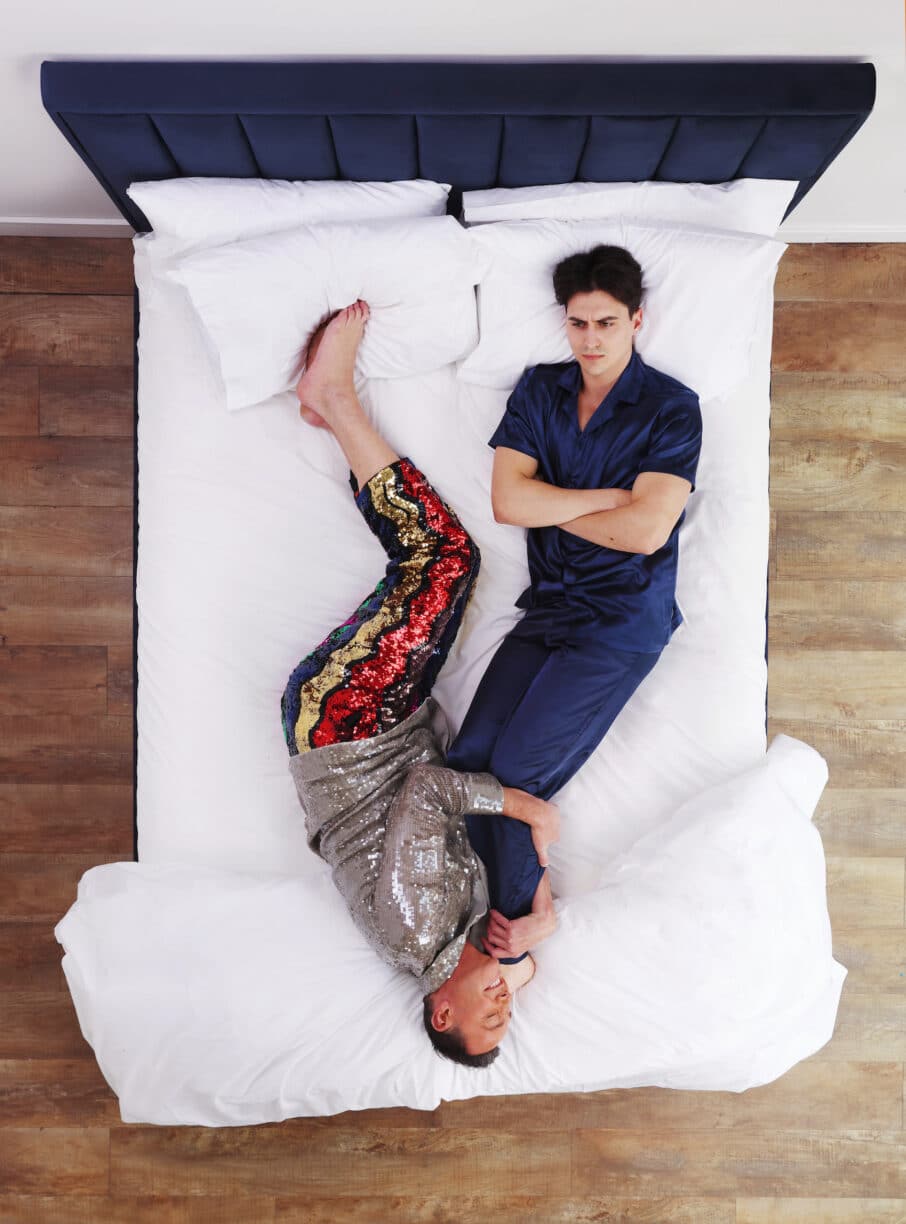 The study also found that more than one in 10 (12 percent) of Brits have broken off a relationship, in part because they just couldn't sleep well together.
Other annoying sleeping partners that appeared on the list include the Flailer – someone who thrashes their arms around in their sleep (15 percent), the Arm Number – someone who lies on your arm, making it feel numb (10 percent), the Spooner – someone who wants to "spoon" and cuddle you in their sleep (10 percent) and the Top and Tailer – someone who moves around so much at night they end up sleeping with their head at the foot of the bed, so their feet are next to your face (9 percent).
Chartered Physiotherapist and Sleep Expert, Sammy Margo, added: "We spend a third of our lives in bed, so compatibility with your sleeping partner and your sleeping position are both really important in influencing the quantity and quality of our sleep.
For example, studies have shown that sleeping on your left side is good for digestion, whilst right-side sleepers experience more positive dreams and sleeping next to a 'Phone Checker' will disrupt your circadian rhythm.
The Sleep Like Log guide will provide readers with a range of tips for a better night's sleep, as well as some fun, light-hearted sleeping positions to try at home."
Craig Revel-Horwood commented: "This research shows just how many of us are kept awake at night because our other half has two left feet.
Just like dance, there's no doubt that sleeping is an art form, and of course participating in some exercise, such as dancing, can really help to tire you out and get a better night's sleep.
We've all experienced uncoordinated sleep partners and so, I'm hoping my dance-inspired sleep positions will help to inspire the nation to sleep better. Who wouldn't want to wake up refreshed the next day and improve their performance!?"
The poll also found that the overwhelming majority (69 percent) of Brits said that sleeping on their side was likely to make them sleep well, while 71 percent said if they'd exercised during the day, they always got a better night's sleep.
37 percent said jogging helped them get a good kip, 19 percent did weights in the day to ensure they nod off at night, while 16 percent always sleep well after a good dancing session.
The Sleep Like A Log guide, curated by Craig Revel-Horwood and Sleep Expert, Sammy Margo, is a visual sleeping guide that takes inspiration from dance choreography, to encourage Brits to try out new sleeping positions and ultimately help them to 'Sleep Like Log'.
For more information and to download the guide visit: www.dreams.co.uk/sleeplikelog.
The ten most annoying types to share a bed with, according to brits:
The Snorer: someone who snores most or all of the time, usually loudly – 57%
The Duvet Thief: someone who steals most of the duvet from you – 45%
The Face Breather: someone who goes close to your face and breathes on it – 35%
The 3am Phone Checker: someone who's always on their phone in bed and wakes you with blue light from their device – 30%
The Starfish: someone who spreads out their arms and legs in a starfish like position, taking up loads of space – 25%
The Throat Clearer: someone who coughs/clear their throat all night long – 24%
The Flailer: someone who thrashes their arms around in their sleep – 15%
The Arm Number: someone who lies on your arm, making it feel numb – 10%
The Spooner: someone who wants to "spoon" and cuddle you – 10%
The Top and Tailer: someone who moves around so much at night they end up sleeping with their head at the foot of the bed, so their feet are next to your face – 9%