Last updated on March 22nd, 2023 at 03:08 PM
Created in collaboration between Lazer, Red Bull and world-class cyclist Wout van Aert. The importance of helmets in ensuring safety on the bike cannot be overstated, but they also serve as a way to showcase the rider's identity. 
In professional cycling, World Champions are recognized by the rainbow flag, team members stand out in their team colours, and national champions display their country's flag on their helmets.
The distinctive blue and grey Red Bull helmet design has become a symbol of athletic excellence, only worn by the best of the best. But now, thanks to Lazer and its partnership with Wout van Aert, you too can experience the thrill of flying like Wout in a Red Bull helmet. Get ready to make a statement on the bike!
What does it really mean to wear a Red Bull helmet?
Red Bull nowadays is more than a carbonated drink that provides a quick pick-me-up during the day. The brand represents sportsmanship, excitement, and passion.
All keywords that sound familiar to not only pro riders like Wout van Aert, but also club and weekend riders. Until today, the privilege of wearing the infamous Red Bull helmet design was limited to the former in the list.
However, since all share a passion for the sport and an inner drive for continuous development, Lazer in collaboration with Wout and Red Bull now wants to extend the list and give you the special opportunity to get your very own Red Bull helmet.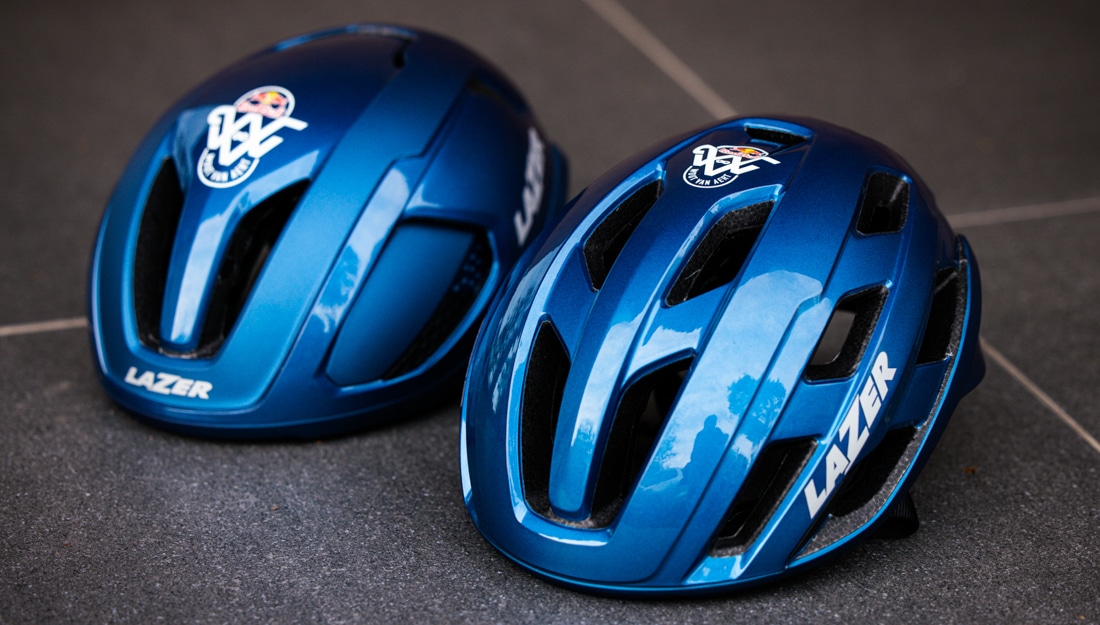 So, what made it possible?
Lazer has been Wout van Aert's chosen helmet brand since his early years as a cyclist. From a young teenager who was still figuring out his potential to winning the green jersey in the Tour de France, Lazer was there ensuring his safety. Since 2018, van Aert has raced to the finish line with the iconic Red Bull helmet design.  
"Lazer has always been my favourite helmet brand, even before I became a professional athlete. To celebrate our long-lasting and successful collaboration, I was offered to create my very own helmet design." – Wout van Aert, Pro rider Jumbo Visma 
The Helmets:
Lazer's top-of-the-line Vento KinetiCore helmet (£249.99) minimises drag and boosts speed without compromises in weight or comfort. 
The brand's innovative Venturi Effect Ventilation System channels hot air out of the rear and the exclusive KinetiCore technology protects you against both direct and rotational impact. 
Be quick! After Wout van Aert, only 1994 riders get the privilege to show off their Limited Edition helmet on the road. A number that signifies his year of birth. 
Fast, light, secure – the Strada KinetiCore (£89.99) is an all-round performer offering extensive protection to all levels of cyclists. Featuring enhanced comfort via the tailored-fit ScrollSys system and advanced ventilation management to keep you cool, all you need to worry about is enjoying the ride. 
Both feature KinetiCore – a safety technology 10- years in the making that was launched in 2022. Find out more about the five-star Virginia Tech-rated design and benefits via:  https://www.freewheel.co.uk/

To get your own wings and discover the latest helmets, visit Freewheel. Your local bike shop online that supports a network of over 400+ independent cycle stores across the UK.