Last updated on April 15th, 2022 at 03:16 PM
German freerunning legend Jason Paul, together with fellow freerunning stars Krystian Kowalewski and Silke Sollfrank, were let loose at Germany's oldest adventure park, with spectacular consequences. 
The resulting film, Jason Paul's Wild Ride, sees the trio performing flowing freerunning moves at heights of over 30m on the structure of the park's roller coaster, Mammut.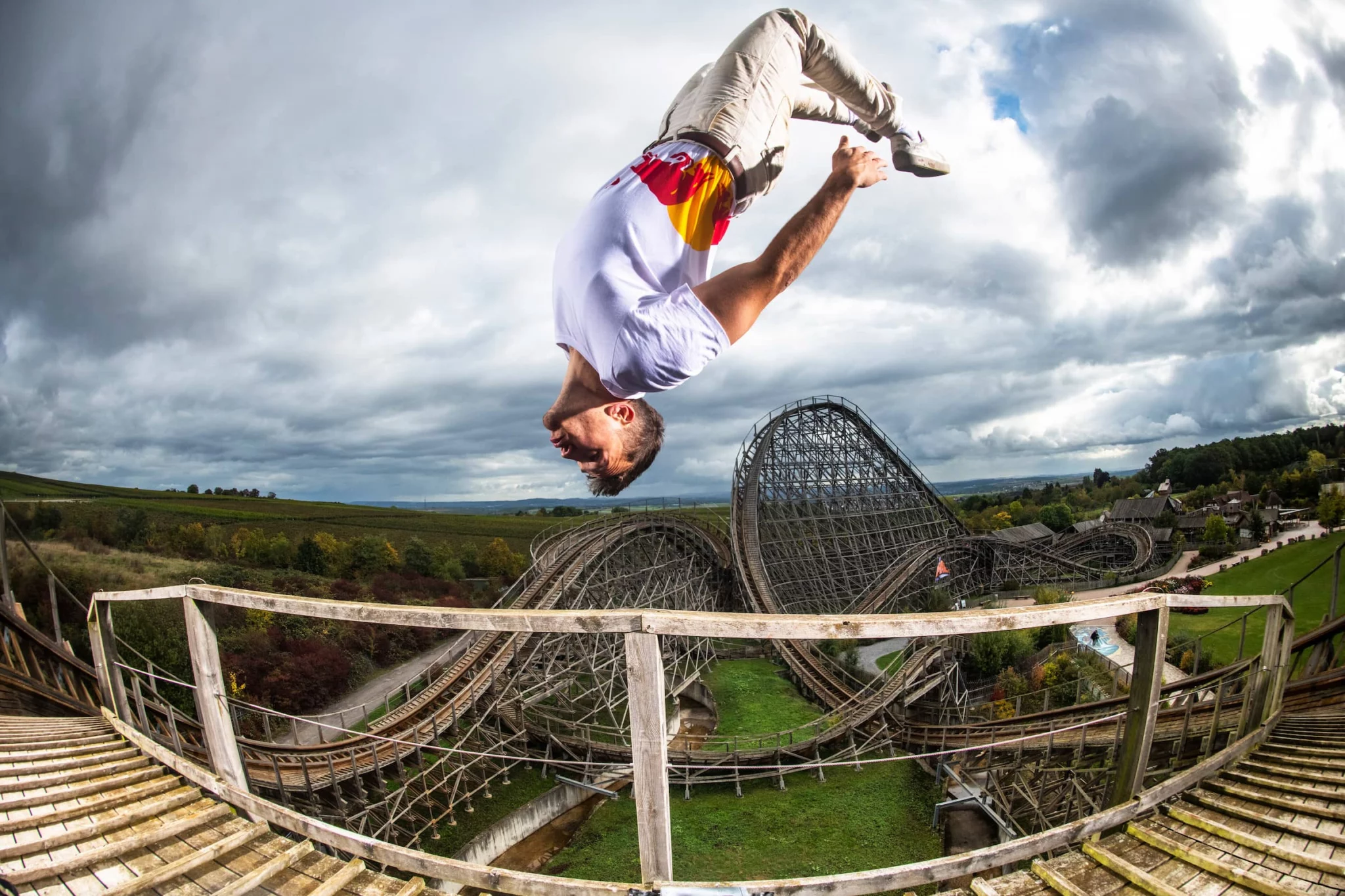 The three athletes prove that freerunning doesn't have to be a solo sport during the unique session at Tripsdrill Erlebsnispark, Germany's oldest adventure park.
While usually a place for a relaxed family outing, this time it provided the perfect backdrop to allow the three freerunners to showcase their creativity, skill and nerves of steel across the 1,000m³ wooden structure.
The location allowed for new artistic interpretations of the sport on the unconventional features of the roller coaster's scaffolding, the pressure of overcoming obstacles under time constraints and the thrill of performing nerveless jumps over the rollercoaster itself as it sped by at 80kph.
Paul commented: "Of course, parkour isn't a team sport – at the end of the day, you do the jump yourself. But for us, it's still great fun to be together as a crew because everyone brings their individual skills to the table."
Aside from the demands of the freerunning scenes, which take place at great heights and require an enormous amount of attention and perfect timing, what sets this project apart is the constantly changing perspective between first-person view and POV.
– A high degree of precision was required to pull this off – not only from the three athletes but also from the drone pilot, Munich-based videographer Paul Kuhn.
He controlled the aircraft using FPV goggles, which project the camera image onto the eyes in real-time. This increased the complexity of the session enormously but ensures the breathtaking and immersive images you see.
Jason Paul, 31, is a freerunner from Frankfurt am Main, Germany. He is best known for projects such as Last Call for Mr. Paul, which has been viewed over 150m times on YouTube, or Running Reverse in which he turns back time to stunning effect.
Watch Jason Paul's Wild Ride on Red Bull TV.