Last updated on October 11th, 2022 at 07:56 PM
A new study of iconic sports personality's iconic speeches can reveal that Anthony Joshua has more self-belief than Tyson Fury, Novak Djakovic is more self-absorbed than Roger Federer, Sarina Wiegman is more rational than Gareth Southgate and Leah Williamson more patriotic than Harry Kane. 
The new study, by sports-retailers Runners Need, used an AI language studio, Python scripts and manual linguistic analysis to reveal the true characters of iconic sportsmen using famous winning speeches. 
Per minute, the study measured the levels of self-belief, patriotism, joy, and surprise, how often they spoke about friends and family and how often they spoke about themselves compared to others in general. The results per sport are summarised below.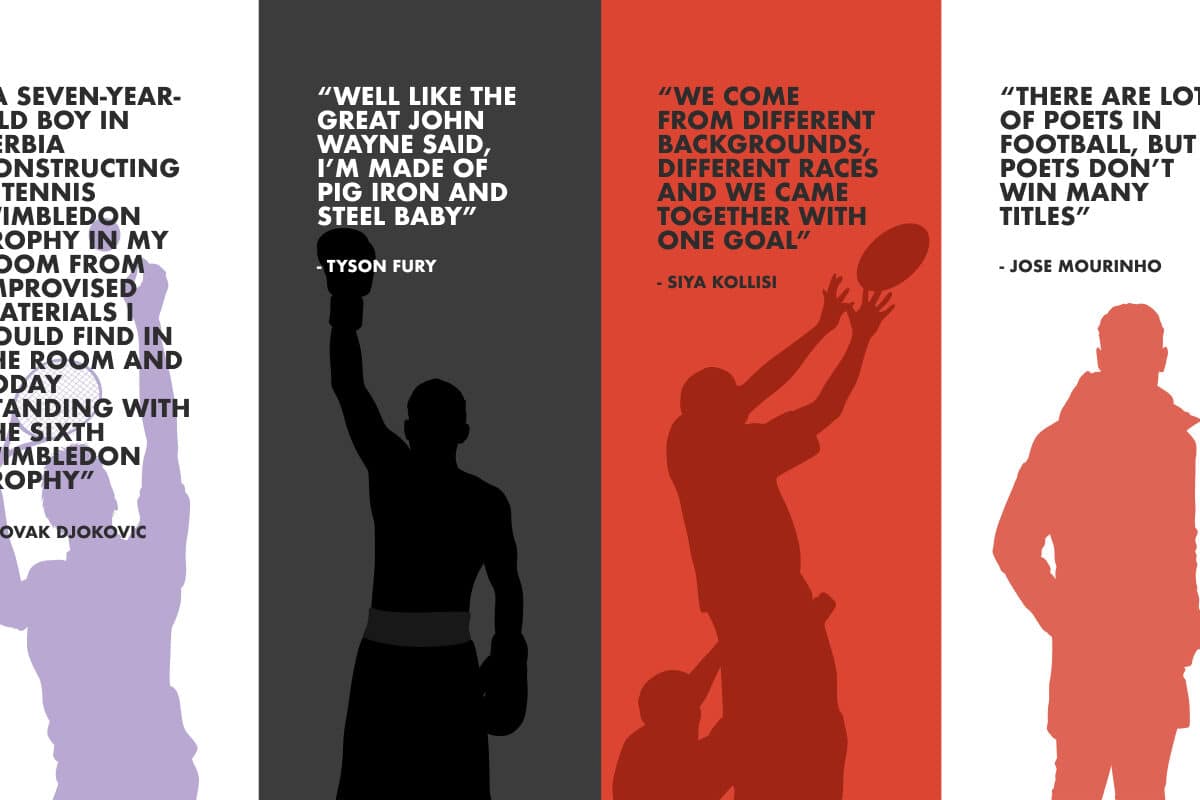 Football: 'the kids are alright'
Overall, footballers displayed the highest levels of patriotism in the study, mentioning their country or legacy almost twice a minute.
Two of the most patriotic post-match interviews come from Giorgi Chelllini, after winning the UEFA Euro 2020 final, with 3.9 mentions per minute, and Leah Williamson after winning the 2022 Euros final, with 2.7 mentions per minute.
Leah Williamson also mentioned family, friends and teammates at a pace of 3.2 times per minute – significantly higher than the footballers once per minute average, or the 1.3 study average. 
Football Managers: 'I am the record man!'
Despite their more strategic roles, on average, football managers expressed the most joy in the study (with a rating of 43% given by Python textual analysis, above the study average of 37%).
The most elated post-match interview – and the most joyful speech in the study overall – comes from Carlo Ancelotti after the Real Madrid victory against Man City in Bernabeu this year (with a rating of 62%). 
Jose Mourinho's rant after winning his first trophy with Chelsea shows the most self-belief (at 4.4 mentions a minute, more than double the 1.7 average). This speech also mentions the most words associated with nationhood and legacy. However,
these mentions aren't all positive. In fact, Mourinho defends his adjustment working in England away from home, summed up by his statement 'I have to prove what?'
Tennis: 'the fairytale continues, for us, for me'
If football managers express the most joy in their post-match interviews, then Tennis stars express the most surprise or disbelief (returning a score of 30%, above the average of 23%). Serving well-prepared monologues, tennis stars are almost twice as likely to reference themselves (using pronouns like I, me, mine). 
Within tennis, Novak Djakovic expressed the most self-belief, Emma Raducanu the most joy, and Simona Halep the most disbelief. 
Boxing: 'he'll get knocked spark out' 
Unsurprisingly, Tyson Fury and Anthony Joshua expressed far more self-belief in their post-match interviews than the other sportspeople, at 4.1 times a minute, higher than the 1.7 average. Tyson Fury may be tough but he is also sentimental and was more likely to mention his family and friends and more likely to talk about his country and legacy than his rival. 
Cycling: 'every year is a new story to be written' 
Comparing Jonas Vinegaard's 2022 Tour de France victory speech with Briton's Chris Frome's 2017 win, the dutch man was revealed to be twice as likely to talk about his family and friends whereas Frome was twice as likely to mention his country and legacy. Vinegaard's speech also expresses triple the amount of disbelief and surprise, despite finishing second place the year before. 
Rugby: 'absolutely shagged'
Curious to see how two iconic captains of the rugby pitch compared, the study also analysed speeches by Richie McCaw and Siya Kollisi.
Siya Kollisi's inspiring 2019 world cup post-match speech is one of the most patriotic in the study, inspiring South Africans to put behind their troubled past and unite.
McCaw meanwhile was more likely to talk about his family, friends and teammates. In fact, both rugby players were more likely than other sportspeople to reference their nearest and dearest (at 2.6 times per minute, double the average of 1.3) 
For all the full in-depth analysis of all the speeches, please find the interactive tool here. We hope this light-hearted story shines a light on sports-winning personalities.