Last updated on May 17th, 2022 at 08:48 PM
London's first strictly women-only fitness brand, StrongHer, is opening a ground-breaking new strength and conditioning studio in Bethnal Green, London, that will educate, empower, and help women prioritise their health in a supportive environment.
Doors to open from 3rd August 2020, press previews of the space and interviews are available upon request.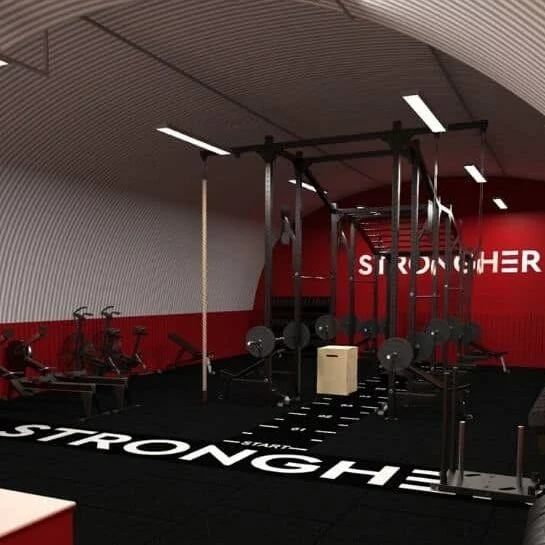 Since launching the StrongHer fitness community in 2016, co-founders and personal trainers, Tig Hodson and Sam Prynn, have dramatically improved the confidence and self-esteem of more than 300 women of all sizes, ages, and backgrounds through educational fitness and nutritional programmes.
The new StrongHer Space is an extension of that community, by offering expansive programs and support by way of classes, small group training, memberships and events all within a nurturing and non-intimidating environment designed specifically for women.
StrongHer bridges the gap between no-frill gyms and boutique fitness establishments by providing women with accessible, personalised services in a safe environment for a fraction of the typical cost. StrongHer has created flexible membership options in order to suit every woman, whatever their time permits.
With limited founding memberships available whilst the team prepare for the launch, StrongHer is offering a discounted price (from £84.15 per month) for the first 50 women to sign up.
There is the option of monthly memberships, 6 month membership (£99 per month) and a rolling membership (£119 per month) which include unlimited classes and live zoom workouts until the StrongHer space opens.
For women that are looking for more flexibility, single purchase class packs and gym-only day passes or memberships are available.
For those that are outside the area, StrongHer has the option of 4 week online programmes and StrongHer Inside TV (online streaming platform). StrongHer encourages women to focus on the benefits of resistance and weight training as opposed to just cardio.
Using their expertise in both nutrition and fitness, Sam and Tig thoroughly emphasise the importance of proper nutrition and creating positive habits.
StrongHer is currently establishing partnerships with PH Nutrition and Le'Nise Brothers, so women have access to nutrition that supports their training and can also be based around their menstrual cycle.
StrongHer will introduce 6 new concepts to their roster of classes, including strength, mobility, and running.
All concepts will be available to any woman regardless of experience, skills, or goals. The aim is to create a space in which women can reach their full potential.
The new gym boasts 2600 square feet of space, allowing for classes and PTs to run simultaneously as well as a StrongBar serving nutritious macro-friendly smoothies.
StrongHer will be taking precautionary measures so all their members can train in a clean and safe environment inline with COVID guidelines, with each woman having their own equipment.
In March 2018, StrongHer launched the Warrior Project, which focused on small group training sessions. The increasingly popular programme introduced women with no experience or low confidence to weight training in a real yet comfortable gym environment.
The Warrior Project has genuinely changed the lives of hundreds of women and guarantees true positive transformation both inside and out, helping attendees to channel their improved self-esteem into other aspects of their lives.
Co-founder Tig shares, "It was at the very first StrongHer Warrior Project event, where we were overwhelmingly pleased to meet over 100 women seeking to begin their physical and mental journeys with us to improve their health and wellbeing.
We found there was a demand for a space for women to feel comfortable in and test themselves and we are absolutely thrilled and honoured to be able to offer women a community that will empower them."
In association with the launch, StrongHer is also incredibly proud to announce that Under Armour is their official new sponsor. All StrongHer coaches will be wearing Under Armour merchandise, available for purchase at the new studio.
For more information visit www.strongher.co.uk and follow them on Instagram @strongher_women
About StrongHer:StrongHer was established in 2017 by female founders Lyanne (Tig) Hodson and Sam Prynn, who wanted to help empower women and educate in strength training.
In 2018 StrongHer launched Warrior Project, small group training sessions with a maximum capacity of 14 women.
StrongHer will be opening its first studio, StrongHer Space, introducing 6 new classes. StrongHer is committed to empowering women of all backgrounds by helping them better understand their bodies, strengths, and diets to improve their overall confidence.
Inclusivity, accessibility, and education are absolutely essential to the StrongHer lifestyle. Sam and Tig's ultimate goal is to break down the barriers that hold many women back from improving their health and self-esteem.
Classes: Lvl Up: Fast-paced strength. Taking weight training to the next level.Force: A combination of strength, speed and power.
Full body strength and conditioning.Strong: All strength, no cardio. Log pressing, sled dragging, prowler pushing, tyre flipping.
Mission: Team based HIIT and strength session.F**nktional: Fusion of kettlebells, TRX and callisthenics. Reflow: Mobility class, combining; animal flow, yoga, pilates and core.
Strides: A technical running club. Technique, pace and distance for experienced and first time runners.
Memberships: Founding Membership (From £84.15pm)*Limited Number Available*- Free live zoom workouts until strongher space opens-15% off memberships & merchandise-30 min consultation for goal setting – Free StrongHer cup or Resistance bands-Free Under armour Top-Up to 40% off Under Armour apparel-Exclusive Founding member rates on all StrongHer events-10% off at Carmel by the Green-10% off Kin-Free towel.
Membership (6 months – £99pm)-Free live zoom workouts until strongher space opens-Freeze for 14 days in 6 month period (for free)-2 x guest passes per month-10% discount on Under Armour apparel-10% discount on merchandise-10% Carmel by the Green-10% KIN-Free towel.
Rolling Membership (£119pm)-Free live zoom workouts until strongher space opens-Cancel anytime-1 x guest pass per month-10% discount on merchandise-10% Carmel by the Green-10% KIN-Free tow
Warrior Project- (£155pm)– Free live zoom workouts until strongher space opens – A cost-effective way to have small group training.-10% class packs and merchandise-10% Carmel by the Green-10% KIN-10% discount on Under Armour apparel-Free towel.
StrongHer Shred and Beginners Strength- (£15)– 4 weeks of progressive workouts (4x a week for StrongHer shred or 3x a week beginners strength)- Community, nutrition support and guidance- A private support group to ask unlimited questions-50% off 1 month of the full #strongherinside platform