Last updated on May 22nd, 2022 at 05:03 PM
People who work in an office are some of the most sedentary people, they spend up to 85% of all their time at work sitting down. That equates to 1632 hours per year or 68 days sat down per year, That's over 2 months sat at work per year.
Sitting too often is bad for your health in more ways than one. Sitting reduces blood circulation, as you become less active your body suffers.
High levels of sedentary behaviour (sitting) is associated with an increased risk of illness and mortality and have also been shown to lower engagement at work.
A recent British Medical Journal study on SMArT Work (Stand More At Work) intervention showed that standing desks are able to reduce work-related, daily sitting time in the short, medium, and longer-term in office workers.
Leading standing desk company Varidesk supplied desks for the trail which were used by the NHS.
The study showed a positive impact on musculoskeletal conditions and many work-related outcomes such as job performance, work engagement, and occupational fatigue.
Using standing desks are beneficial for psychological conditions as they can reduce daily anxiety and improve quality of life.
Positive changes were detected in work-related and psychological health. This coincides with a recent study by Texas A&M which found that using a standing desk increased productivity by 46%.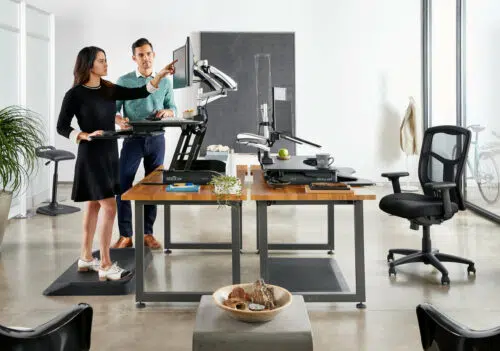 Not only does it improve your circulation, but standing can also burn up to 50 calories per hour, so if used for four hours per working day, Monday to Friday that is an extra 200 calories, burnt off per day, or 52,000 per year.
Varidesk believes work should be comfortable, productive and energizing. The Pro Plus 30 is for anyone ready to take their workspace to the next level and embrace an active workplace. 
The simple design takes you from sitting to standing in just 3 seconds, it requires no assembly and works with your existing furniture.
The height-adjustable solution turns any desk into a standing desk, and it comes in a variety of sizes and styles suited to your workspace.
The desk riser's two-tiered design gives a spacious upper display area for a laptop, monitor, or even dual-monitor setup, while the lower deck has plenty of room for a full-sized keyboard, mouse and more.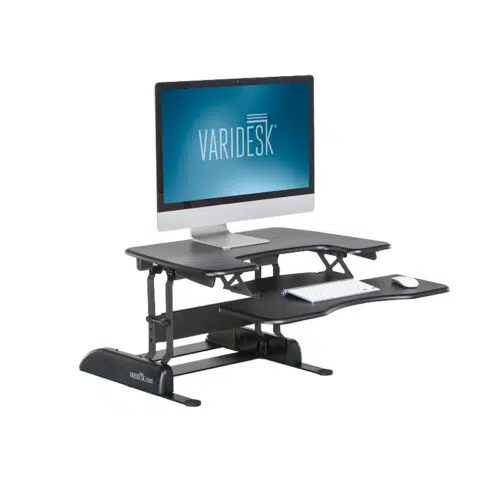 All desks come fully assembled and is ready to go right out of the box so transforming your workspace won't disrupt your work.
There are no complicated instructions and no tools required – simply place the Varidesk on your desk or table, add monitors, keyboard and mouse, and you're ready to get back to work.
When you feel like standing, adjusting the Varidesk is simple too because the spring-loaded boost mechanism and dual handle design makes it super easy to lift, lower and adjust to any of the 11 height settings.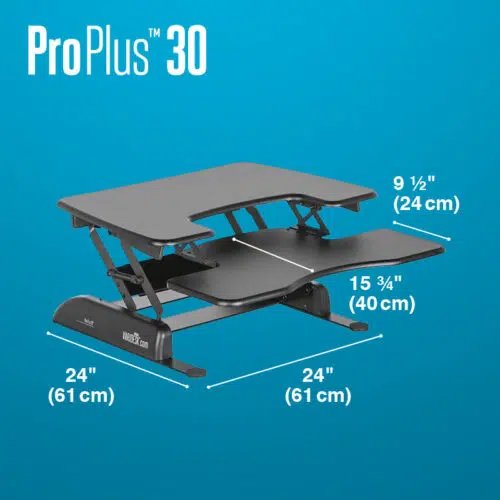 All desks have a no-risk, 30-day guarantee which makes it easy to see just how fast and simple it is to make the switch to a sit-stand desk solution. Varidesk are so confident that if you don't like your desk, then you can return it for free within 30 days.
The Pro Plus 30 is built to last, its sturdy frame doesn't shake and is completely stable meaning it can hold up to 16kg. Its Two-tier design has an upper display surface and a lower keyboard/mouse deck.
It simply sits on your normal desk and in seconds you have an active workplace that benefits your working life.
The Varidesk Pro Plus 30 costs £295 from UK.Varidesk.com