Last updated on October 16th, 2022 at 08:34 PM
Picture this, you've started the New Year smashing your fitness goals, you've signed up to the gym and you've finally found yourself in a routine with your health and fitness journey. But Pancake Day is around the corner and you don't wanna miss indulging in those fluffy things, what do you do?
Google searches for keywords relating to protein pancakes for pancake day are increasing significantly. Searches for 'how to make protein pancakes' have increased by 41% year on year with 'easy protein pancakes' searches increasing by 120% YoY.
Maximuscle's Performance Nutritionist, Gareth Nicholas, shares his top tips on creating the perfect protein pancakes so you can stick to your goals without missing out on the sweetest day of the year.
What are the main ingredients of protein pancakes?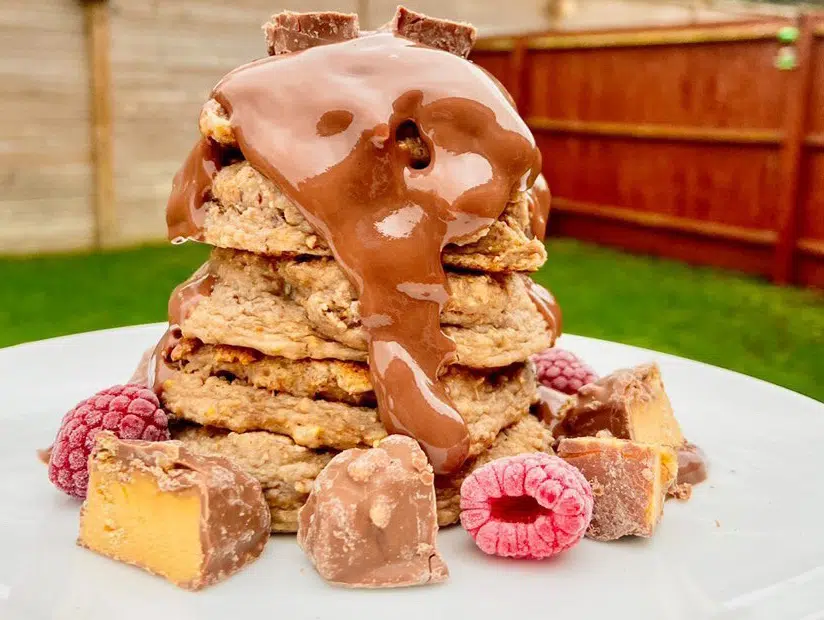 Typically, you will use the below four main ingredients for your perfect protein pancakes. These can change depending on your dietary needs:
¼ cup rolled oats
½ cup cows/almond milk
2 eggs
1 scoop protein powder
If you're wanting to play around with more flavours and textures, try adding any of the following to your pancake batter to add more protein and change up the classic sweet pancake flavours:
1 banana
¼ cup greek yoghurt
½ cup cottage cheese
½ cup cooked & mashed sweet potato
30 g quinoa
Don't overdo the protein powder
Obviously, protein pancakes say what they do on the tin. Adding in more protein powder than you need makes the pancakes rubbery and dry.
I recommend sticking to only one or two scoops of protein powder. If you are wanting to reach your protein intake goals with these pancakes, add in more protein with your toppings. Ingredients such as berries, yoghurt or pecan nuts on top of your protein pancakes can help you reach your macros.
The fluffier the better
Protein pancakes are usually rather dense in texture because of the added protein powder and other high protein ingredients you may include.
Follow the below steps to get the fluffiest protein pancakes that taste like the real deal (hint: these can be used for all pancake types, protein or not!):
Add 1 tsp baking powder to your batter to achieve that lovely fluffy rise.
Sift your flour and fold it into the batter using a metal spoon. Using a wooden spoon can crush the little air pockets that are responsible for the fluffiest of pancakes so using a metal spoon is best.
Don't batter your batter! Over whisking will lead to chewy pancakes instead of fluffy ones. Mix the batter until both the dry and wet ingredients are incorporated.
Go nuts for texture
One way to make your pancake batter that little bit different is to blend nuts and dried fruits to use as the base of your batter.
This gives the pancakes depth in flavour for both sweet and savoury pancakes; making them jam-packed full of nutrients and added protein.
Have a treat without the cheat
If you really don't want to go to great lengths to dedicate a meal to pancakes on Pancake Day, you can also try out mini pancakes.
Perfect as a high protein snack; mini bitesize pancakes can satisfy your sweet tooth whilst taking away the guilt of treating yourself this pancake day.
I recommend topping your mini pancakes with fresh fruit, yoghurt and maple syrup so you know you're still staying on track.
RECOMMENDED RECIPES
Chocolate and Raspberry Protein Pancakes by Maximuscle Content Creator, Aimee Louise:
INGREDIENTS
60g wholemeal or plain flour
half teaspoon of baking powder
20g Maximuscle Plant Max Protein Powder
200-250ml milk of choice
Chocolate dessert pot or 15g protein spread
3 Maximuscle Protein Bites or Bar
Frozen Raspberries
METHOD
1. In a mixing bowl combine the flour, protein powder and baking powder. Add the milk slowly until it forms a batter (this should be quite thick). Let the batter sit for five minutes in order to thicken.
2. In a non-stick frying pan add a spoonful of the batter and cook until you start to see the edges brown. Flip and cook for further 1-2 minutes. Repeat with the rest of the mixture.
3. Once cooked, stack the pancakes and spoon on half the chocolate dessert pot or protein spread. Top with Maximuscle protein bites and frozen raspberries. Enjoy!
Banana and Cinnamon Protein Pancakes by Gareth Nicholas
INGREDIENTS:
12ml skimmed milk
1 egg
2 tbsp oats
1 serve Maximuscle Chocolate Promax Lean
2 tbsp maple syrup
1 banana
½ tsp cinnamon
METHOD:
Blend the protein powder, oats, egg and milk together in a bowl.
Pour the mixture 1 ladle at a time into a non-stick frying pan, evenly spaced apart so the pancakes have room to spread. Cook for about 2 minutes per side.
Once cooked, top with cinnamon, banana and maple syrup
MACROS:
Calories 430kcal | Carbs 47g | Protein 40g | Fat 9g