Last updated on January 16th, 2023 at 03:51 PM
Nasser Al-Attiyah wrapped up a fifth car crown and Kevin Benavides finally got the better of Toby Price for his second Dakar Rally bike title as the Red Bull Off-Road Junior Team made history with their maiden win thanks to AJ Jones and Gustavo Gugelmin in T3.
The 2023 Dakar Rally chequered flag has fallen on Sunday after 5,000 kilometres against the clock with 14 stages across Saudi Arabia, from the Red Sea to the Arabian Gulf via the Empty Quarter desert.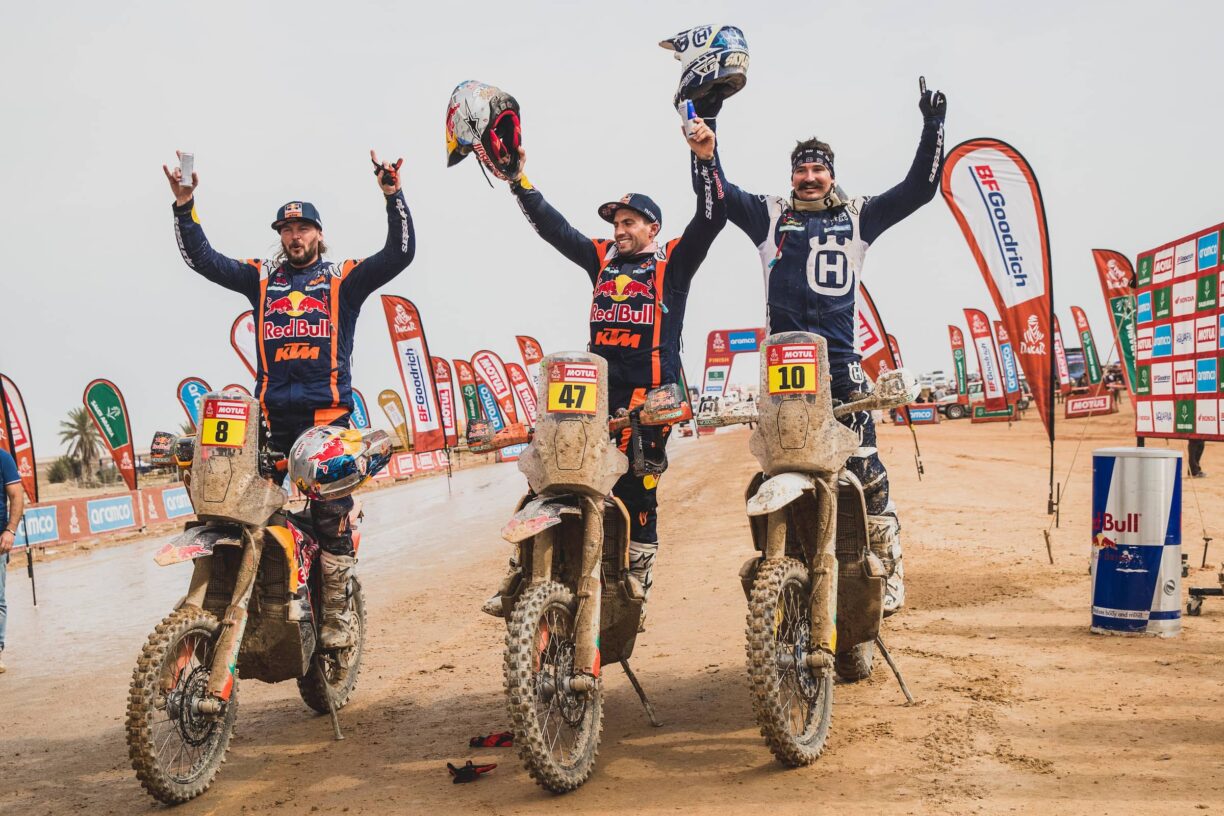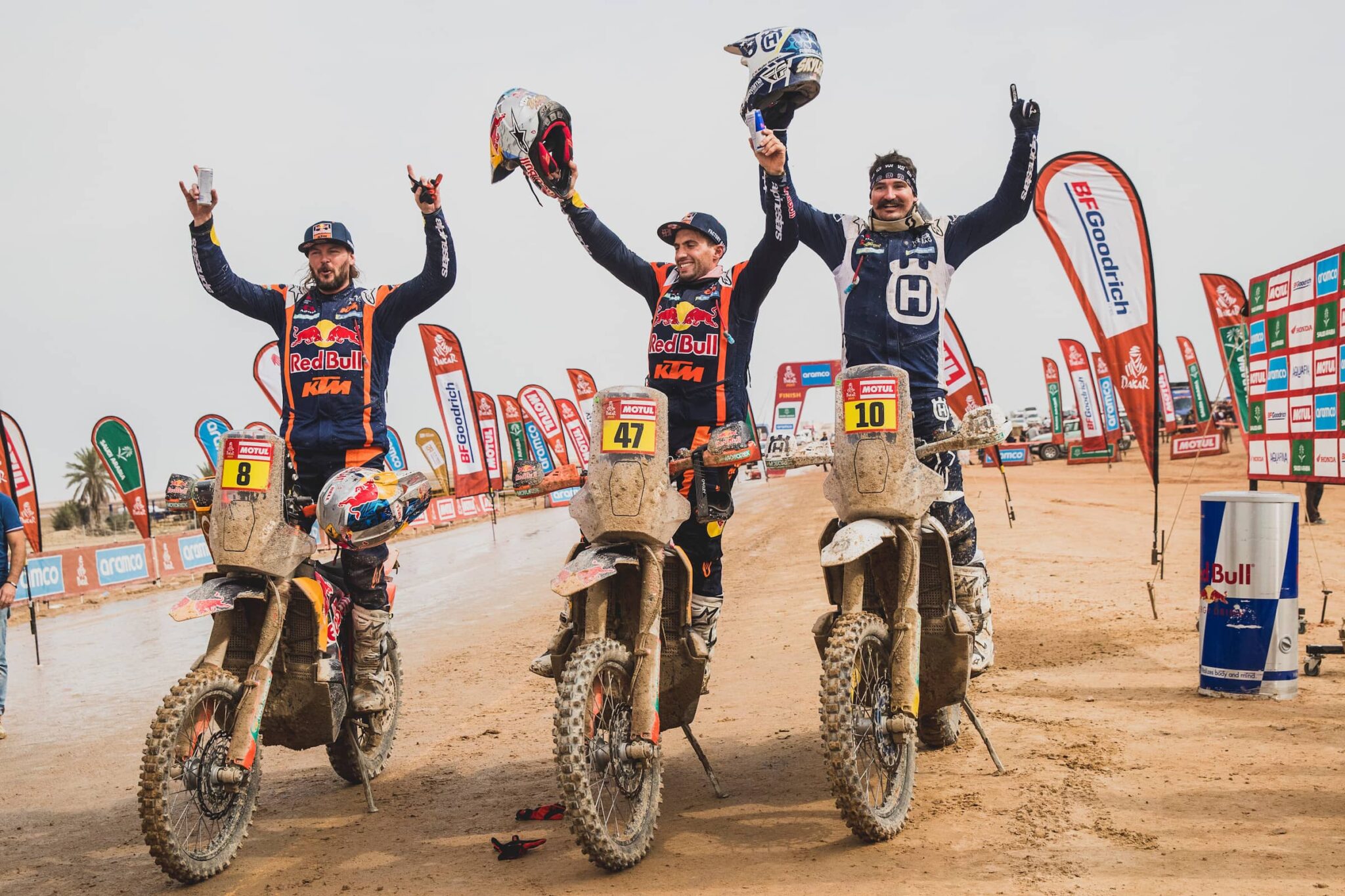 As we got deeper into the two-week rally it became clear that nobody was going to stop Al-Attiyah picking up his fifth Dakar title, the Qatari in perfect sync with his co-driver Mathieu Baumel and their Toyota GR DKR Hilux T1+. The 52-year-old said: "It was a difficult Dakar for everyone. It's crazy to manage to defend my title. I'm very happy to win five times."
Pushing Al-Attiyah closer than anyone else was nine-time WRC winner Sébastien Loeb as the Frenchman won six consecutive stages alongside co-driver Fabian Lurquin in the BRX Hunter to settle for second. The 48-year-old said: "We also set a new record of stage wins so it's not so bad."
The most surprising car result came from Brazilian rookie Lucas Moraes and his co-driver Timo Gottschalk as they finished third overall on debut in a Hilux. The 31-year-old said: "Finishing on the podium is important for the rally community in Brazil because it had never happened before."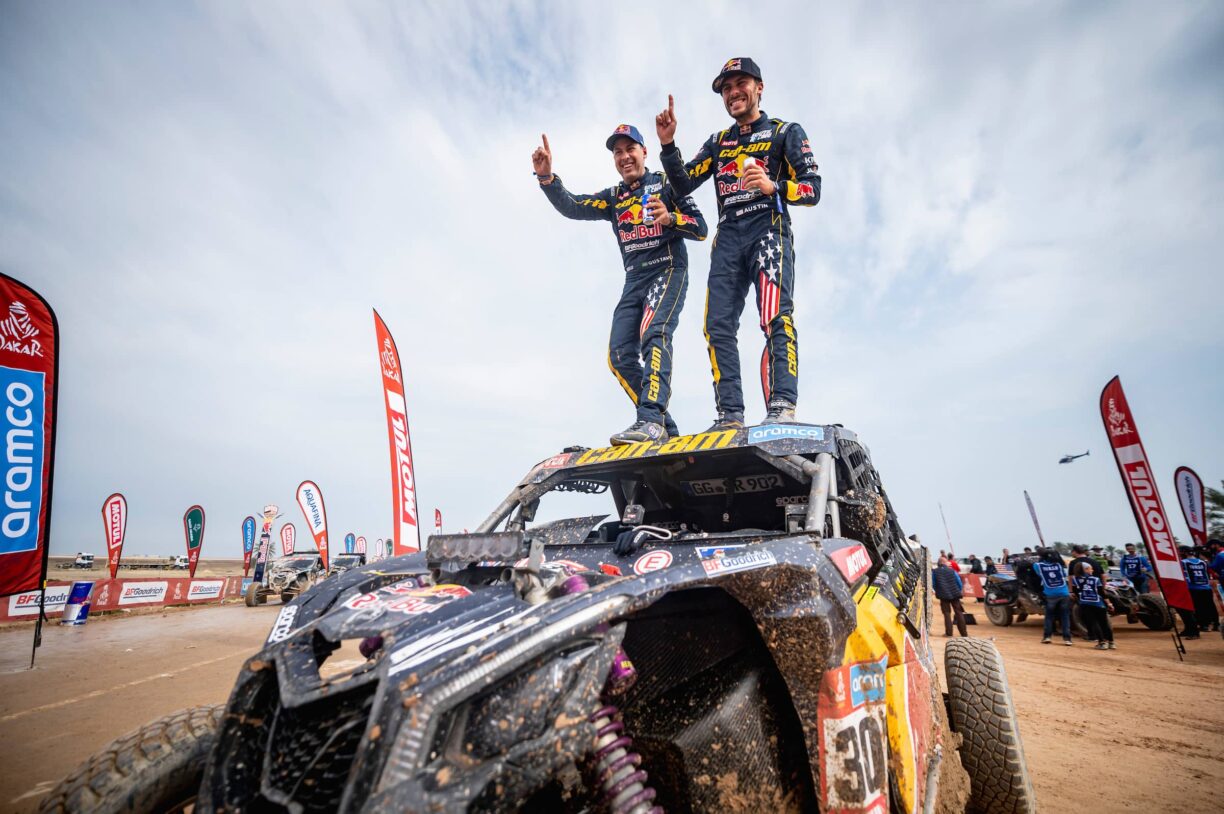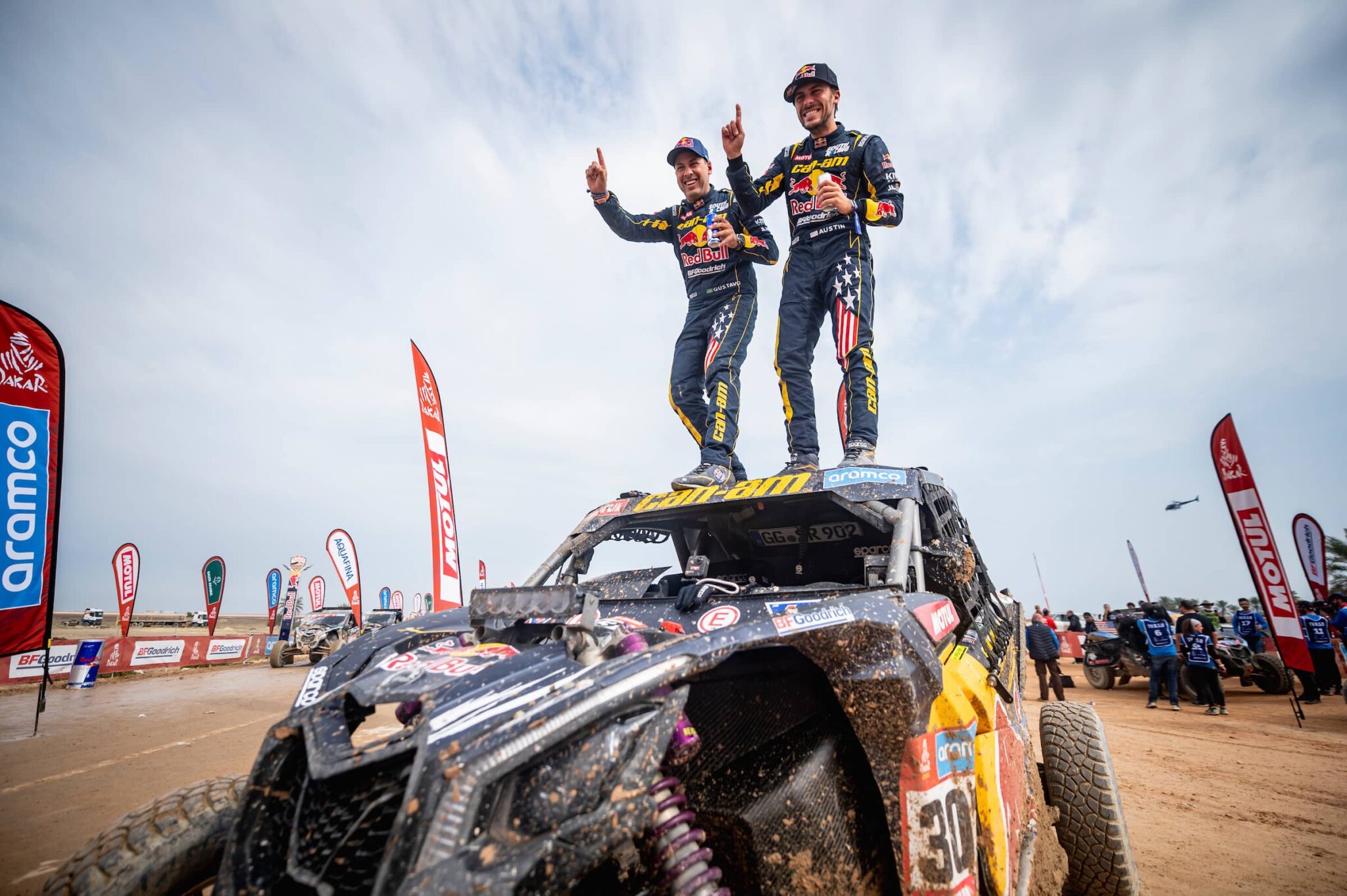 Finishing fourth was the Toyota Gazoo Racing duo of Giniel De Villiers/Dennis Murphy, while Kuba Przygoński/Armand Monleon and Laia Sanz/Maurizio Gerini also finished with Sanz maintained her record of completing all 13 Dakar editions that she has entered in bike and car.
It was left to Swedes Mattias Ekström/Emil Bergkvist to represent Team Audi Sport on the final stage podium, but fellow Audi crews and Dakar legends Stéphane Peterhansel/Edouard Boulanger and Carlos Sainz/Lucas Cruz were forced to retire from the rally prematurely this time around.
This year's bike race was not decided until the final few kilometres with Red Bull KTM Factory Racing rider Benavides now winning two of the four editions hosted by Saudi Arabia. The 34-year-old Argentine said: "It's incredible to pull off the win at the end of this completely crazy Dakar."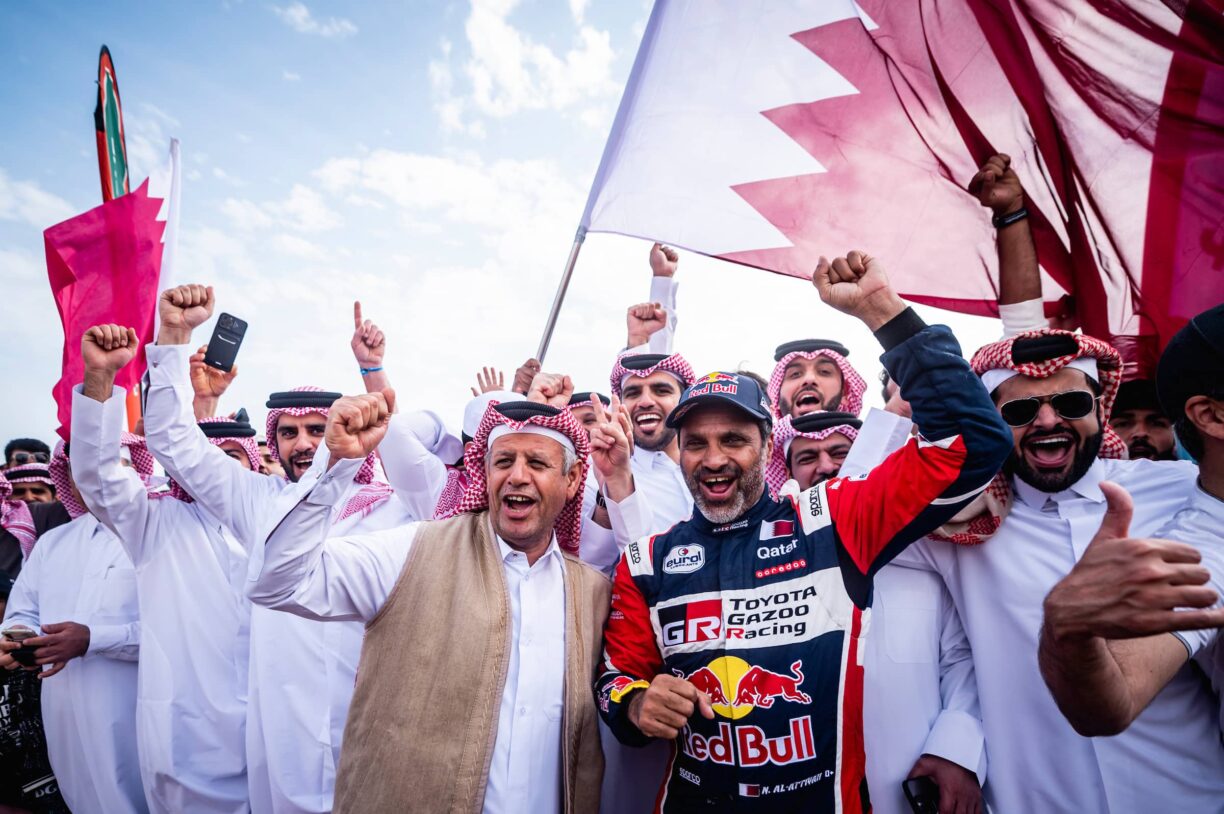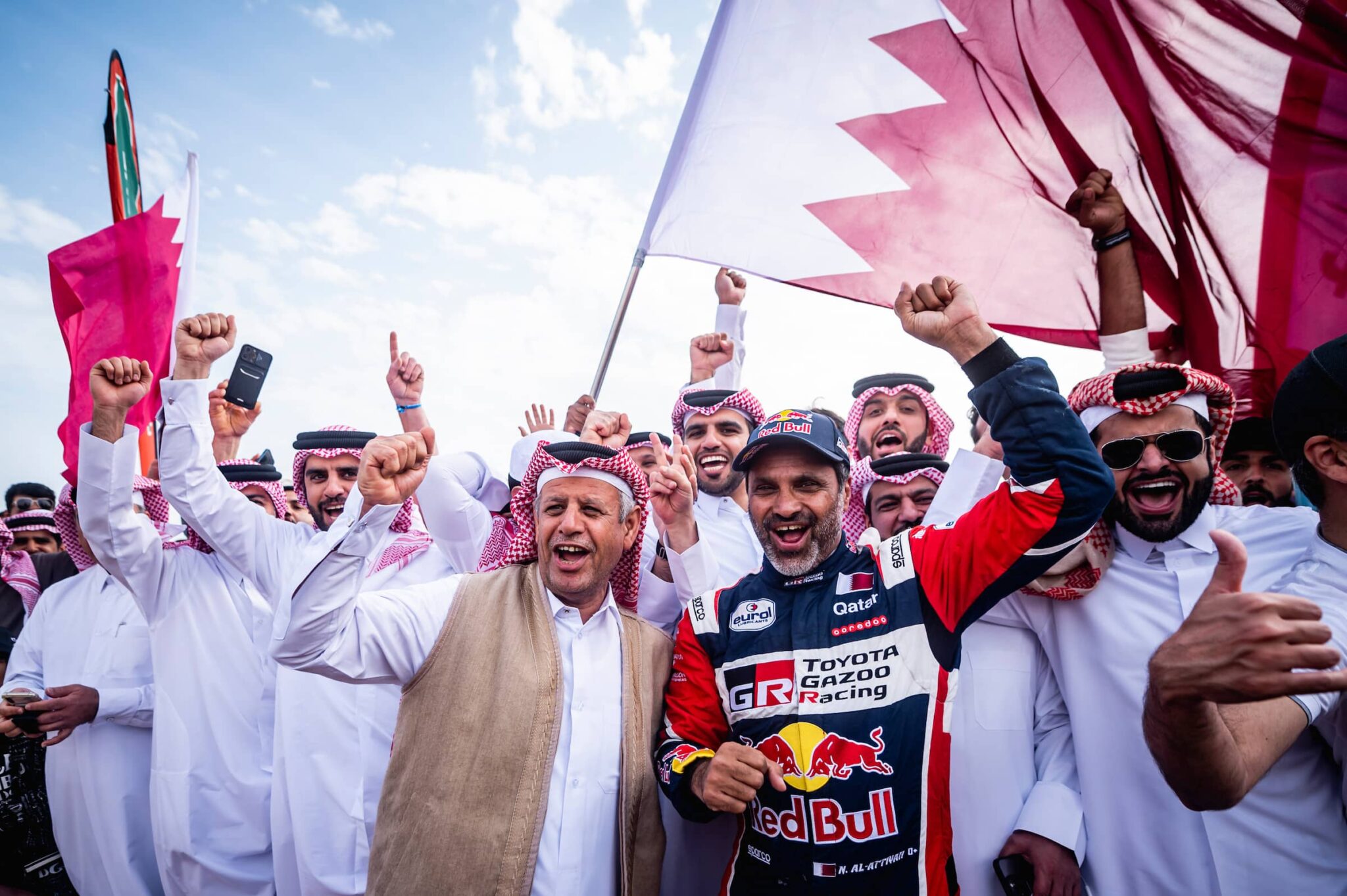 Going into the 14th stage it was Benavides' Australian team-mate Price who led by 12 seconds, however, he slipped to 43s behind with American Skyler Howes third and Australian Daniel Sanders of Red Bull GASGAS Factory Racing seventh overall after he had led the rally during the first week.
There was also 12th place for Štefan Svitko while Mohammed Balooshi completed his fourth Dakar and hopefully speedy recoveries for injured Matthias Walkner, Sam Sunderland and Camille Chapelière.
Not only did the young Red Bull Off-Road Junior Team USA presented by BFGoodrich take the first two positions in the overall T3 rankings, but they also won more than half of the 14 stages contested.
Winner of last year's T4 race, this time Jones lined up in T3 for the first time in his Can-Am Maverick and the Arizonian did not disappoint. The 26-year-old said: "A big shout out to all the team, all the work that goes on behind the scenes. We couldn't do it without the help of those guys. My navigator Gustavo did a great job. We've done it, two years in a row!"
Pushing Jones hard all the way was his fellow Red Bull Off-Road Junior Team USA presented by BFGoodrich driver Seth Quintero and co-driver Dennis Zenz, the 20-year-old Californian's title hopes dashed in the first week due to technical issues and water in the tank but he battled back. He said: "To finally drive through every stage of the Dakar feels amazing."
The team's third race crew, Mitch Guthrie Jr. and co-driver Kellon Walch picked up five stage wins and sacrificed their own charge at a sixth to help out team-mate Rokas Baciuška who ran into difficulty in the T4 race.
Completing the podium were Guillaume De Mevius and François Cazalet. The Belgian said: "I'm a little frustrated when the victory was there." Red Bull Can-Am Factory Team crews of Cristina Gutiérrez/Pablo Moreno and Chaleco López/Juan Pablo Latrach finished fourth and fifth.
Sadly for Baciuška and co-driver Oriol Vidal, the 23-year-old could not hold on to his T4 lead as young Polish driver Eryk Goczal took advantage of the Lithuanian's Stage 14 troubles to push him into second by 16m44s.
Selected Final Overall Standings
T1 Car Class
1. Nasser Al-Attiyah (QAT) TOYOTA 45:03:15
2. Sébastien Loeb (FRA) BRX +01:20:49
3. Lucas Moraes (BRA) TOYOTA +01:38:31
4. Giniel De Villiers (ZAF) TOYOTA +02:31:12
14. Mattias Ekström (SWE) AUDI +06:51:00
18. Kuba Przygoński (POL) MINI +07:28:50
32. Laia Sanz (ESP) ASTARA +19:18:39
Bikes
1. Kevin Benavides (ARG) KTM 44:27:20

2. Toby Price (AUS) KTM +00:43

3. Skyler Howes (USA) HUSQVARNA +05:04

7. Daniel Sanders (AUS) GASGAS +25:57
12. Štefan Svitko (SVK) KTM +01:50:42
35. Mohammed Balooshi (ARE) HUSQVARNA +09:54:18
T3 Lightweight Prototype
1. AJ Jones (USA) CAN-AM 51:55:53

2. Seth Quintero (USA) CAN-AM +52:05
3. Guillaume De Mevius (BEL) OT3 +01:35:42
4. Cristina Gutiérrez (ESP) CAN-AM +02:56:20
5. Chaleco López (CHL) CAN-AM +02:59:48
10. Ignacio Casale (CHL) YAMAHA +06:53:27

23. Mitch Guthrie Jr. (USA) MCE5 +27:58:08
T4 SSV
1. Eryk Goczal (POL) CAN-AM 53:10:14
2. Rokas Baciuška (LTU) CAN-AM +16:44

3. Marek Goczal (POL) CAN-AM +18:15