Last updated on May 3rd, 2023 at 08:57 PM
Gamers and racing fans, get ready for the ride of your life as EA SPORTS announces the release of F1 23, the official game of the FIA Formula One World Championship™. Set to drop on June 16th, F1®23 is coming to PlayStation®5, Xbox Series X|S and PC via the EA App, Epic Games Store, and Steam.
But that's not all! The game's centrepiece is the exciting return of the epic story mode, Braking Point. With every team, driver, and circuit for the 2023 season, including the much-anticipated Las Vegas Grand Prix and Lusail International Circuit in Qatar, F1®23 promises to be the ultimate gaming experience.
And there's more good news: The back-to-back World Champion, Max Verstappen, is confirmed as the cover star for the digital-exclusive F1®23 Champions Edition. With his EA SPORTS branding on the chin of his helmet, Verstappen is sure to make a lasting impression on the game and its fans.
But the excitement doesn't stop there. F1®23's handling has been upgraded from last season, allowing for more predictable behaviour.
New vehicle physics gives the cars better traction when braking, accelerating, and cornering, and actual F1® team feedback has resulted in a greater balance between aerodynamics and tire grip. Engine torque and inertia improvements mean throttle control is more authentic, offering a greater level of connection to the car.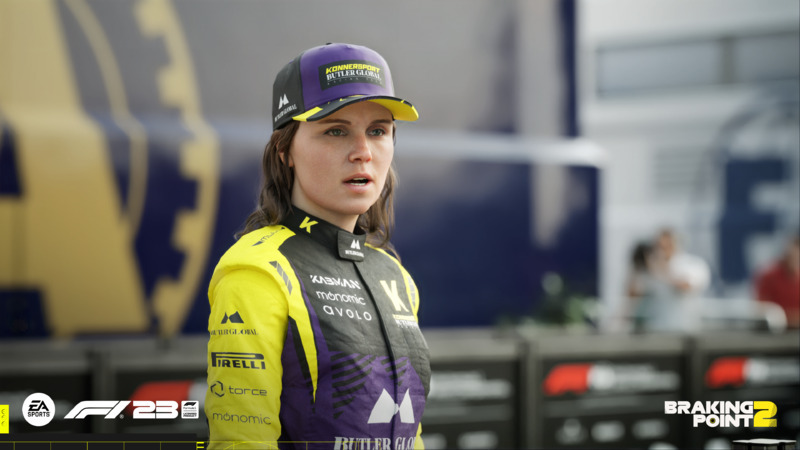 Incorporating community feedback, F1®23 also introduces the much-anticipated 35% race distance, providing the perfect sweet spot between the previous short and long race options. And red flags add a new strategic element to F1®23, with the ability to react quickly potentially changing the outcome of a race.
The game also boasts three legacy circuits, with Paul Ricard (France), Shanghai (China), and Portimão (Portugal) all confirmed for launch. Plus, the introduction of the F1® World hub delivers a fresh experience with content inspired by the real-world calendar.
If all of this isn't enough to get your engines revving, the digital-exclusive F1®23 Champions Edition comes with time-limited Las Vegas content, Max Verstappen Race Wear Pack, Braking Point 2 Icons and Vanity Item Pack, Dual Entitlement, four new My Team Icons, an XP Boost, F1® World Bumper Pack, 18,000 PitCoin, and three days early access starting on June 13.
So what are you waiting for? Get your hands on F1®23 when it releases across, PlayStation®5, Xbox Series X|S, PlayStation®4, Xbox One, and PC via the EA App, Epic Games Store, and Steam. Follow the Formula 1 game website and social channels on Instagram, Twitter, TikTok, and YouTube for all the latest news on F1®23.