Last updated on March 6th, 2022 at 06:34 PM
Be transported to the beach in Bali with this vibrant buddha bowl. Loaded with delicious fresh ingredients like Gosh! Beetroot Burgers, curly kale, nutty quinoa and avo to name a few.
Why Fibre? Why Now?
Your gut microbiota, known in simpler terms as the mass of bacteria, viruses, fungi and other microbes living in your intestines, has a huge impact on your immunity.
The best way to keep your gut happy is to feed it a regular supply of fibre, which is found in wholegrains, fruits, veggies and other natural foods
.Plant-based food brand Gosh! Food is your one-stop shop for fibre. Gosh! has collaborated with talented cook and published author Gem's Wholesome Kitchen on a range of delicious fibre-filled recipes to keep your tummy smiling all throughout lockdown. Each meal contains more than half the NHS' recommended daily fibre intake of 30g.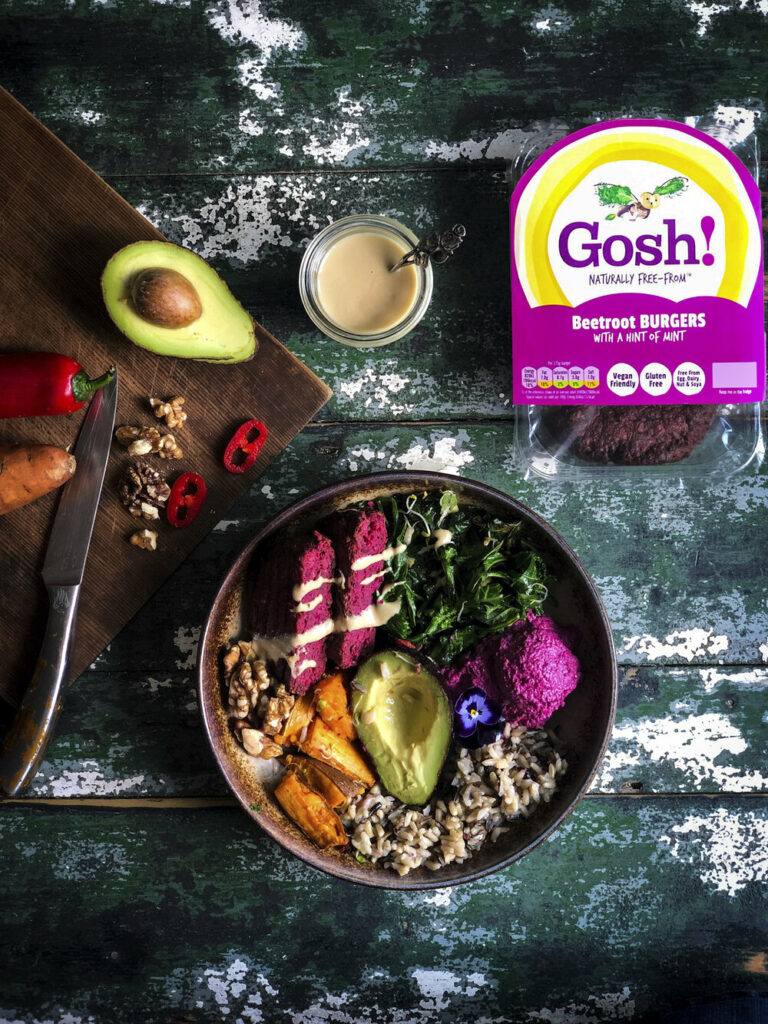 Buddha Bowl using Gosh! Beetroot Burgers with Carrot, Kale & A Hint of Mint
Serves 4
Prep time 15 mins
Cook time 15 mins
Ingredients
1 packet of Gosh! Beetroot Burgers
For the Quinoa and Kale
250g of quinoa
1 bunch of kale, ribs removed and chopped into very small bite-sized pieces
½ tsp of salt
2 tbsps. of olive oil, plus more to drizzle
Juice of 1 lime
For the Sweet Potato
Olive oil
2 medium sweet potatoes, washed and cut into 5mm strips
2 tsps. of ground cumin
1 tsp of smoked paprika
1½ tsps. of salt
For the Dressing
1 avocado Juice of 2 limes
Glug of olive oil
1 medium chilli, chopped
A handful of fresh coriander
Extra Bits
Hummus (Beetroot hummus used here)
A handful of sunflower seeds and/or chopped nuts
Method
First, cook the quinoa in a saucepan of water for about 15 minutes, or according to the packet instructions
Warm the Gosh! Beetroot Burgers at 160°C fan for 15 minutes
Meanwhile, warm the olive oil in a large frying pan over a medium heat and add the sweet potato. Stir in the cumin, smoked paprika and salt. Once the pan is sizzling, add 50ml water, cover the pan with a lid and reduce the heat to low. Cook, stirring occasionally, for about 10 minutes until the sweet potato is cooked then set aside to cool
Put the kale in a large bowl. Sprinkle with salt and drizzle with oil. Use your hands to massage the kale for 2–3 minutes. Whisk together the 2 tablespoons of olive oil with the lime juice, drizzle over the kale and toss to coat
For the avocado dressing, blitz the ingredients in a small blender until smooth (or mash the avocado and mix with the other ingredients for a chunkier dressing)
To serve, divide the quinoa and kale between bowls and top with the sweet potato, a Gosh! Beetroot Burger and a good spoonful of the avocado dressing. Sprinkle with nuts and seeds
Veggie Hack
Add a hard-boiled egg for extra protein