Last updated on August 22nd, 2021 at 05:41 PM
A new report released by Future Fit has revealed the biggest trends, brands and influencers powering the world of fitness in 2020, as well as looking at every country's favourite workout and fitness brand.
The Fitness Index ranks 100 of the biggest fitness brands in the world, taking into account Google searches, engagement, social following and more.
The hottest fitness brands of 2020
From analysing a range of metrics including social following and engagement, as well as consumer interest, Future Fit can reveal that Nike is the hottest fitness brand of 2020.
According to the Fitness Index, Nike is not only the most followed brand on social media, but also the most mentioned, as well as the most searched for on Google.
Following closely behind Nike, is the company's main competitor Adidas. The "three stripes company" scored highly across all factors, but where they (and all other brands) majorly fell behind Nike was following on social media.
In third place is Beyoncé's Ivy Park, the brand which brings the superstar's effortlessly cool style to high-tech performance wear. Ivy Park had the highest engagement rate of all the fitness brands (4.9%) and also saw a huge increase of 104% in searches following a high-profile collaboration with Adidas last year, leading the brand to rank in third place.
The top ten hottest fitness brands of 2020 are:
The most powerful fitness influencers
According to the Fitness Index, which looks at combined social media followings, as well as calculating estimated earnings per post or video, the most powerful fitness influencer of 2020 is Michelle Lewin.
At the top of the tree, Michelle Lewin went from working in a clinic in her hometown in Venezuela to one of the biggest names in the fitness industry in just a couple of years, all thanks to social media. With over 13 million followers on YouTube and 391,000 subscribers on her YouTube channel, she's the most followed fitness influencer on the list, with potential earnings of $45,411 for just one post on Instagram.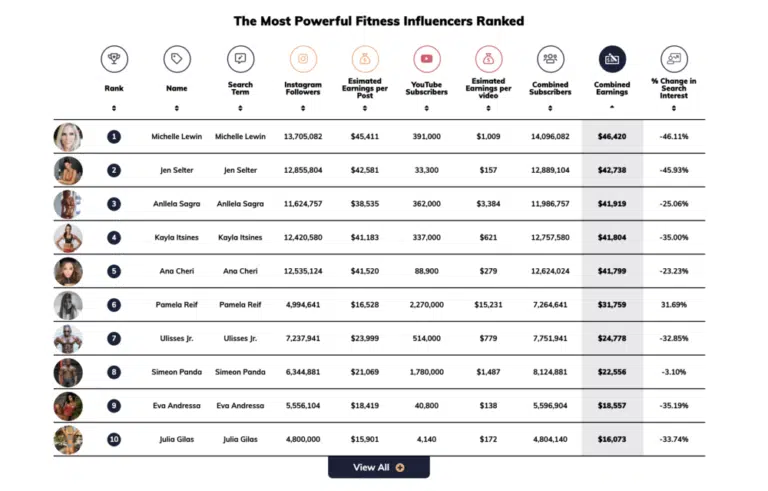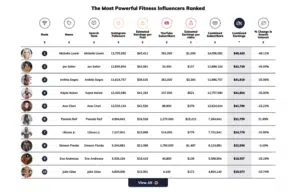 In second place is Jen Selter who has built up over 12 million followers on Instagram, with fitness model Anllela Sagra ranking in third place with 11 million followers on Instagram and 362,00 subscribers to her YouTube channel.
Here are the top five most powerful fitness influencers of 2020:
The most popular fitness trends in 2020
By analysing the percentage changes in search numbers for different exercises and fitness trends, it was discovered that the fitness trend with the biggest increase in popularity this year is 'biohacking', with a 28.91% increase compared to last year.
For those that don't know, biohacking is essentially wellness taken to the extreme, and the practice of changing our chemistry and physiology through science and self-experimentation to energize and enhance our bodies. One prominent biohacker claims the approach will help him live to 180 years old!
Other fitness trends which have seen an increase in search volume include spinning (11.06%) and functional training (up to 7.8%), which is fitness training that is focused on improving everyday movement patterns that you'll use in everyday life, whether it's squatting to tie your shoelace or pushing a door open.
However, many once hugely popular fitness trends have seen significant decreases in search terms over the past twelve months, with searches for CrossFit and Zumba dropping by -12.23% and -11.32% respectively, and those for the TRX Total Resistance system dropping by -23.24%.
Every country's favourite workout


When looking at every country's favourite workout, Yoga was revealed to be the most popular global fitness regime, with it coming out as the favourite form of fitness in 78 countries around the world.
Branded workouts such as Zumba and Crossfit emerged as the most popular workout for 20 countries each, while 14 countries (including the United Kingdom) appeared to favour Pilates as the best way for keeping fit.
Every country's favourite fitness brand
According to search data, Adidas is favoured in 58 countries, including its homeland of Germany, however once again Nike storms into the lead, being the most searched for brand in a whopping 90 countries around the world.
Though the two brands dominate most countries around the world, Gymshark was the preferred fitness brand in two countries, Lululemon was the favourite in their hometown, Canada, and wearable tracker brand Fitbit were the favoured fitness brand in Gibraltar.
You can view the findings in full here: