Last updated on November 10th, 2022 at 09:19 PM
The UK's most trusted sleep brand Silentnight, is building on its partnership with leading UK retailer Bensons for Beds, launching a new exclusive high-performance Sleep Vitality collection. 
The collection will sit alongside its sister range, the Sleep Healthy collection, and has been developed to appeal to a more health-conscious consumer, as part of Silentnight's wider focus on supporting health and wellbeing within its ranges.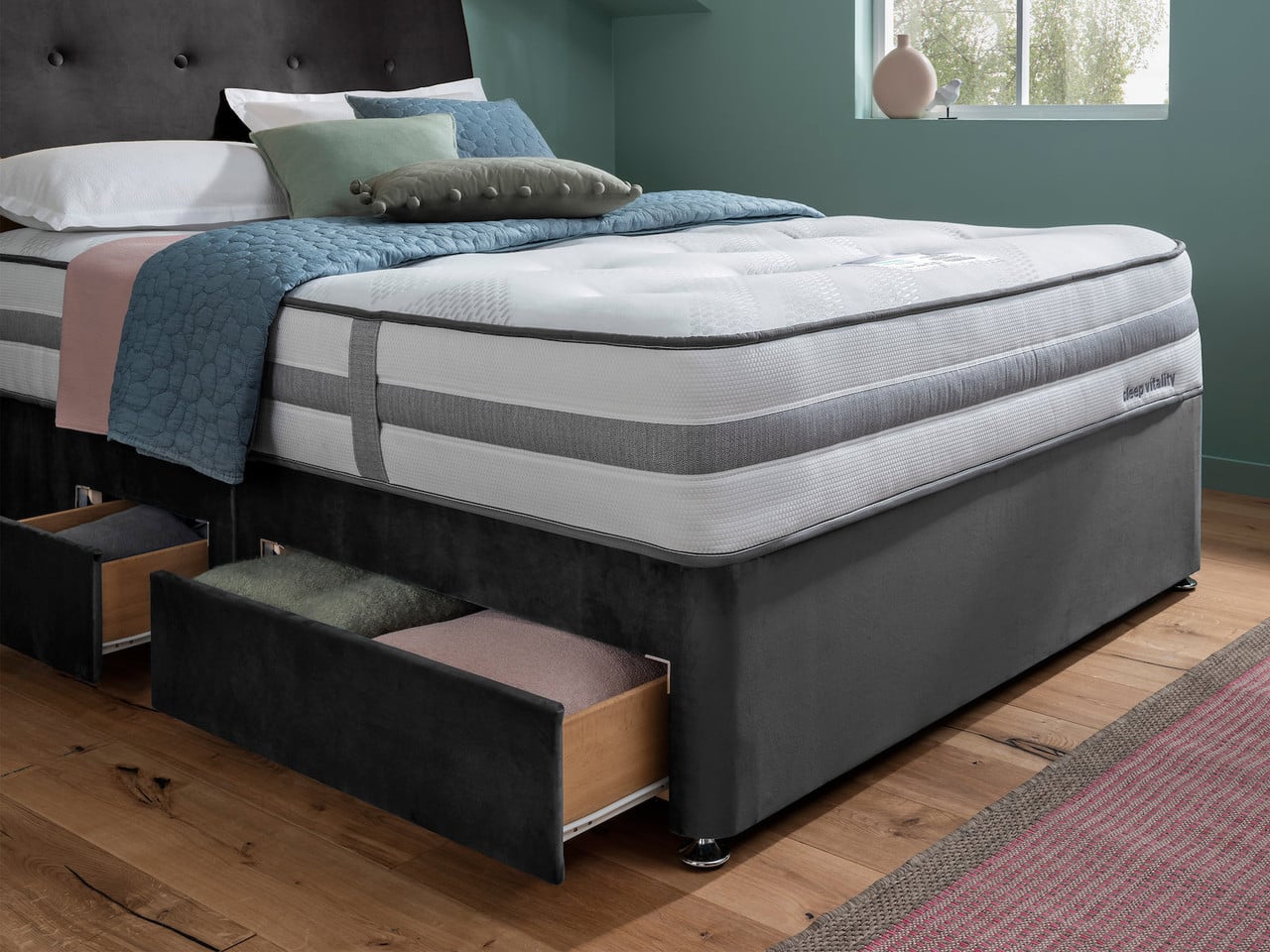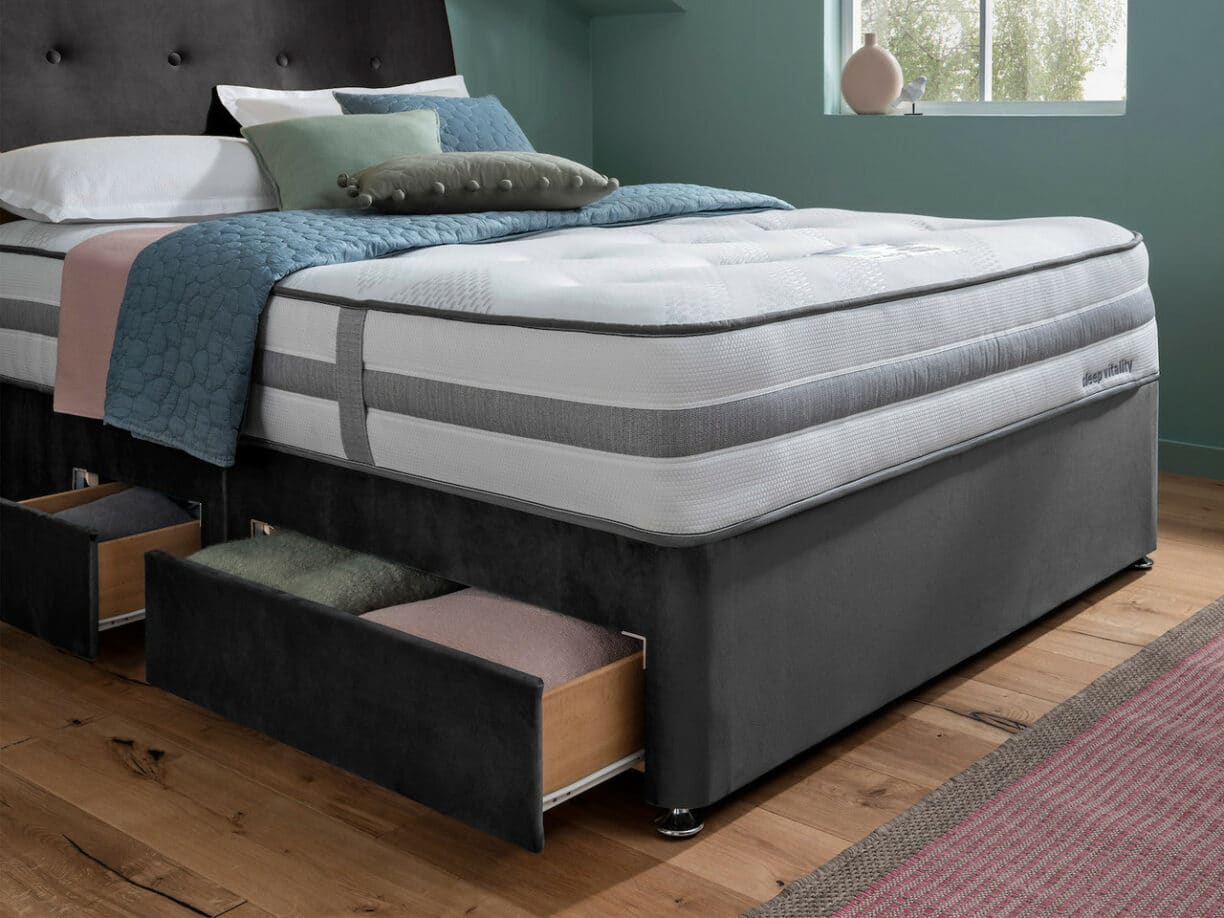 It is surprising how many people underestimate how important sleep is to our whole bodies, and how many people out there just aren't getting a decent night. The main cause…. an uncomfortable mattress.
When I heard about the Silentnight range I decided that I wanted to test out the Sleep Vitality Collection to see if their marketing lived up to their claims.
After a little research, the 'Silentnight Sleep Vitality Vibrance Mattress' in firm was chosen. This range is designed with not only the usual comfort and stability but also to help reduce levels of cortisol… yes, a stress-busting mattress. 
Developed by Silentnight's sleep experts, Sleep Vitality offers a range of core benefits including an Intense™ sleep surface for deeper undisturbed sleep, luxurious latex for cushioning comfort and Mirapocket® technology to provide optimal spinal support.
Crafted with carbon, which is woven into the fabric of the Intense™ sleep surface, it has a range of benefits, including a reduction in static electric build-up throughout the day.
This helps lower levels of cortisol, a stress hormone which can prevent the production of the sleep hormone melatonin.
While stress hormones can be useful during the day, helping us to focus attention and perform tasks, science shows that too much cortisol interferes with the brain's ability to go into a deep sleep. Reducing cortisol levels results in improved sleep quality. 
On taking delivery of the mattress I made the unwise decision of telling the delivery guys just to leave it in the downstairs hallway, I mean who wants dirty footwear delivery guys traipsing up your stair into your boudoir, I mean how hard could it be to get a mattress up the stairs.
How I regretted that decision when my husband and I would take to lifting it upstairs, when it says a two-man lift they do mean two-man lift.
I couldn't believe how well this mattress is built, weighing in at 52kgs (the double size) it really will stand up to anything you can throw at it literally.
After the first initial first week of nights getting used to a different mattress and feeling like I'd made the wrong choice, I can honestly now say that I have had wonderful undisturbed full night's sleep ever since. Not something that happened very often with my old mattress. 
The construction of this mattress is so well thought out by the designers at Silentnight.
One particular thing that I really love is how well the 'walls' are built. A lot of mattresses sink around the edges when pressure is applied. 
With this mattress, you can roll right onto the edge, and still feel just as well supported as in the middle.
Customers can choose from the Boost 2350 Pocket Mattress, which offers firm support, the Radiant 2650 Pocket Mattress, offering medium support, and the Vibrancy 3450 Pocket Mattress, in a choice of medium or firm. All are available in single to super king sizes.
The extended range of Sleep Healthy and Sleep Vitality is now available at Bensons for Beds where a dedicated sleep wellness advisor can help guide customers through the benefits of each collection. Because each person is different, it is crucial that those living an active lifestyle are able to choose the right mattress for them.
Available online and in selected Bensons for Beds stores across the UK, the Sleep Vitality collection includes a choice of four mattress types, each with its own firmness level, ensuring there's a mattress to suit every preference. 
Now all I need to really lower my cortisol levels is to stop the husband's awful snoring!
A combined total of 3450 pocket springs and micro pocket springs, comprising of:
2000 Mirapocket® springs – zoned, edge-to-edge support, tailored to your body
1450 micro pocket springs – for responsive, adaptive surface comfort and breathability
Luxuriously soft, breathable stretch knit cover – partners perfectly with the luxury fillings for opulent comfort
Innovative Intense™ technology sleep surface – lowers stress-induced cortisol levels for a deeper sleep
Luxurious latex comfort – adapts to your unique shape and movements, for soothing pressure relief and to help ease aches & pains
2 comfort ratings – choose from medium or firm to suit your sleeping style
Hand tufted – for a supportive feel and to secure the mattress fillings
Easy care – no turn mattress
Reassuring quality – handcrafted in the UK by Silentnight, exclusively for Bensons for Beds
10-year guarantee – for total peace of mind