A new study from the UK's leading professional basketball team, the London Lions, has unveiled that nearly 3-in-4 Brits (73%) say cities are forgetting about children and running out of space for kids to play sport.
Representing a missed opportunity to better the outcomes for children across the nation, the study found 46% of the population said having a free space to take part in sports or do physical activity is their most important mental health aid.
A further 16% even admitted they would have engaged in anti-social behaviour or crime if they did not have these outlets whilst growing up.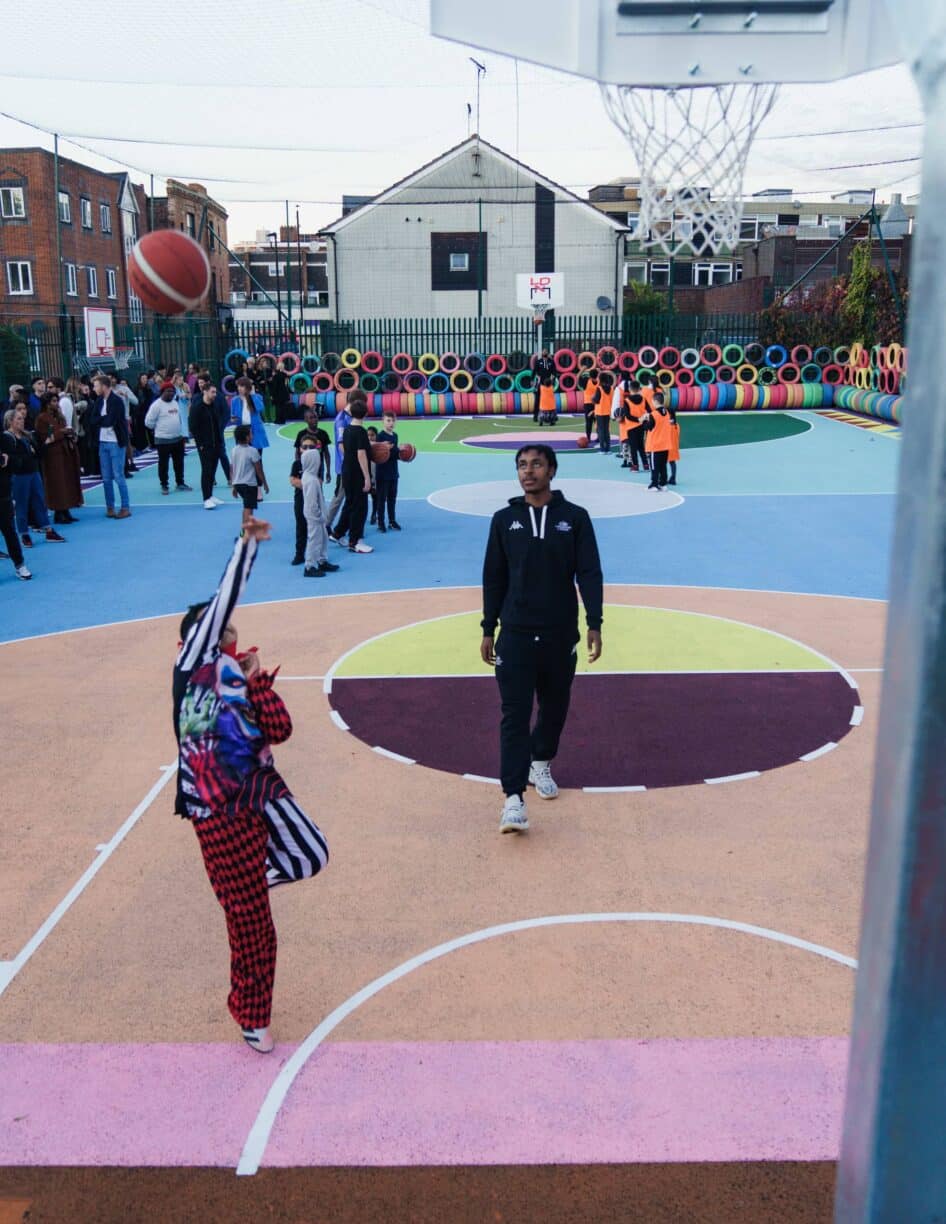 Having a free space to play sports has never been more crucial as families across Britain are battling the most severe cost of living crisis seen in 40 years.
Recent data from the Asda Income Tracker shows that a fifth of UK households now have negative disposable income, meaning many parents across the country will no longer be able to pay for their children to engage in physical activity at leisure centres or join sports clubs.
Alongside this study, the Lions and artist Alvaro Barrington recently collaborated, in partnership with Serpentine, CONSUL, Tower Hamlets Council and Weavers Adventure Playground in Bethnal Green, to create a unique basketball court for the surrounding community and beyond.
It was opened to the public in a grand community event on Friday 28th October, with representatives from the mayor's office in attendance.
According to research from The Trust For London, Tower Hamlets is London's worst-hit borough in terms of child poverty; the court aims to provide a vibrant and free space for kids to play whilst bringing people together from all walks of life for a celebration of sport, art and community.
The court is expected to attract between 70-150 children that come to enjoy their facilities every day. Realising the power that sport has as a catalyst for positive change, this landmark renovation marks the start of an ongoing initiative from the London club to renovate other community courts across the city.
Basketball presents itself as a fun and accessible sport that is crucial in engaging some of the UK's most deprived communities.
However, although it is estimated that 1.3 million people play basketball on a regular basis in the UK, and the sport boasts the highest percentage of players from a non-white British background (47%), it still ranks 12th for grassroots funding over the last decade.
According to UK Sport, Basketball received just £25,000 p.a. between 2018 and 2021 – compared to the £10m p.a. British Rowing received, despite it being the second most popular team sport – marking a strong disparity between its popularity, social value and level of monetary backing.
The Lions are keen to address this disconnect and hope that this court will create essential space for the capital's growing community of basketball fans.
London Lions player, Mo Soluade, comments on the importance of having a space to play sports: "Kids need that outdoor space to be active and just be with each other, because if they are not, then they are inside on their PlayStation, watching TV or on their phones.
The social factor of having these outside spaces is important as well as the health factor. "Sport is a great channel, kids love it, but if they don't have a space to go and play it, to really get into it, then they are going to look to do something else.
"Having the facilities available, whether it is a park or leisure centre, that they can go and play basketball, football or whatever it might be, is very important and it keeps them away from those other negative activities."
Lenz Balan, Vice President of 777 Partners who own the London Lions, said: "This marks the start of an ongoing commitment to give back to the local community. It's vital for children to have a safe space to play and engage in physical activity, and we hope that this new court provides just that.
"We see first-hand the positive difference that sport can have on people's lives, and it's now about maximising this impact in the areas across London that need it most.
I also want to thank all of our partners involved in bringing this project to life – in particular the artist behind the design, Alvaro Barrington – for helping to deliver such a beautiful, artistic court that can become a vibrant hub for the local community."