By David Saunders | UPDATED: 08:28, 24 December 2019
BBC One will be celebrating A Question of Sports landmark anniversary with two special programmes – a star studded nostalgic edition in A Question Of Sport: 50 Not Out and a documentary looking back at the show's history in A Question Of Sport At 50.
Host Sue Barker also has the accolade of being A Question of Sport's longest serving presenter, having joined the show in 1997, taking over from David Coleman. By the end of the current series Sue will have hosted over 800 shows.
Sue spoke with us about the impending 50th Anniversary show and what we can expect from the proceedings.
What can we expect to see from the 50th anniversary show?
Well for a start we invited Ally McCoist back… So the answer to that question would be: 'Mayhem!' Needless to say, he has always been the joker of the pack. We also have invited back some of the people that have been our most regular guests on the show over the last three decades. We've got Martin Offiah, Laura Davies, and Beth Tweddle, along with Ally. It's a lot of fun and we really enjoyed recording it. Having Ally back on it means the majority of the programme will have to hit the edit room floor, because we couldn't broadcast a lot of it!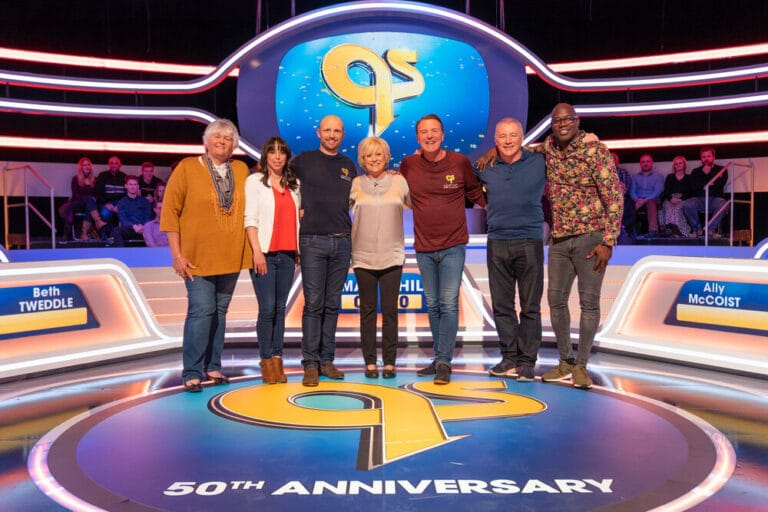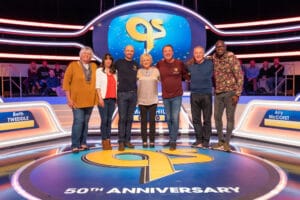 What's been your personal highlight during your time on the show?It is actually impossible to pick a personal highlight. I guess my highlight would be actually being offered the job in the first place because I grew up watching the show. My tennis career was in the 70s, when AQOS was starting out and I absolutely loved the programme, my whole family did, as we are all sports nuts. I was thrilled when I was invited on it as a guest and also to do a mystery guest slot. But in 1997, it was actually David Coleman and the then Executive Producer Mike Adley who thought that I would be the best person to take it on. Mike had been the producer right the way through, so for him and for the legend that is David Coleman to actually say that I was the right person to take over from him that was my highlight. I couldn't believe that I would be able to take the reins of, not only one of my favourite programmes, but also one of the BBC's most loved programmes, that had  already been going for over 25 years.
Who would be your dream guest to have on the show?Well this has changed over the years. I would love to have someone like Usain Bolt on the show because I think he would grasp the spirit of AQOS. He's got a great sense of humour, he is obviously a legend and I think he wouldn't be afraid to have a go and make a fool of himself, and that's really what we're after on A Question of Sport.
What do you think has been the key to the show's long lasting popularity?I think it's mainly because it hasn't changed a lot from its core values of a sports quiz between two very competitive sports panels. Some people come on and say: "Well are you going to give me the answers?" And I say: "No!" We haven't given anybody the answers over the years. It is a true, honest sports quiz, nobody gets given a clue of what their questions are going to be. I also think why it has lasted the way it has is because everyone then plays along at home. If the person on the screen doesn't know it, then viewers at home will be shouting at the screen: 'I know it! I know it!' It's just a fun sports quiz show.
How do you think it has changed during your time on it?Obviously, there have been different captains. We try to go with the strengths of the captains and everybody who's involved. Phil and Matt are both lovely, they are both failed actors basically. They love things like charades, so sprint finish is perfect for them. Some of the rounds have changed, for example the picture board round used to be quite slow, but now you've only got a minute to get through as many as you can.
You mentioned you used to watch the show prior to being involved.Yes I did. I was on it a number of times and I also did a couple of mystery guests. There weren't that many female sportspeople back then that did mystery guest and because I had long blonde hair they had to hide me a lot. That is sort of my excuse for what I say next, in the fact that one time I was on as a mystery guest, one person thought I was Ray Clemence (the Liverpool goalkeeper) and the other panellist thought I was Alan Minter (the boxer)! The thing is you've got to have a laugh with it, that's the fun of it. It's being able to laugh at yourself and laughing along with the other team.
Would you say that is one of your favourite memories of the show before you were host?I remember the Princess Anne with Emlyn Hughes moment from years ago and it was just classic Emlyn, it was just TV gold. The fact that he touched Princess Anne, and also not recognising Princess Anne and thinking she was a male jockey, John Reid, he was just fantastic.  Emlyn, was such a touchy-feely sort of person, and he kept trying to comfort Princess Anne, but then he'd say: "Oh I can't touch her Royal Highness, I can't just throw my arm round her and say it's alright Ma'am!" I think that was one of the funniest shows. But also Ally McCoist dressing up in lycra for a cycling challenge was something I will never forget either.
As part of the 50th anniversary celebrations, you're going on tour around the country again. Are you looking forward to it?Yes, we did do it a few years ago and had so much fun doing it and interacting with the crowds. The boys telling stories as well, as Tuffers and Matt have some great stories. I thoroughly enjoyed it the last time and I'm really looking forward to doing it again.