Last updated on February 19th, 2022 at 07:59 PM
New Health and Fitness Streaming Platform and Leading Team-Based Obstacle Course Event Series Debut TOUGH MUDDER T-MINUS 30®
A new digital streaming platform Openfit, for integrated fitness, nutrition, and wellness, is teaming up with Tough Mudder, the leading collaborative obstacle course event series, to create TOUGH MUDDER T-MINUS 30, the comprehensive 30-day fitness and nutrition program to prepare participants for the physical and mental challenges of a Tough Mudder event – or achieving any objective in fitness and life.
The program is led by elite athlete and four-time TOUGH MUDDER Champion Hunter McIntyre. He designed T-MINUS 30 around a series of 30-minute workouts that will dramatically improve strength, agility, and endurance so participants can improve their fitness efficiently, whether training for a Tough Mudder event, another obstacle course race, or just to get strong and healthy with a fitness and nutrition protocol designed by a world champion.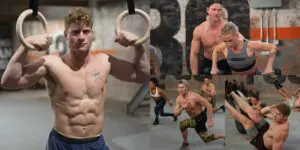 The 30-day program is comprised of 21 unique workouts that focus on strengthening muscle groups and improving specific physical fitness capabilities such as endurance, power, core strength, and mobility.
Intensity builds over the course of the month-long program, putting users to the test in the fourth and final week, named "Challenge Week," which features specialized workouts created to simulate the physical demands of a Tough Mudder event.
"T-MINUS 30 is the first comprehensive obstacle-course-focused workout program on the market. Every element of the training program is designed to prepare you physically and mentally for challenges for an event, but above all, to give the Openfit subscriber significant results in 30 days," said Jon Congdon, CEO of Openfit.
"We're thrilled to have developed this unique program with the renowned Tough Mudder organization, and to have the ability to share the T-MINUS 30 program on the Openfit platform where we help our community reach and exceed their goals whether those goals are on the Tough Mudder course or breaking personal barriers to get in incredible shape."
T-MINUS 30 also includes guides for distance running, chin-up and pull-up training, as well as pro tips on how to handle the most notorious Tough Mudder obstacles – including Everest 2.0, Berlin Walls, Funky Monkey, Mud Mile, and the Block Ness Monster.
The training program also includes a Taper Week to follow the week leading up to an event so the participant is fully recovered and prepared to perform at their peak. The 30-day cycle can be repeated to achieve long-term goals and test users have already reported a desire to make T-MINUS 30 their primary training routine.
"At Tough Mudder, we believe that any obstacle can be tackled through teamwork," said Rabia Qari, SVP of Marketing at Tough Mudder, Inc. "We want everyone to be able to experience the benefit of a Tough Mudder event.
T-MINUS 30 makes it easier than ever for anyone to prepare for an event, test themselves with harder workouts and have fun while doing it."
TOUGH MUDDER T-MINUS 30 is available exclusively to Openfit subscribers on Openfit.com and on iOS, Android, and Roku devices. Subscriptions start as low as $8.33/month ($99/year).
ABOUT OPENFIT:
Openfit is an all-new digital streaming platform that integrates fitness, nutrition, and wellness together in one place. At Openfit, we provide world-class fitness programs with workouts designed to reach any goal, perfectly paired nutrition plans, and customized wellness advice.
We've searched far and wide to find the world's foremost fitness and nutrition experts to make sure our customers succeed in reaching their goals.
That makes Openfit the place to go to get results and to have fun doing it. Join them at Openfit.com, on Facebook at facebook.com/Openfit, and on Instagram and Twitter @myOpenfit.