adidas unveil a debut line with Marimekko, marking the first ever sports apparel collaboration for the iconic Finnish design house.
The limited edition collection features a lineup of beautiful, bold pieces that seamlessly blend Marimekko's art of printmaking and functional style with adidas' expertise in sports performance.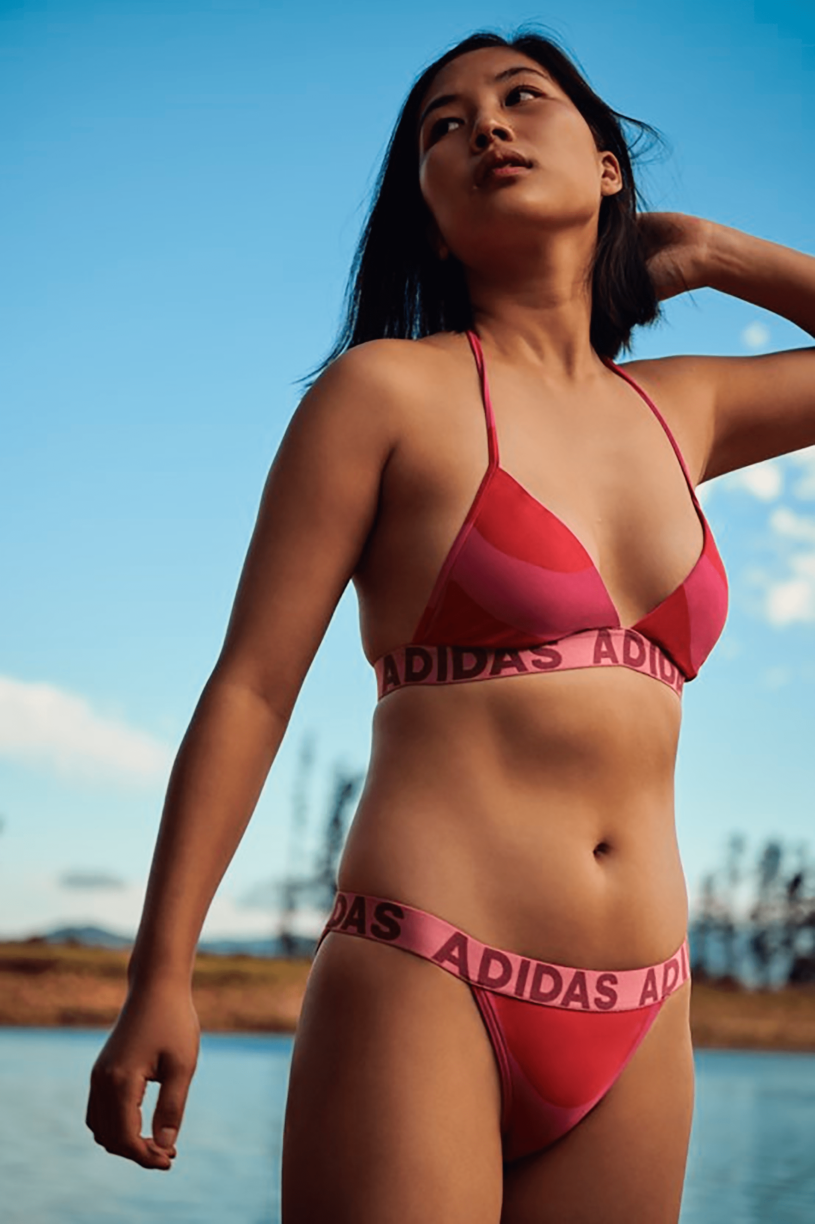 The collaboration with Marimekko marks a true collision of icons, with a shared history of pushing the boundaries of innovation and style for over seven decades.
The all-female teams worked side by side to explore Marimekko's vaults to handpick timeless prints for this season and beyond.
The first joint collection features two legendary Marimekko prints: Annika Rimala's Laine (wave) print from 1965 and Maija Louekari's Räsymatto (rag rug) from 2009. The bold vibrant patterns are now interwoven with signature adidas performance fabrics for a collection designed to inspire positivity and play in the everyday.
AS A FINNISH NATIVE I HAVE GROWN UP WITH MARIMEKKO AND HAVE ALWAYS HELD THEIR DESIGNS CLOSE TO MY HEART. THE OPPORTUNITY TO COLLABORATE WITH THEM, A BRAND WHO SHARES THE SAME VALUES OF COMBINING FUNCTIONALITY AND STYLE WHILE USING MORE SUSTAINABLE MATERIALS AND METHODS, FELT LIKE SUCH AN EXCITING AND NATURAL OPPORTUNITY.THE COLLECTION SPANS MANY SPORTS AND OUTDOOR ACTIVITIES AND COMBINES THE BEST OF OUR EXPERTISE IN SPORTS PERFORMANCE FABRICS, WITH THE BOLD AND PLAYFUL PRINTS OF MARIMEKKO. IT'S AN UNMISSABLE COLLECTION DESIGNED TO INSPIRE THE INNER EXPLORER IN ALL.

Josephine Aberg, VP of design at adidas
 The head-to-toe looks are ideal for embracing outdoor explorative pursuits, from swimming to running, cycling, and walking. Crafted with sustainable innovation at the heart, a priority for both brands, the collection features new materials and methods to help reduce environmental impact, including PRIMEBLUE and PRIMEGREEN recycled yarns. 
WE ARE IMMENSELY PROUD TO PRESENT THIS COLLECTION WITH ADIDAS. SINCE MARIMEKKO'S BEGINNINGS 70 YEARS AGO, OUR PHILOSOPHY HAS BEEN TO EMPOWER PEOPLE TO BE HAPPY AS THEY ARE THROUGH OUR COLORFUL ART OF PRINTMAKING. MARIMEKKO'S BOLD PRINTS FIT ADIDAS' INNOVATIVE AND BOUNDARY-PUSHING SPORTS APPAREL PERFECTLY – THIS FUNCTIONAL YET PLAYFUL COLLECTION AIMS TO SPARK THE JOY OF EXPLORATION IN EVERYDAY LIVES. THIS COLLABORATION OFFERS A FANTASTIC OPPORTUNITY FOR US TO INTRODUCE MARIMEKKO'S COLORFUL WORLD AND TIMELESS DESIGN TO EVEN MORE PEOPLE AROUND THE WORLD, AND WE HOPE ITS MESSAGE OF POSITIVITY, CURIOSITY AND SELF-EMPOWERMENT WILL INSPIRE MANY.

Rebekka Bay, Creative Director at Marimekko
The adidas x Marimekko limited edition collection will be available from today 1st June 2021 on adidas.com.