Last updated on September 25th, 2022 at 06:56 PM
Group exercise continues to shape the future of fitness, with 4.86 million Brits taking part in group classes every week – an increase of one million participants since 2016.
Ian Twitchen, head of product at Total Fitness, sees this as a trend which will continue, as the leading health club has seen a 17% increase in fitness class bookings for the year to date, compared to the same period in 2017.
"Group exercise is now more popular than swimming and running," says Ian.
"Not only is exercising in groups a more motivational and enjoyable way to work out, but with a growing variety of class options, there's something to suit all ages and levels of ability.
"It's also a fantastic starting point for those who are new to exercise and unsure where to begin. We're seeing that women in particular are harnessing the benefits of group exercise, currently accounting for 74% of group exercise classes in the UK."
Ian shares his expert insights on the exercise trends that are set to take over gyms, fitness studios and even living rooms this summer.
1. DANCE YOURSELF FIT
Dance-based exercise has been steadily growing in popularity, which may be a result of popular TV shows such as Strictly Come Dancing. The benefits of a dance workout are second to none, as the varied movements works every muscle group in the body whilst giving you that all important cardio hit.
But times are changing – it's not just about Zumba anymore – new forms of dance are cropping up all the time to cater to all ages, fitness levels and musical taste, such as Kangoo, Medau and hula hooping, which we offer at a number of Total Fitness health clubs.
Kangoo is a dance lesson centred around jumping that utilises spring-loaded boots called Kangoos to give the legs and glutes a killer workout while Medau is a dance-like exercise that focuses on the body's natural movements to combine elements of spring, swing and stretching, all set to music. Hula hooping is well-known amongst children but it's not just for kids – adults can hugely improve core strength and cardiovascular fitness through an hour's hula hooping class.
2. PEDAL POWER
Spin classes are our most attended and the popularity of cycling shows no sign of slowing down. It's a great choice for all abilities as these classes let you set your own pace but will push you to work as hard as you possibly can. It's an excellent calorie burner that also builds lean muscle, particularly in the core and leg areas.
Not only is the group training experience proven to push individuals to work harder, it also helps build a community and you'll often find that new friendships are born through group cycling classes. It's an all-round winner.
3. SWIM TO WIN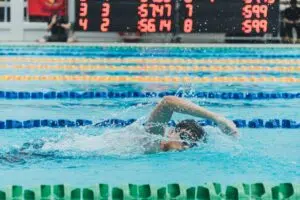 Another hugely popular category of fitness classes are those that take place in the pool. Swimming is one of the best forms of exercise because it gets the whole body moving – and water aerobics are particularly popular amongst older demographics, as in-pool activities are gentler on the joints.
Trips to the pool make up 39% of visits by people aged 75 and over, compared to eight per cent of people aged between 16 and 24.
Aqua classes typically involve performing simple aerobic movements with equipment such as floats and water dumbbells. The water helps ease of movement whilst providing a level of resistance to gently build strength. It also reduces the effects of gravity, making it easier to carry out simple actions. If a gruelling gym routine isn't for you then check out the aqua classes at your local pool.
Specialist hydrotherapy pools, a facility we have at all Total Fitness clubs, have enormous benefits for those suffering with arthritis, as the increased water temperature eases the strain on sore joints, allowing even severe sufferers to get carry out simple exercises safely.
4. HIIT THE GROUND RUNNING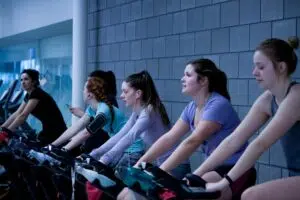 No one ever regrets a workout. No matter how long or short you exercise for, every minute of movement counts. This is why High Intensity Interval Training, more commonly known as HiiT, can be the perfect place to start if you're struggling to drag yourself to the gym.
HiiT workouts are predominantly cardio-based and involve pushing yourself to your absolute limit in very short bursts, then resting before repeating the action. Typically, you'd push yourself for 30 seconds, then rest for three times as long, before repeating the exercise.
These intervals of intense exercise are incredibly effective at burning calories and help the body to continue burning calories even after your workout is finished.
HiiT sessions usually last between 15-20 minutes but this can be more or less depending on personal preference. It's also worth noting that two 10-minute workouts are just as beneficial as one 20-minute session, so it's okay to spread out your exercise throughout the day.
This year we're also seeing a rise in HiiT workouts being combined other popular forms of exercise such as pilates and strength training by including weights.
5. POUND THE PAVEMENT
Running is a fitness favourite and a great activity for the summer months, whether you prefer to get out on your own or as part of an organised activity like Park Run. Not only does it strengthen the core and leg muscles whilst burning calories, it's also proven to make people happier.
And bad weather is no longer an excuse to hang up your running shoes as new technology means people can enjoy a more authentic and enjoyable indoor running session than ever before.
State of the art treadmills connected to Netflix and running routes around the world, curved treadmills powered by the runner's forward motion and indoor running tracks are just a few of the facilities available at select Total Fitness clubs, ensuring gym goers are getting the best workout possible.
In order to keep up with the growing demand for more group exercise and to champion its all-encompassing approach to fitness through a variety of exercise, Total Fitness has expanded its class offering and now provides more than 70 free classes every week. For more information please visit www.totalfitness.co.uk.