Last updated on September 15th, 2021 at 05:01 PM
During the summer of sport, with everything from the Euros, Wimbledon and The Olympics reigniting the nation's love of athleticism, one thing that has become increasingly apparent is how some of the world's highest performing male athletes stay fit.
Images have gone viral of elite athletes like Ronaldo, Lebron, Andy Murray and even Harry Kane and the England squad doing Pilates and using Reformers to make sure they are match ready. 
In line with this trend, Ten Health & Fitness has seen a significant increase in male attendees to their mat-based and reformer Pilates sessions since 2019.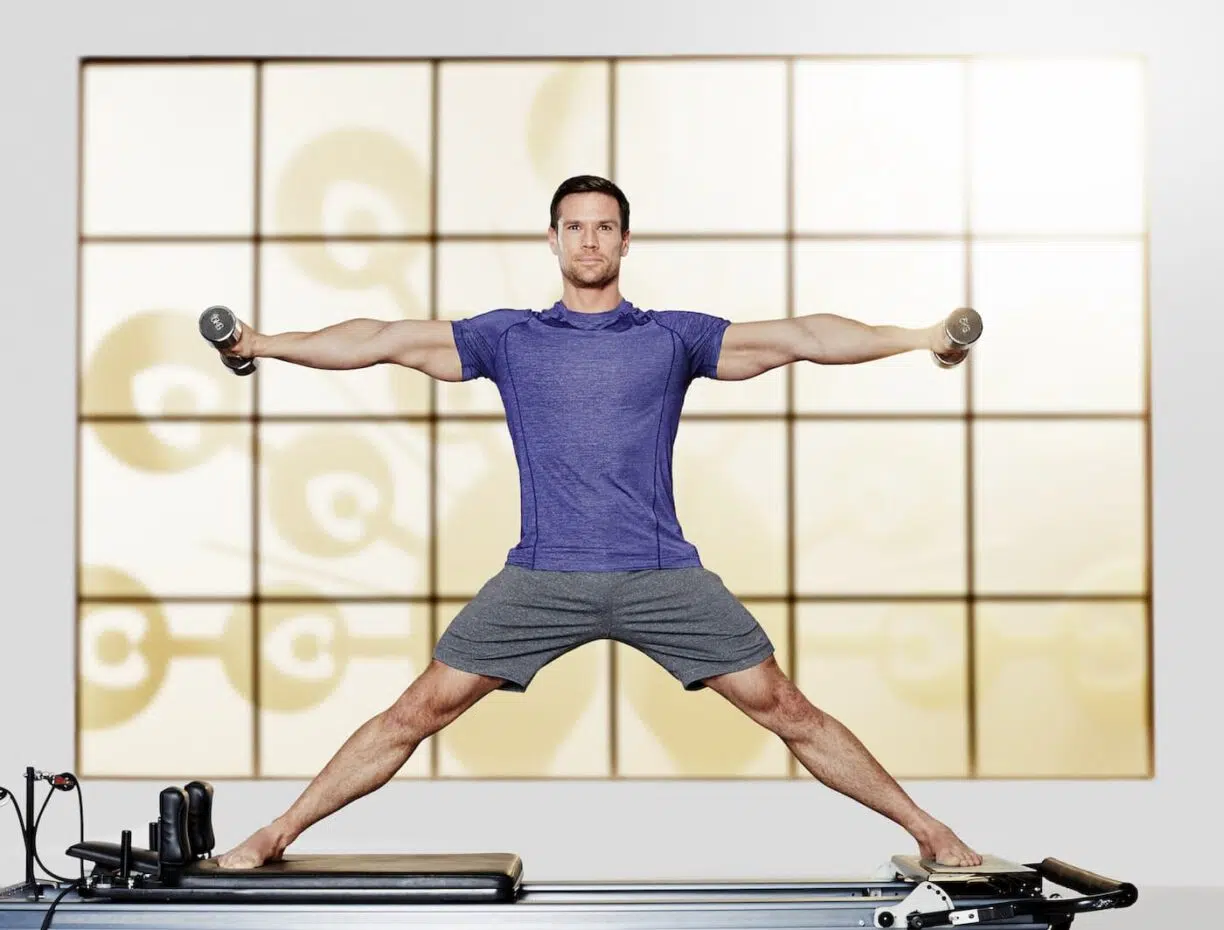 Increasing numbers of men are dropping the bodybuilding bravado and taking up Pilates. What was once perhaps considered by men as a workout aimed only at women, the low-impact format being famous for creating long and lithe bodies of supermodels like Claudia Schiffer, and therefore loved by women of all ages – has quickly become a mainstream training tool for many male professional athletes, and now – your 'average Joe' is following suit. As are many elite and pro athletes.
Ten were at the forefront of this trend, in 2013 creating a series of classes specifically designed as part of London Irish Rugby Squad's pre-season training programme. 
The low-impact, highly efficient training system which Pilates is famed for, offers unparalleled benefits to the body:
"Athletes like footballers need to be strong, fit and have incredible body control. But one of the most important factors is that they need to be resilient and resist injury.
A lot of training elite athletes revolves around injury prevention and ensuring their body is as healthy as it can be.
This means lots of stretching and joint preparation, strengthening the supporting muscle groups, identification and strengthening of weak areas, and taking measures to ensure the body is supple and flexible.
Pilates is one of the best tools to combine body control, strength and flexibility quickly and efficiently, and that's why it is used so frequently in elite sport.
There is a lot of focus on the muscles surrounding the hips, core and scapula/shoulder blade, all of which are key areas for all sports.
These muscle groups interact to transfer power from the lower body to the upper body and they are also key in providing stability.
Pilates teaches you to activate and control the correct muscles, working them through a full range of motion. The benefits are undeniable, and that's why it is now a not-so-well-kept secret of elite athletes." Adam Ridler, former elite rower and Master Trainer for Ten Health and Fitness
Whether you're pushed to extremes like the elite athletes, or slouch over the laptop all day at your desk – incorporating Pilates into your fitness regime provides a winning formula.
For over a decade, Ten Health & Fitness has championed the Pilates discipline, utilising it in its boutique class format as well as for prehab, rehab and clinical training purposes.
In fact, so well loved and well regarded is Ten's classes and offering, that former high performing male athletes are increasingly becoming Pilates instructors at Ten. 
Adam Ridler, former Club and England Lightweight development squad rower is now Master Trainer at Ten; "After suffering some rib stress fractures while rowing, caused by postural imbalance when loading the oar, I was advised that Pilates would help improve this – which it did.
Since then, I not only used the principles of Pilates to underpin all my training, but I went on to qualify and work as a Pilates instructor."
"Men certainly do benefit from Pilates, I think the misconception is that it is easy (but that misconception rarely survives their first class).
More importantly, what it teaches is how to set up and move the body, and for men who traditionally favour strength and power exercises this gives a much better platform from which they can do this.
Pilates will help them improve their strength, power and endurance, and seeing that lightbulb moment when they understand how Pilates transfers into everything else they've been doing and achieve new PBs is always fun to observe.
"Seeing the elite athletes that many boys and men look up to, and aspire to be like, do Pilates is hugely encouraging: "It seems to make it acceptable to do Pilates if you see your hero doing it, which shouldn't be the case, but I'm very pleased that it is helping open up Pilates to more men.
The wealth of benefits for not just elite sport but everyday life is incredible. It's very easy to get trapped into your gym routine and do the same things as you've always done.
Pilates is a lot more mindful than that, you will learn so much about your body, where you are strong, where you are weak, which muscles are tight etc. Ultimately Pilates makes your whole body stronger and will carry over to whatever other sport or exercise you do.
I've worked with strength athletes who came to Pilates simply to improve their mobility and body function and ended up repeatedly setting PBs and lifting more and more weight as a result."