Last updated on July 4th, 2023 at 11:21 AM
In a remarkable display of skill and composure, Talor Gooch secured his third individual victory at the prestigious LIV Golf Andalucia, solidifying his status as a force to be reckoned with in the golfing world.
As he approached the final hole, a 12-foot birdie putt separating him from triumph, Gooch with unwavering focus, visualized the exultant celebration that would follow as soon as the ball found its mark.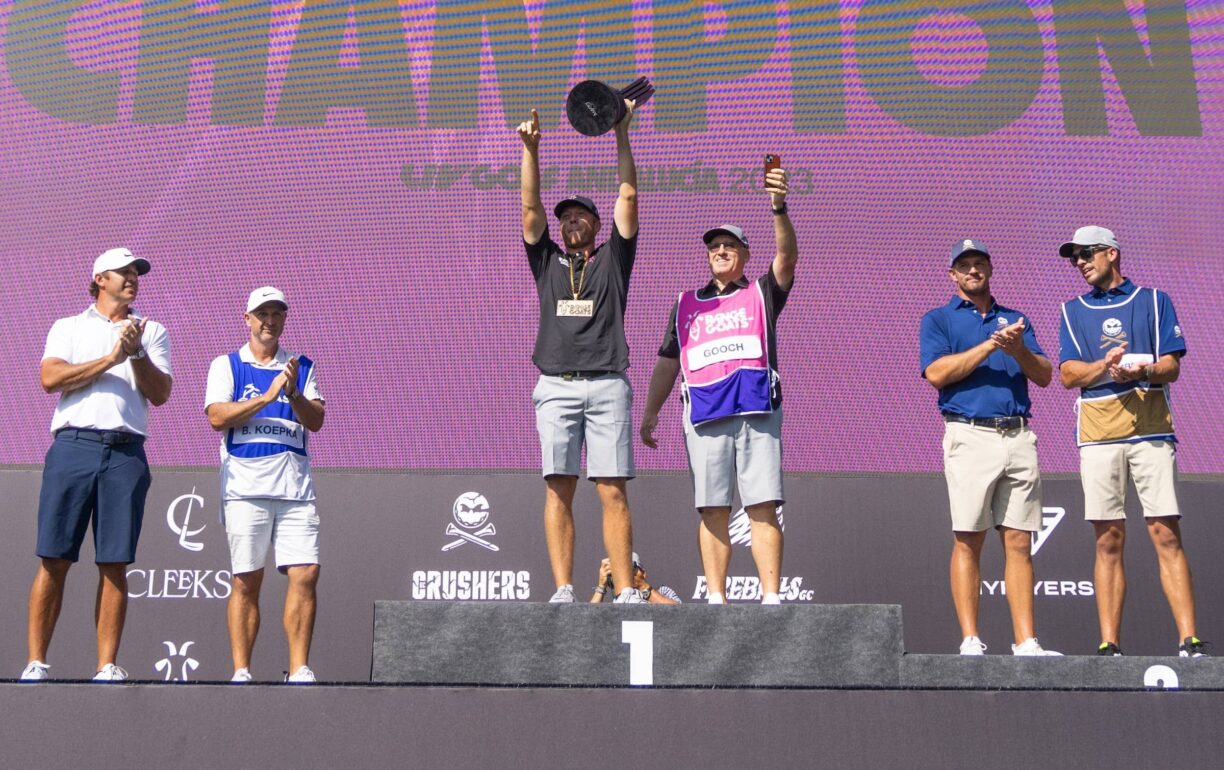 Confident and undeterred, Gooch later expressed, "I just knew I was going to make it. Even before I struck the ball, I could already envision the triumphant fist pump that would accompany it. I'm elated that it dropped."
Real Club Valderrama bore witness to Gooch's dramatic birdie, propelling him to a one-stroke victory over the resilient Bryson DeChambeau and etching his name as the first three-time winner in the nascent history of LIV Golf. Gooch's final-round brilliance resulted in a commendable 4-under 67, culminating in an impressive 12-under total.
DeChambeau, the valiant captain of Crushers GC, concluded the tournament at 11 under after a commendable 2-under 69. Smash GC's captain, the indomitable Brooks Koepka, secured a respectable third place at 9 under.
It is worth noting that all three of Gooch's victories this year have occurred outside his native United States. The RangeGoats GC star has previously triumphed in consecutive events in Adelaide and Singapore, thereby becoming the first player to achieve back-to-back victories in the illustrious LIV Golf tournaments.
Reflecting on his outstanding achievement, Gooch remarked, "Last year I didn't get a win, so this year I was just so focused on getting an individual win."
Moreover, Torque GC added to the thrilling narrative of the day by clinching their third team title this season at LIV Golf Andalucía.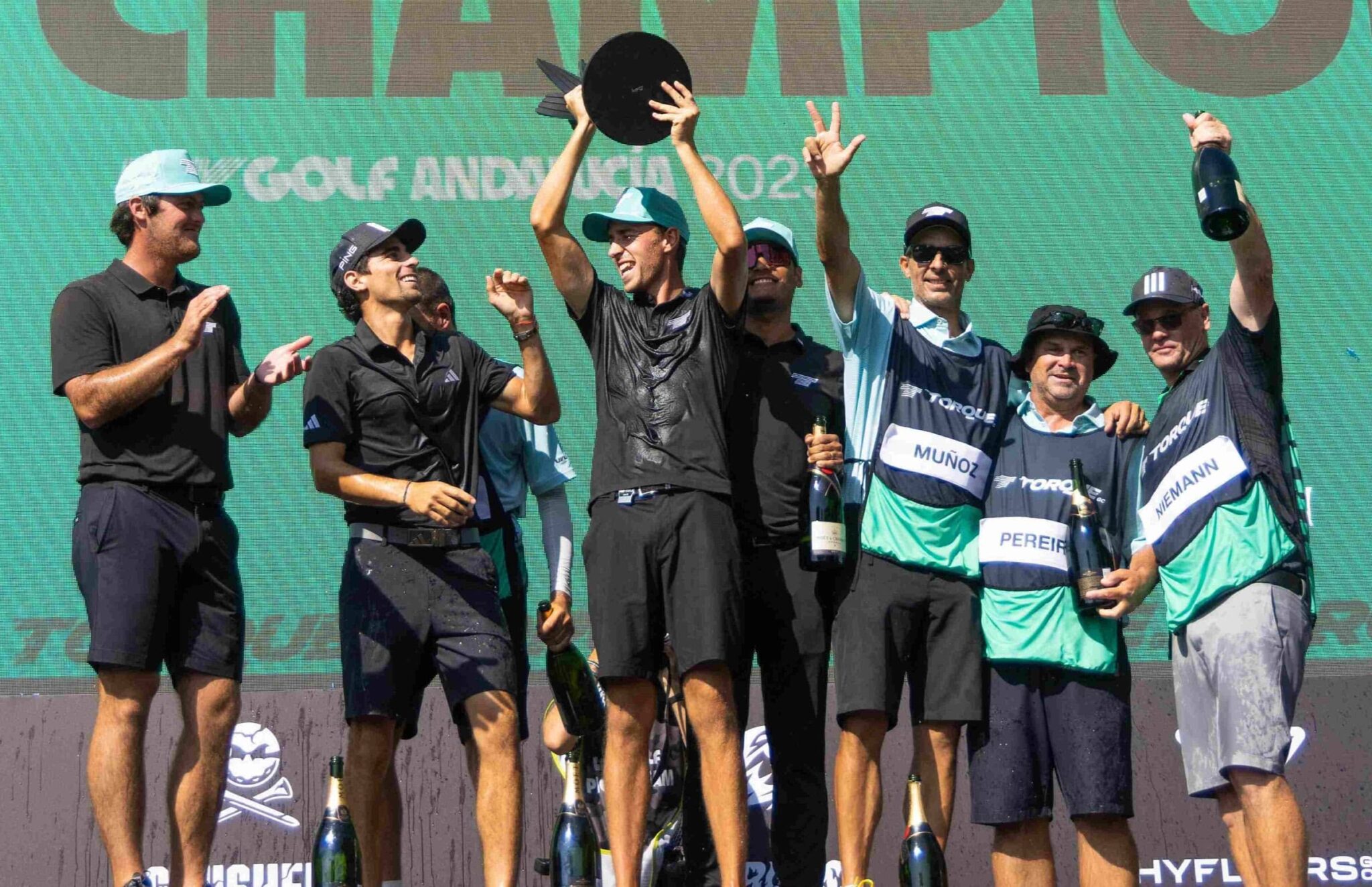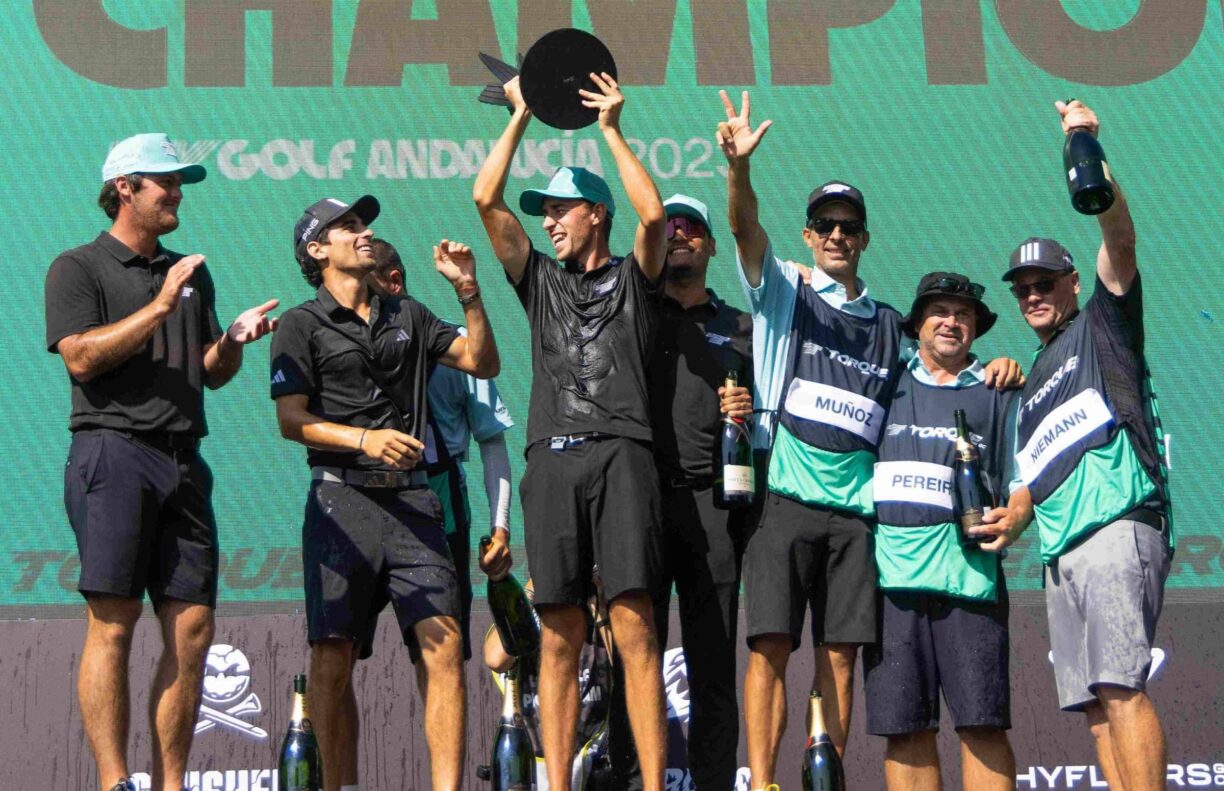 Under the astute leadership of captain Joaquin Niemann, the Spanish-speaking team produced an exceptional final-round performance, finishing at an impressive 16 under with a noteworthy 7-under counting score.
Their remarkable achievement placed them five strokes ahead of the RangeGoats, with Crushers GC securing a commendable third place.
The triumphant quartet of Joaquin Niemann, Sebastián Muñoz, and David Puig contributed significantly to Torque GC's victory, with all three players posting impressive scores of 3-under 69, 3-under 69, and 2-under 69, respectively.
In an awe-inspiring display of teamwork, the trio navigated the final three holes with consummate skill, finishing at a collective 4 under.
This triumph marks Torque GC's second consecutive victory, following their previous win in DC last month. Notably, Torque now trails the season-long leader, 4Aces GC, by a mere seven points, heightening the suspense as the season progresses.
For the 21-year-old Puig, the youngest player on the LIV Golf League roster, the win held particular significance. As one of the three Spanish-born players in the field, alongside Sergio Garcia and Eugenio Chacarra of Fireballs GC, Puig relished the opportunity to excel on their home turf.
Eagerly recounting his emotions, Puig expressed, "It's amazing," said Puig. "Playing at home is always good, and it's even more special when you get a win and when you get a win with this group of guys. It was a great week."
Echoing Puig's sentiments, Niemann emphasized the team's bond and the profound impact it had on their success, stating, "Having David also the main character of this tournament is really special for us. I think it makes it a lot easier when we do everything together like we are a team.
I believe that when we unite as a team, it enhances our performance on the course. The results speak for themselves — we are playing exceptional golf.
As we look ahead to the rest of the season, we aim to maintain this level of performance while cherishing the camaraderie we share."
Notably, Bryson DeChambeau, the captain of Crushers GC, secured second place in the individual standings, while the formidable Brooks Koepka, leading the charge for Smash GC, claimed a commendable third place at LIV Golf Andalucía.
The final group witnessed a captivating duel between Gooch and these two major champions. Although Gooch briefly stumbled with a bogey at the par-4 ninth hole, he exhibited unwavering resilience, carding a flawless 4 under on the back nine.
DeChambeau initially established a two-stroke advantage at the turn, yet Gooch valiantly closed the gap, matching him shot for shot with birdies at the 10th and 13th holes.
Their captivating contest reached its climax when both players birdied the par-5 17th, ensuring their deadlock remained unbroken. Gooch, however, elevated the intensity by delivering a masterful approach shot, leaving himself with a 12-foot putt.
DeChambeau, on the other hand, faced the arduous task of navigating trees with his second shot, which ultimately landed in the rough behind the green.
Although he executed a commendable chip shot to set up an easy par, Gooch rendered it inconsequential by sinking his birdie putt.
Gooch shared his thoughts on his exceptional form, stating, "My game is obviously in a good state, and I knew if I could get myself in the fairway a bunch, we were going to have a chance to win down the stretch,"
Gooch said. "We just kept plodding along, plodding along, and didn't really make a bunch of putts. That was the longest putt of the day, obviously, so it was nice to save the best one for last."
Undoubtedly, Talor Gooch's triumph and Torque GC's resounding victory have etched an indelible mark on the golfing landscape, leaving spectators eager for the forthcoming chapters in this gripping season of LIV Golf.
TEAM COUNTING SCORES
Here are the standings and counting scores for Sunday's final round of the team competition at LIV Golf Andalucía. The three best scores from each team count in every round for their total team score. The team with the lowest cumulative score after three rounds wins the team title.

1. TORQUE GC (-16): Sebastián Muñoz 68, Joaquin Niemann 68, David Puig 69, (Rd. 3 score: -8)

2. RANGEGOATS GC (-11): Talor Gooch 67, Harold Varner III 72, Thomas Pieters 73 (Rd. 3 score: -1)

3. CRUSHERS GC (-7): Bryson DeChambeau 69, Paul Casey 72, Anirban Lahiri 75 (Rd. 3 score: +3)

4. 4ACES GC (-6): Patrick Reed 67, Dustin Johnson 72, Pat Perez 73 (Rd. 3 score: -1)

5. SMASH GC (-4): Brooks Koepka 68, Jason Kokrak 68, Chase Koepka 75 (Rd. 3 score: -2)

6. FIREBALLS GC (-1): Sergio Garcia 70, Abraham Ancer 71, Carlos Ortiz 71 (Rd. 3 score: -1)

7. MAJESTICKS GC (E): Laurie Canter 70, Ian Poulter 72, Lee Westwood 74 (Rd. 3 score: +3)

8. HYFLYERS GC (+1): Cameron Tringale 69, Brendan Steele 69, James Piot 73 (Rd. 3 score: -2)

9. STINGER GC (+1): Dean Burmester 69, Branden Grace 69, Louis Oosthuizen 70 (Rd. 3 score: -5)

10. RIPPER GC (+2): Cameron Smith 71, Matt Jones 72, Jediah Morgan 75 (Rd. 3 score: +5)

11. IRON HEADS GC (+13): Scott Vincent 70, Danny Lee 73, Sihwan Kim 76 (Rd. 3 score: +6)

12. CLEEKS GC (+14): Bernd Wiesberger 70, Richard Bland 73, Martin Kaymer 73 (Rd. 3 score: +3)