Last updated on April 22nd, 2023 at 10:13 AM
On the evening of 20 April 2023, TAG Heuer celebrated in Central London the anniversary of an icon, introduced 60 years ago by an icon: Jack Heuer – and inspired by the incredible Carrera Panamericana race- a timepiece so epic that it has carried the brand's racing heritage and daring spirit through decades in style: the TAG Heuer Carrera.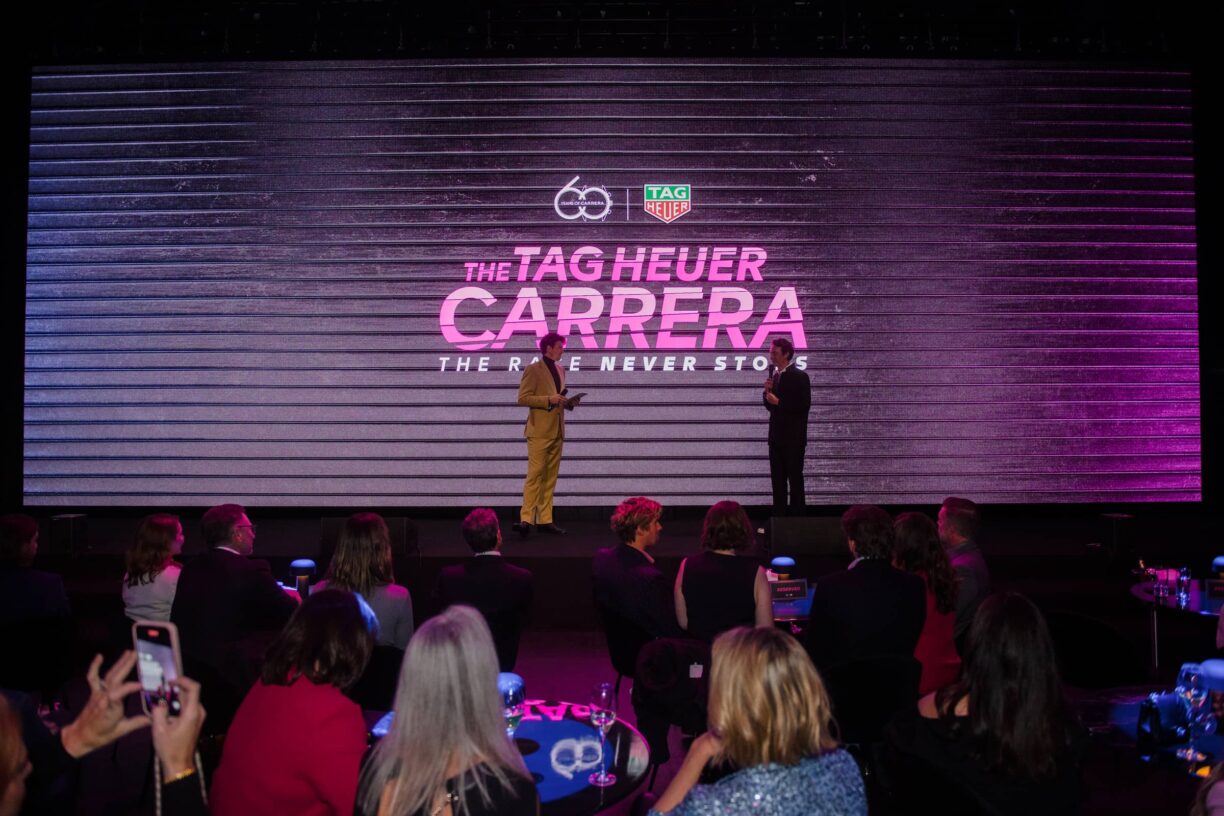 "We chose London for this special evening as the UK is such an important part of the brand, one of our biggest markets and a country of watch lovers and racing enthusiasts. And we are extremely excited to celebrate the 60th Carrera anniversary by unveiling a very special film",

Frédéric Arnault, CEO of TAG Heuer
Radio and TV host, Greg James, led a maverick celebration that had several TAG Heuer Ambassadors and cast members of "The Chase for Carrera" appear on stage such as:
Patrick Dempsey, actor, director and a passionate Porsche racer, gushed about his connection with Carrera and Jack Heuer: "For me, this love story began almost 10 years ago – and with Jack Heuer.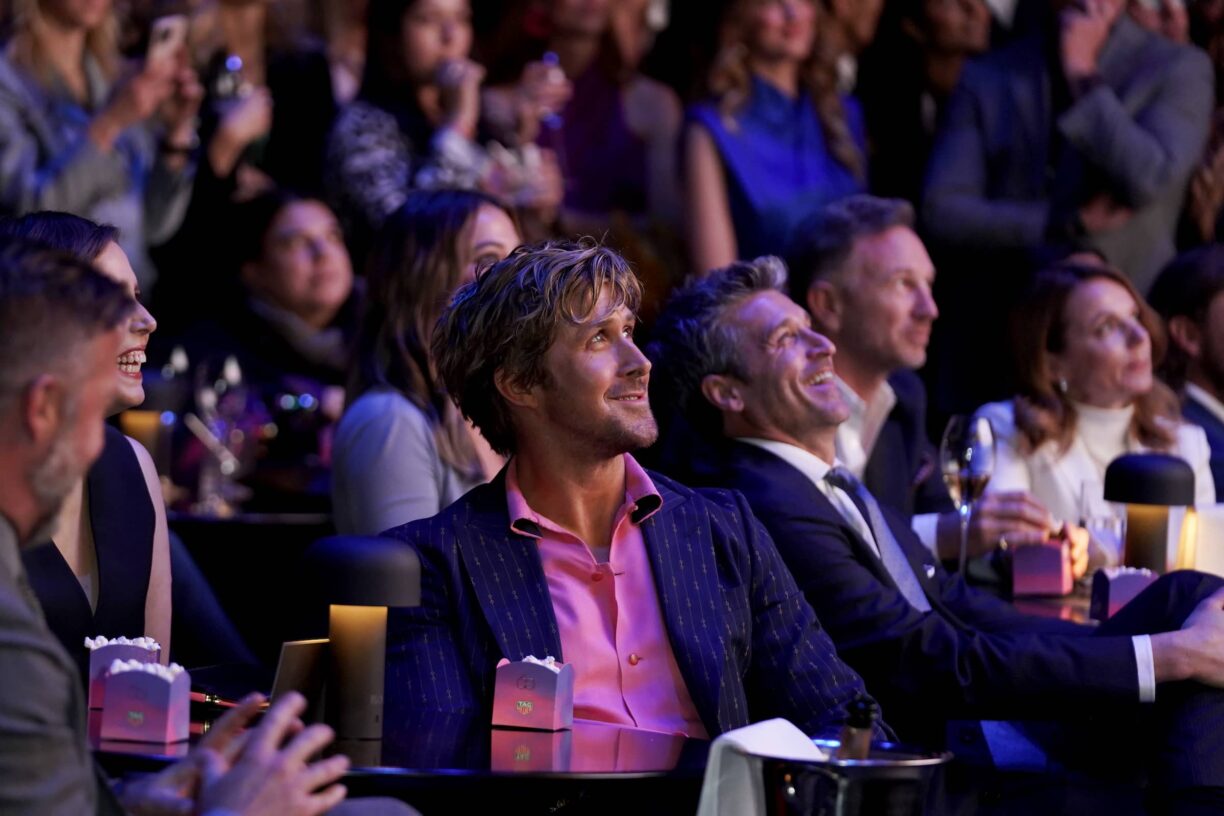 He is such a visionary. And he himself as a lover of modern and clean design, wanted the aesthetics of the Heuer Carrera chronograph to be pure and well-proportioned – features that make the watch perfect for drivers who need to see the time at a glance during adrenaline-pumping races.
It's so supremely reliable and exceptionally elegant that it became the instrument of choice for driving legends such as Jo Siffert, Niki Lauda – and also for myself!
And I absolutely love the fact that Frédéric and the TAG Heuer team are staying true to this spirit with the new collection and what we are about to experience here too!"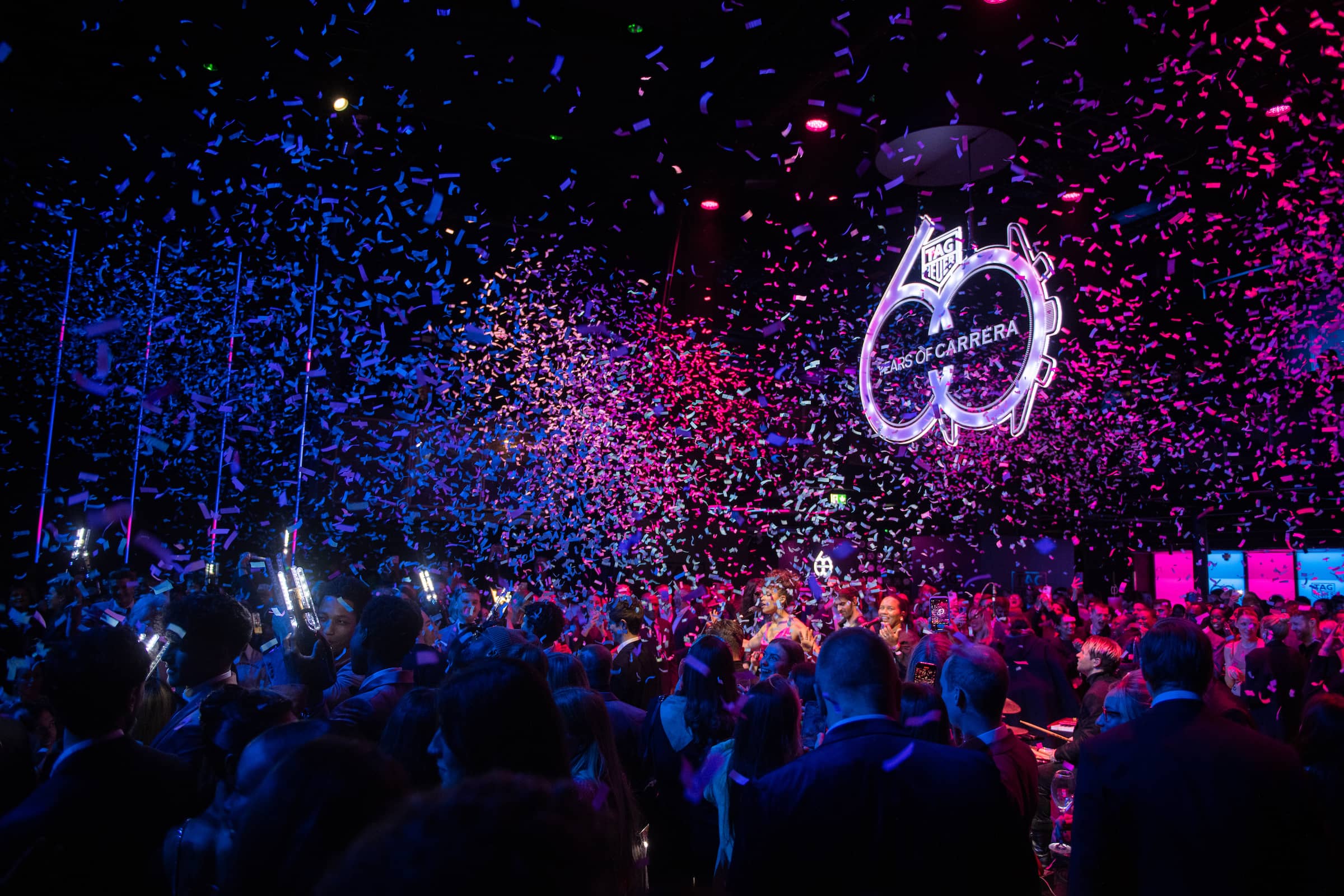 TAG Heuer kick-started the 60th-anniversary celebration in January 2023 and is presenting throughout the year a reimagined Carrera range of contemporary yet timeless models.
Characterized by high-performance timekeeping capabilities and a look that exudes elegance and drive, these new models mark truly a new era for the 60th Anniversary of the TAG Heuer Carrera.
"We wanted to pay homage to the original design whilst adding a modern feel to it and bringing it to a new era and I am particularly proud of the Glassbox design the teams have come up with – and very honoured that Jack Heuer himself enjoys it very much too," added Frédéric Arnault.
Speaking of icons, Hollywood's newest style icon, and TAG Heuer Brand Ambassador, Jacob Elordi, was proudly wearing the new Carrera "Glassbox design" following his latest Monaco campaign last year.
Two new members were also introduced to the TAG Heuer family during the evening – Madelyn Cline, star of two of Netflix's recent hits, Outerbanks and The Glass Onion, was proud to be announced as the brand's newest US Brand Ambassador.
She was joined by Alexandra Daddario, known for her latest performance in White Lotus, who now also wears the latest TAG Heuer Carrera Date design in eclectic pink in the new print version of The Chase for Carrera campaign.
Frédéric Arnault then lifted the curtain on a world-first – a Hollywood action comedy, The Chase for Carrera, starring brand ambassador Ryan Gosling.
The short film salutes the Carrera's storied racing heritage in a no-holds-barred chase thriller embodying the TAG Heuer avant-garde spirit:
"When Ryan joined the TAG Heuer family almost two years ago, it was crystal clear that we needed to do something in this direction.
He is THE quintessential Hollywood driver, and we have a very special connection with him. We wanted to do a very special film – but we were waiting for the right opportunity.
It was no doubt super ambitious, and no one knew how it is going to truly turn out, but with such an amazing cast of super talented people the odds were with us", Arnault added.
Also featuring actress Vanessa Bayer, the offbeat chase thriller follows Gosling on the run from Bayer's prop master as she attempts to relieve him of his beloved TAG Heuer Carrera – something he doesn't plan on letting her do.
The evening was also attended by UK stars including Simone Ashley, Micheal Ward, Milly Alcock, Louis Partridge, Kit Connor, William Gao, Mia Regan and Amita Suman.
Before the birthday after-party kicked off, British singer-songwriter Izzy Bizu also appeared on stage for a special performance to get the crowd into the proper dancing mood.