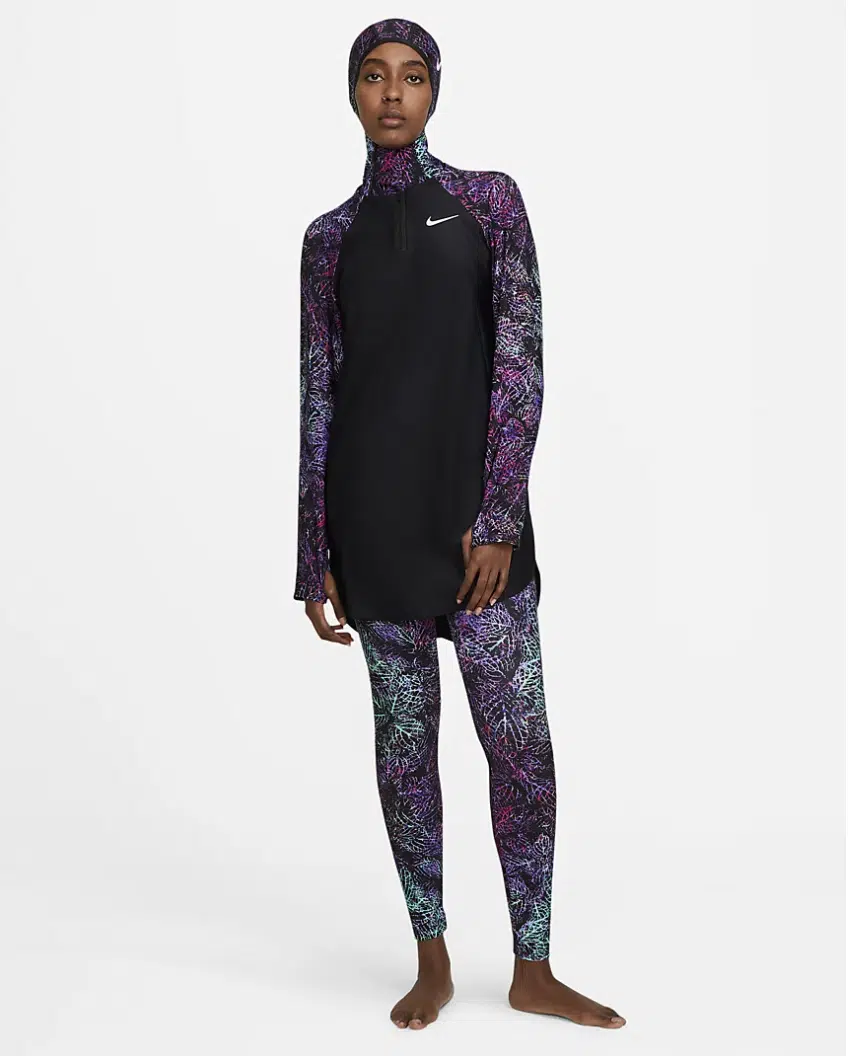 Last year, Nike Swim revolutionised modest swimwear with the Victory suit, an innovative head-to-toe offering for seamless water flow.
This year Nike Swim has launched the Victory collection a line of full coverage, performance swimwear designed to empower women in the water. 
Inspired by the spirit of endless possibilities and with feedback from global athletes. 
This line of modest performance swimwear includes tunic tops, swim leggings and hijabs; that can be mixed and matched for varied coverage, as well as offering . 
The Victory swimwear collection has been created out of a belief that women of all backgrounds, body types, abilities and aspirations deserve the opportunity to participate comfortably and confidently in water sports. 
Too often, suitable swimwear has presented a barrier for modest women, rather than an opportunity to enjoy the water.
Nike saw a striking gap in modest apparel for water sports — specifically, a lack of options for women who didn't want to choose between modesty and movement. 
Existing products were lacking in either coverage or functionality, leaving women feeling weighed down by baggy garments and battling drag instead of striving toward personal bests or self-wellbeing. 
Each silhouette in the Nike Swim  Victory  Collection is constructed from warp-knit fabric, a lightweight, breathable material that dries quickly and eliminates excessive cling.
A head-to-toe UPF 40+ rating delivers sun protection and intricate details like the hijab's integrated mesh pocket holds hair in place during movement. 
To launch this season's Victory collection, Nike Swim collaborated with  @_zeinabsaleh @trustmebaba and  @saragulamali the founders of the art collective  @muslimsisterhood .
The joint teams wanted to capture and share moments of freedom and joy in the water in a way that feels both aspirational and attainable to modest women. 
"Swimming is often an activity that Muslim women are excluded from because of our modesty requirements, so we wanted to create a campaign that was inclusive of different ages and shows that anyone can swim and enjoy the water.
Modest dressing doesn't look the same and hijab is interpreted differently for different people and that's something that should be normalised.
We wanted to show the versatility of the Victory Swim collection in meeting the needs of each individual."  
"Projects such as this show the importance of having Muslim women behind the camera to create authentic storytelling.
Sports and swimming in particular, shouldn't be something that is limited by age: we wanted to see everyone having fun and staying active whether that's a mother and her baby in the water for the very first time, friends splashing around together or a more mature woman taking time for herself through swimming. 
We always cast from our community instead of formal casting processes. We take a lot of pride in our all-female sets that prioritise Muslim women and non-binary people of colour.
We know what it feels like when people who don't understand you, make decisions about how to represent your story, religion or culture."  - Muslim Sisterhood