Last updated on October 2nd, 2021 at 05:45 PM
Put on your running shoes – it's time to hit the road, the trails, and the great outdoors with Epic Runs of the World by Lonely Planet (August 2019, £24.99).
In this comprehensive runner's companion, you'll find 50 first-hand accounts of the world's greatest running routes – from short city runs and must-do marathons to cross country trails and challenging ultras – plus a further 150 courses around the globe to satisfy runners of all abilities, whether you're an established or aspiring runner.
Organised by continent, Lonely Planet's Epic Runs of the World takes runners past giraffes, zebras, and rhinos in Africa, along courses the length of Vancouver's Stanley Park Seawall in the Americas, offers spectacular views of Hong Kong from Victoria Peak in Asia and jogs along Rome's Tiber River in Europe, while inviting athletes to push themselves to the limit in Oceania's Blue Mountains Ultra.
Be inspired to kick things up a notch as you learn why the 120-year-old Boston Marathon has become a symbol of pride for America's oldest major city; find out why a stage race like the Sahara's brutal 156-mile (250km) Marathon des Sables sears its way into your psyche; and discover how a quick run around Québec in winter reveals the city's beauty.
This follows up to Lonely Planet's Epic Bike Rides of the World (2016), Epic Drives of the World(2017), and Epic Hikes of the World (2018), which is an unmissable runner's companion.
Featured routes include practical information on the best time of year to run and how to get there, as well as recommendations of where to stay and what to eat. All runs are coded according to difficulty, taking into account their duration, local conditions, and possible inaccessibility.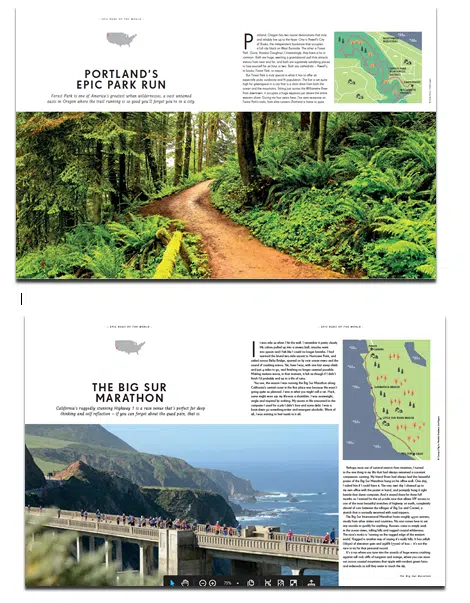 Packed full of beautiful images, illustrations, tips, and itineraries, Epic Runs of the World will inspire armchair travellers and outdoor enthusiasts alike to pull on their running shoes and get moving.
Featured runs include:
The Great Ethiopian Run

A rainforest run in Costa Rica

A winter warm-up in Québec City (Canada)

The Jinshanling Great Wall Marathon (China)

Kyoto's Kamo Riverfront
The Angkor Wat Half Marathon

The Grand Canyon's Rim-to-Rim Challenge (USA)

A tightrope run along the Amalfi Coast (Italy)

A sightseeing lap around Edinburgh (Scotland)

Dublin's wild and windswept Peninsula (Ireland)

And many more.
Epic Runs of the World
August 2019 | £24.99 | 1st Edition
260mm x 200mm | 328 pages
Hardback | ISBN: 978-1788681261