Last updated on June 20th, 2023 at 12:04 PM
London is about to experience the ultimate baseball extravaganza as Major League Baseball (MLB) gears up for the MLB World Tour:
London Series 2023 presented by Capital One. In a first-of-its-kind event, Trafalgar Square will be transformed into a vibrant celebration of America's favourite pastime from June 23-25.
Fans will have the opportunity to immerse themselves in the heart of the action as the St. Louis Cardinals go head-to-head with the Chicago Cubs in a thrilling two-game series at London Stadium.
Dubbed the MLB London Series: Trafalgar Square Takeover, this unique event promises to be a treat for baseball enthusiasts and newcomers alike. The iconic landmark will be abuzz with a plethora of baseball activities, tantalizing ballpark food, and an exciting lineup of entertainment, including live screenings of the MLB World Tour: London Series 2023 presented by Capital One.
As the popularity of baseball and softball continues to skyrocket in the UK, with twice as many active players as a decade ago, MLB is capitalizing on this growth by inspiring more communities to embrace the charm of the sport. The MLB London Series: Trafalgar Square Takeover aims to further fuel this momentum while also serving as one of the summer's most anticipated sporting events.
So, what can fans expect from this extraordinary baseball spectacle?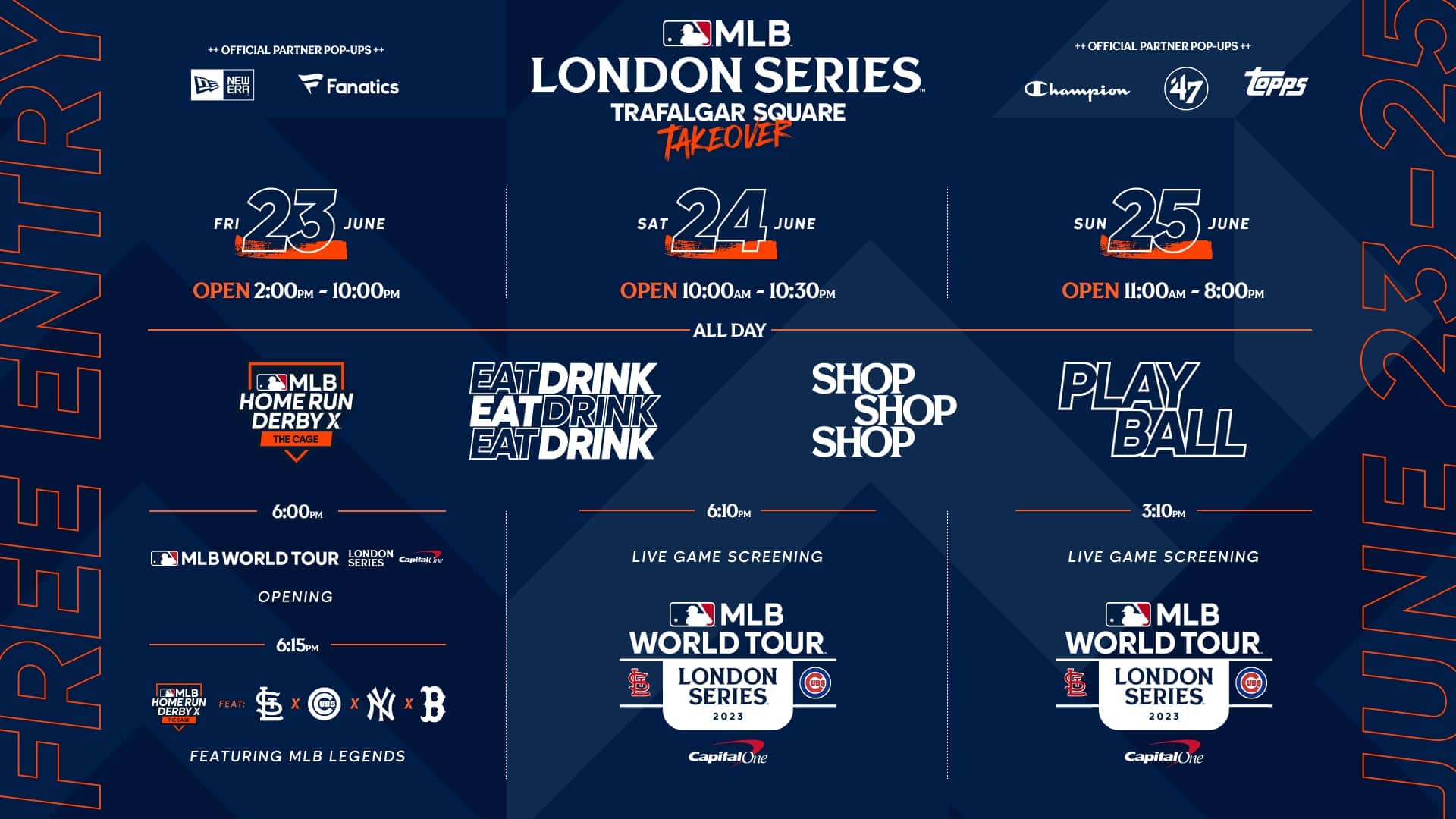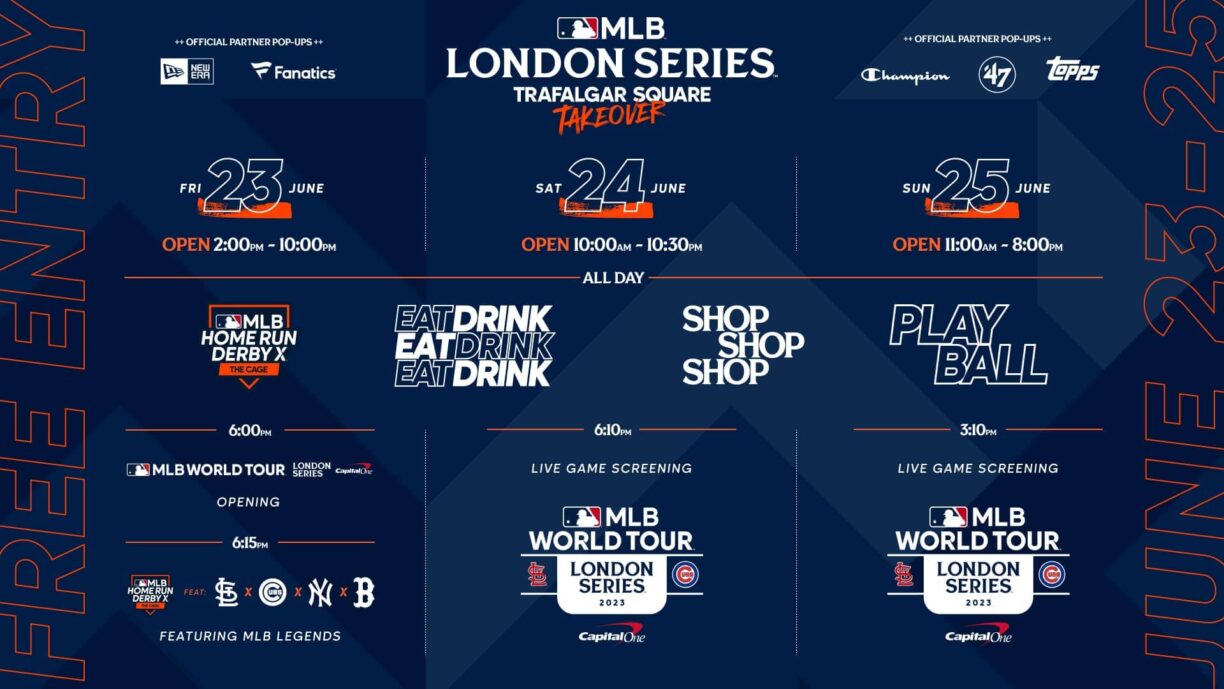 Home Run Derby X:
The Cage – Prepare to witness a groundbreaking baseball format that seamlessly blends augmented reality with real-life gameplay. MLB legends, local stars, and even the general public will step up to the plate in a mixed reality world within an epic cage structure. With digital balls soaring high into the iconic London skyline, this experience is bound to be a home run.
Enormous outdoor screens will broadcast the live showdown between the St. Louis Cardinals and the Chicago Cubs at London Stadium. Fans can gather in Trafalgar Square, soaking in the electric atmosphere and cheering on their favorite teams.
Trafalgar Square will be transformed into a delectable haven of American cuisine and beverages, capturing the spirit of a traditional ballpark.
From pizza to po'boys, burgers to BBQ, and an abundance of hot dogs, Whole Foods Market will offer an array of authentic American delights.
Feast-It will operate the bar service, while Mondo will provide custom brews from both St. Louis and Chicago, ensuring fans enjoy the full ballpark experience.
Exclusive MLB World Tour: London Series merchandise, headwear representing all 30 teams, and limited-edition graphic t-shirts produced in collaboration with Champion will be available for fans to snag.
Additionally, New Era, '47, and Topps will offer opportunities to design baseball cards, customize caps, and create personalized bags.
Pop-up challenges will give fans a chance to showcase their hitting and pitching abilities, adding an interactive element to the festivities.
This free event, set against the backdrop of the iconic Trafalgar Square, is the perfect prelude for those heading to London Stadium to witness the historic 130-year rivalry between the St. Louis Cardinals and the Chicago Cubs on UK soil.
It also presents a golden opportunity to introduce hundreds of new fans to the sport, aligning with MLB's broader mission of expanding the baseball community and leaving a lasting legacy in the UK.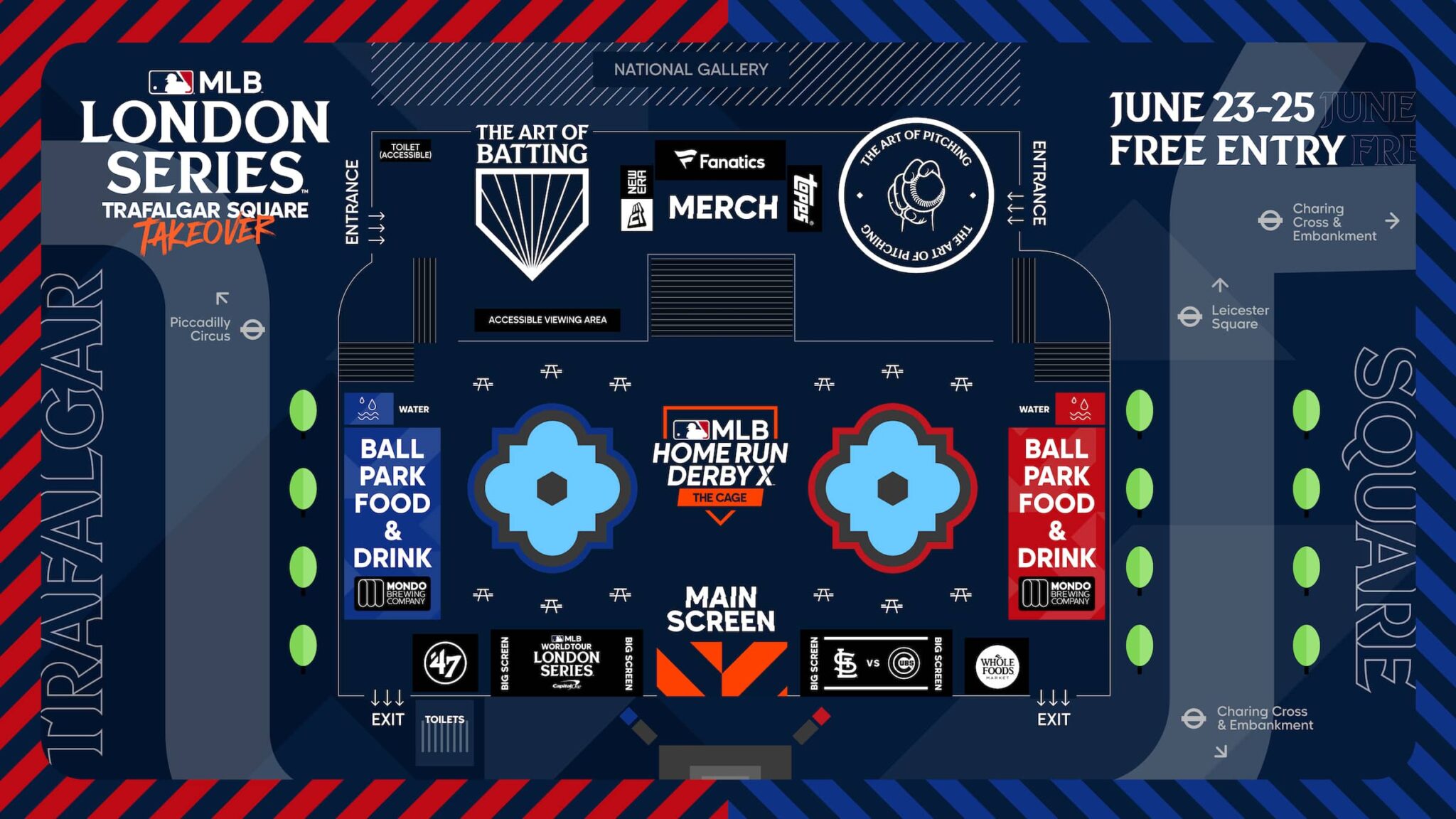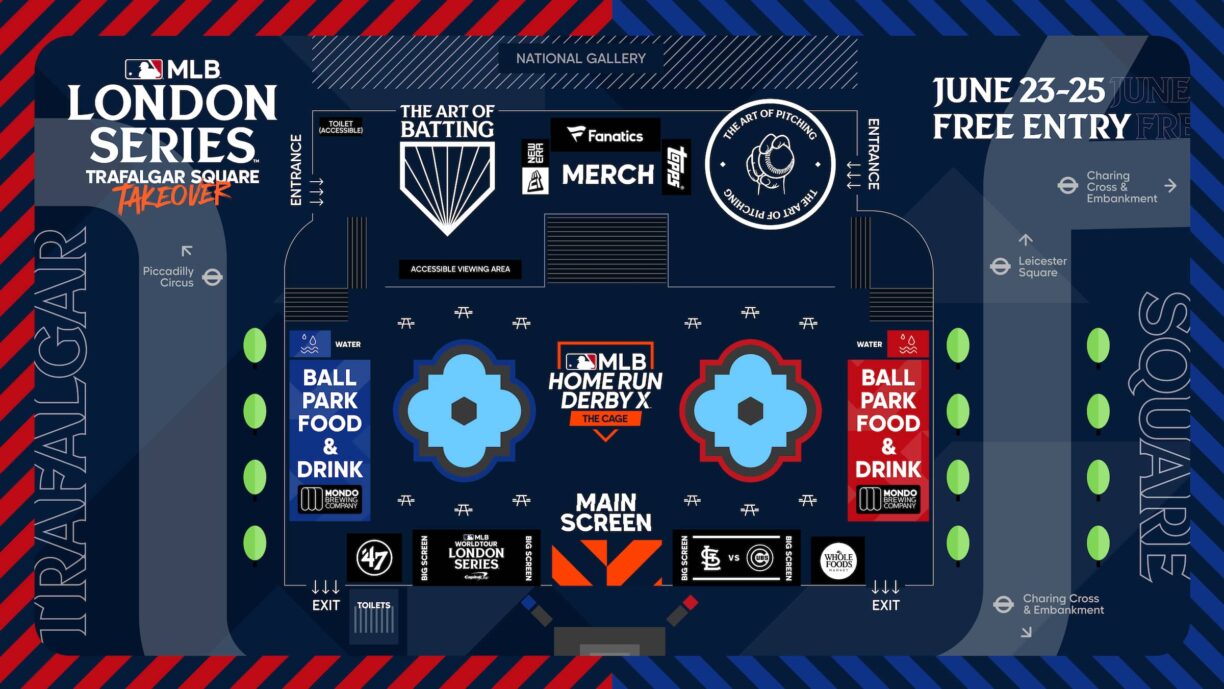 But that's not all! In addition to the MLB London Series: Trafalgar Square Takeover, MLB has a host of activities planned throughout London in June.
With a focus on promoting the MLB World Tour: London Series 2023 presented by Capital One, MLB aims to engage new audiences by leveraging cultural touchpoints and capitalizing on high-traffic areas.
The month-long extravaganza kicks off with City Collabs, partnerships between MLB and renowned restaurants Patty&Bun and Yard Sale Pizza.
Patty&Bun will represent the St. Louis Cardinals, enticing fans with their mouthwatering "BBQ on the Cards" Burger inspired by the rich flavours of St. Louis BBQ heritage.
Yard Sale Pizza, on the other hand, will pay homage to the Chicago Cubs with the Wrigley Field Hot Dog Pizza, a tantalizing combination of Vienna beef hot dog, diced white onions, sweet pickle relish, guindillas, and American mustard.
During the MLB World Tour: London Series 2023 presented by Capital One weekend, Boxpark, known for its premier live sports viewing experience, will stream both London Series games across all three of its venues: Shoreditch, Croydon, and Wembley. Fans will be treated to an interactive and immersive screening experience, engaging and educating them about the nuances of baseball while they revel in the live action.
For fans looking to extend their celebration, Home Run House, a year-round batting cage experience bar located in Westfield Stratford, will also be a hub for commemorating the return of regular-season games to London.
Ben Ladkin, Managing Director of MLB Europe, expressed his enthusiasm for the upcoming MLB London Series, stating, "There will be no missing the MLB London Series when it returns for the first time since 2019.
Taking over Trafalgar Square, an iconic London venue, is the perfect representation of the coming together of this uniquely American sport with a growing UK fanbase.
Whether you are an existing fan or a total novice, the event – featuring challenges, big screens, global stars, and the full ballpark food experience – will have something for you. We're sure that many fans for life will be created over the course of this unmissable weekend."
Excitement is building as the MLB London Series: Trafalgar Square Takeover draws near. Remember, this non-ticketed event is free to attend, with entrance and registration available at the door.
So mark your calendars, baseball fans, and get ready for an unforgettable experience at the heart of London!