Last updated on October 21st, 2021 at 10:58 AM
A new nationwide study conducted by AI fitness company Freeletics has revealed that we spend more than 3 times as long watching TV each week as they do exercising.
Despite this, 28% claimed they don't have time for exercise, while a further third of respondents (30%) cited a lack of motivation as the main reason for not exercising or maintaining healthy habits.
It is no surprise that Brits struggle with motivation. Aside from combating stress on a regular basis, 26% often face tiredness and 36% don't even know which healthy habits to build.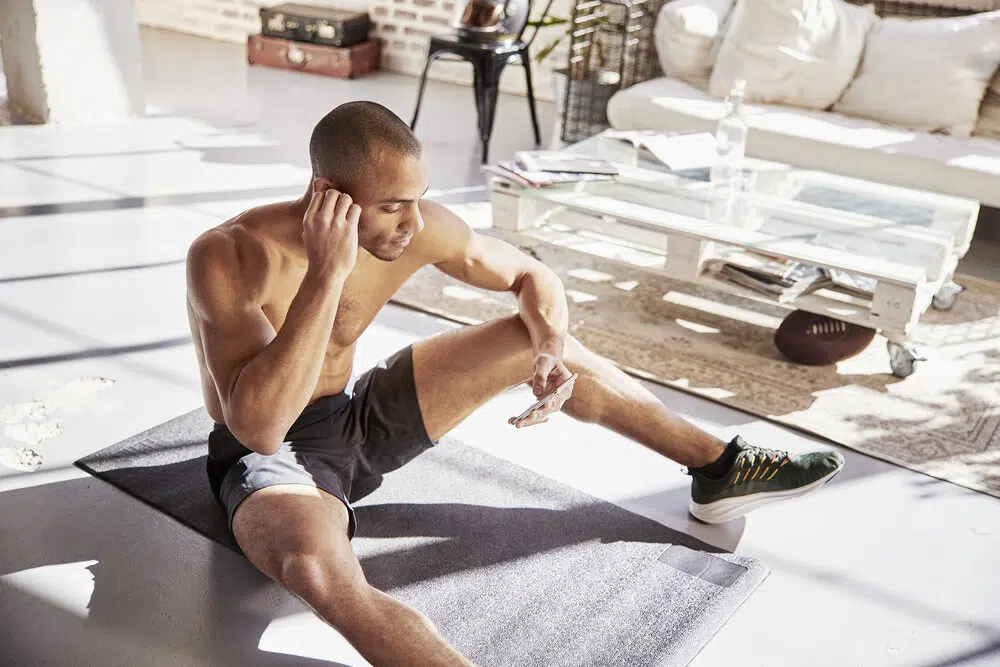 When it comes to regular exercise, 42% of respondents feel so overwhelmed and intimidated by maintaining a fitness routine that they would rather not start one at all.
By taking a more holistic approach to healthy habits and exercise, Brits can expect to see more long-term success.
The study also revealed that 43% of Brits do want to build healthy habits, but are just too busy, reporting that they feel stressed on average almost 3 days each week, with 1 in 5 people (19%) saying they are stressed 5 to 7 days a week.
Leading on from this, more than half (56%) of Brits also face issues with sleep.
In an attempt to combat this, 1 in 3 Brits now prioritise mindfulness, with 49% practicing it to sleep better and combat the effects of a stressful lifestyle.
55% of respondents also claimed they feel more energetic and motivated by listening to mindful audio content, such as podcasts, audiobooks, and audio coaching.
These are promising numbers, as science shows that mindfulness and meditation can positively impact fitness and healthy routines in the long run.
Recognising the importance of mindfulness when it comes to an active, healthy lifestyle, Europe's #1 fitness app Freeletics today announces a new holistic approach to staying fit and healthy – both mentally and physically.
With the launch of "Freeletics Mindset," the company is now combining its renowned AI-powered, hyper-personalised exercise plans with all-new mindset coaching to help users enjoy more success than ever before when it comes to reaching their long-term health and fitness goals.
Combining body and mind for a more holistic lifestyle
This major update gives the 40 million Freeletics app users access to educational, motivational, and mindful audio courses.
By combining new mental training with its adaptive workout plans, the app is now designed to strengthen the body and sharpen the mind.
Over the last six years, Freeletics has become an industry leader by offering workout experiences completely tailored to each person's unique fitness level, preferences and goals. With the launch of this new product, Freeletics becomes the first fitness app to fully harness AI technology for hyper-personalised coaching and seamlessly merge training for both body and mind.
Thanks to the new Mindset Coach, Freeletics is bringing body and mind together for a healthier, happier life.
The digital coach helps people to build a balanced, goal-oriented mindset and maintain the motivation to improve their overall health and wellbeing with specially designed audio coaching sessions.
Built on leading scientific research and developed by Freeletics experts, the Mindset Coach works alongside a newly improved AI algorithm to guide users along their holistic self-development journey and ensure it is more comprehensive and successful than ever before.
The audio courses are designed to help users improve their mindfulness techniques and learn new mental and physical training skills.
Lasting between five and 20 minutes, they help to build the perfect foundation for a long-term athletic lifestyle by teaching the listener how to establish routines, cope with setbacks, manage stress, and improve their focus, recovery and sleep – all beneficial points for Brits, according to the nationwide survey.
''Complementary training of both body and mind positively impacts all-around athletic performance and how quickly and effectively goals are reached," explains Dr. Peter Just, Team Lead Coach Experience at Freeletics. ''The stronger your skills and mindset, the stronger and more successful you can become – both physically and mentally."
An AI upgrade for better results
Freeletics Mindset is part of a major AI update to the app. Replacing weekly training plans, the "Today View" feature provides new daily coaching to users, giving them workout sessions plus knowledge and audio content for the day – more personalised than ever before.
Once a day is completed, the Freeletics Coach analyses the user's performance and feedback to make sure their next training day is a perfect fit.
If a workout doesn't match the situation on any given day, the new "Adapt Today" feature lets users tell their coach if they are too sore, want a different training session, need to train quietly, can't run, or have no equipment or too little space for the prescribed workout.
They will then get a personalized alternative that fits their needs on the day, so no more excuses for skipping a workout.
Mindset coaching has always been part of the company's vision to challenge and inspire people to become the greatest version of themselves, both mentally and physically.
''Most attempts to start living a healthier and happier life fail before they even really begin, because people are set up for failure by the fitness industry," explains Freeletics CEO Daniel Sobhani.
"We have always wanted to put a stop to this, and now we're taking the next big step. Our Mindset Coaching will teach people the fundamentals and help them build a life-long foundation for good health and personal development.
By combining this with our adaptive, personalized training, people will be more likely than ever to truly succeed on their health and fitness journey.
We believe training your body and mind is one of the greatest investments you can make, so now we are making it as easy as possible – for anyone."