By David Saunders, Health Editor | UPDATED: 08:28, 26 June 2020
Athletes are always seeking a competitive edge, whether it's elite-level professionals looking to shave milliseconds off their personal best time, or just a keen athlete hoping to beat their goal.
The perfect plant-based source for a competitive edge are the Gosh! Beetroot Burgers and the Beetroot Falafels. It has been scientifically proven that beetroot improves endurance performance, with cyclists increasing their maximum time of cycling by almost 20%, and runners increasing their speed by 5%, The high levels of nitrates found in beetroot reduces the oxygen cost of exercise, opening the blood vessels and allowing more oxygen to flow, as well as lowering blood pressure.
Nutritionist Fiona Lawson says: "Beetroot is a great addition to an athlete's diet. Your body converts its nitrates into a special signalling molecule called nitric oxide. This tells your blood vessels to dilate and your cells to take up more glucose—both of which help you perform at your best for longer."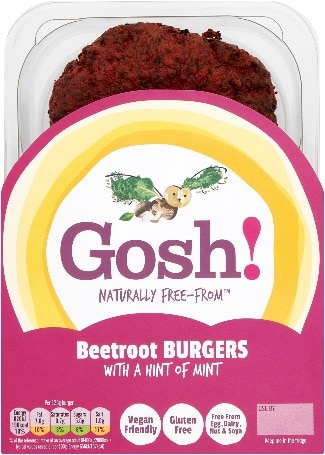 A delicious way to improve your endurance performance is to enjoy a plant-based Gosh! Beetroot Burger or Falafel before your training session. Not only will you be having a healthy meal full of vegetables, pulses and greens, you will also be supporting your performance. The range is suitable for all dietary preferences, and is fully registered by the Vegetarian, Vegan, Coeliac and Kosher food societies.
The range contains no nasty preservatives, artificial flavours or dodgy colour enhancers and they are all free from the top 14 allergens, including gluten, nuts, egg, milk and soya.  Everyone leads a busy lifestyle these days, which is why convenience is key. The Gosh! range can be enjoyed as a cold on-the-go snack or heated up as part of a delicious and nutritious meal. From just £2.40 the bites, burgers and sausages are the tastiest and healthiest way to eat meat-free.