Last updated on March 26th, 2022 at 11:32 AM
Earlier this month HONOR watches launched two new smartwatches to the market, the HONOR Watch GS Pro and Watch ES.
The HONOR GS Pro is HONOR's first rugged smartwatch, aimed at the urban adventurer it promises to enhance your true mountain experience as well as evaluating your everyday training routine.
Design:
Designed to be more durable, rugged and practical than ever before, the HONOR GS Pro offers up a massive 25 days prolonged battery life, a powerful set of sensors and trackers for outdoor sports in rocket design
We have to say HONOR's first smartwatch which has been cleverly designed for those that lead active lives and enjoy outdoor activities is extremely rugged and durable.
Although the watch is targeted for younger adults it wasn't out of place on my mid-40's wrist and I was more than pleased with it's aesthetically designed features.
The HONOR Watch GS Pro design features a stainless-steel bezel ring, dial, full-screen touchscreen – 454 x 454 pixels at 326 PPI and weighs approximately. 45.5g (without the strap).
There are 3 colours available to choose from Charcoal Black, Marl White, Camo Blue.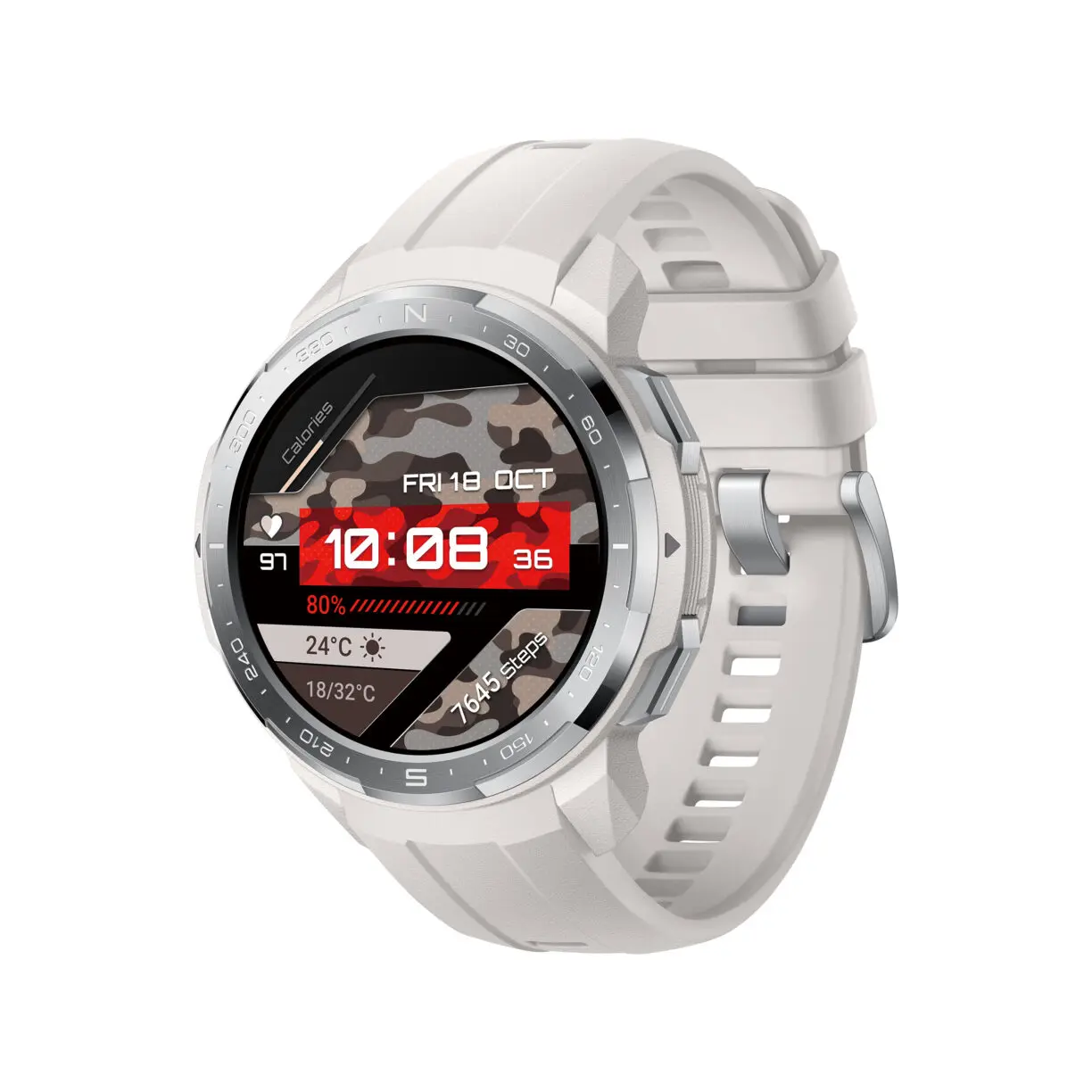 HONOR Watch GS Pro offers over 100 fitness modes including hiking, mountain climbing, open water swimming, pool swimming, free training, triathlon, outdoor and indoor running, outdoor and indoor cycling, mountain climbing, elliptical, rower, trail running, skiing to name a few.
Whilst on the subject of water and heights the watch can withstand a pressure of 5 ATM, whilst also supporting an altitude barometer for mountaineering.
And for the skiers out there reading this, the newly-launched skiing mode can automatically track your skiing exercise in real-time with various skiing scenarios including skiing, snowboarding and cross-country skiing.
What stood out to me about this watch was how it can automatically detect and record your workout with voice broadcasts and real-time alert during six different workouts which is of great benefit to you when you just feel yourself beginning to slack off a little.
Another plus for me is the battery life, I've personally struggled with watches dying on me mid workout. Safe to say though that the HONOR Watch GS Pro is a watch you can depend on during your workout with it's 25 days battery life on a full single charge and up to 48 hours battery life when GPS is enabled.
There's a staggering 100 hours of battery life when outdoor workout mode is enabled, which is pretty considerable when the watch can be fully charged in less than 2 hours.
Did I mention the Built-in GPS set up on the HONOR GS Pro? Supporting GPS and GLONASS tracking system, the watch also features Route Back function with breadcrumb navigation, for those of you out there like myself who can easily get lost on the beaten track this is particularly most useful.
As with most smartwatches on the market the HONOR GS Pro comes with the standard assistant and health monitoring capabilities. The assistant features Remote Photo Shooting to control and take the photo from your smartphone via the watch, manage your phone calls via Bluetooth.
You will also be able to store approx. 500 songs in the watch and control music playback. Forecast weather changes and set alerts for severe weather.
The Health feature will help provides a 24/7 Heart Rate monitor: Supported by HUAWEI
TruSeen™ 3.5 with advanced AI algorithms to ensure accuracy. SpO2 Monitor: Keep track of your blood oxygen saturation level throughout the day to help you maintain a healthy lifestyle.
Sleep Monitor: Accurately monitor your sleep time and sleep quality with HUAWEI TruSleep™ 2.0, and provide a detailed sleep quality assessment with customized recommendations to improve your sleep quality.
Stress Monitor: Monitor your stress level with HUAWEI TruRelax™ throughout the day to help you improve your wellbeing.
The Honor Watch GS Pro's launch price is £179.99 (roughly $300) and can be purchase via HONORS website or alternatively at most good retailers.