Last updated on August 24th, 2023 at 07:26 PM
In the dynamic realm where soccer prowess meets empowerment, Grace Vella stands tall as a transformative figure at the helm of Miss Kick.
With an unwavering passion for both the sport and women's empowerment, Grace has harnessed her energy to create a movement that transcends the boundaries of the beautiful game.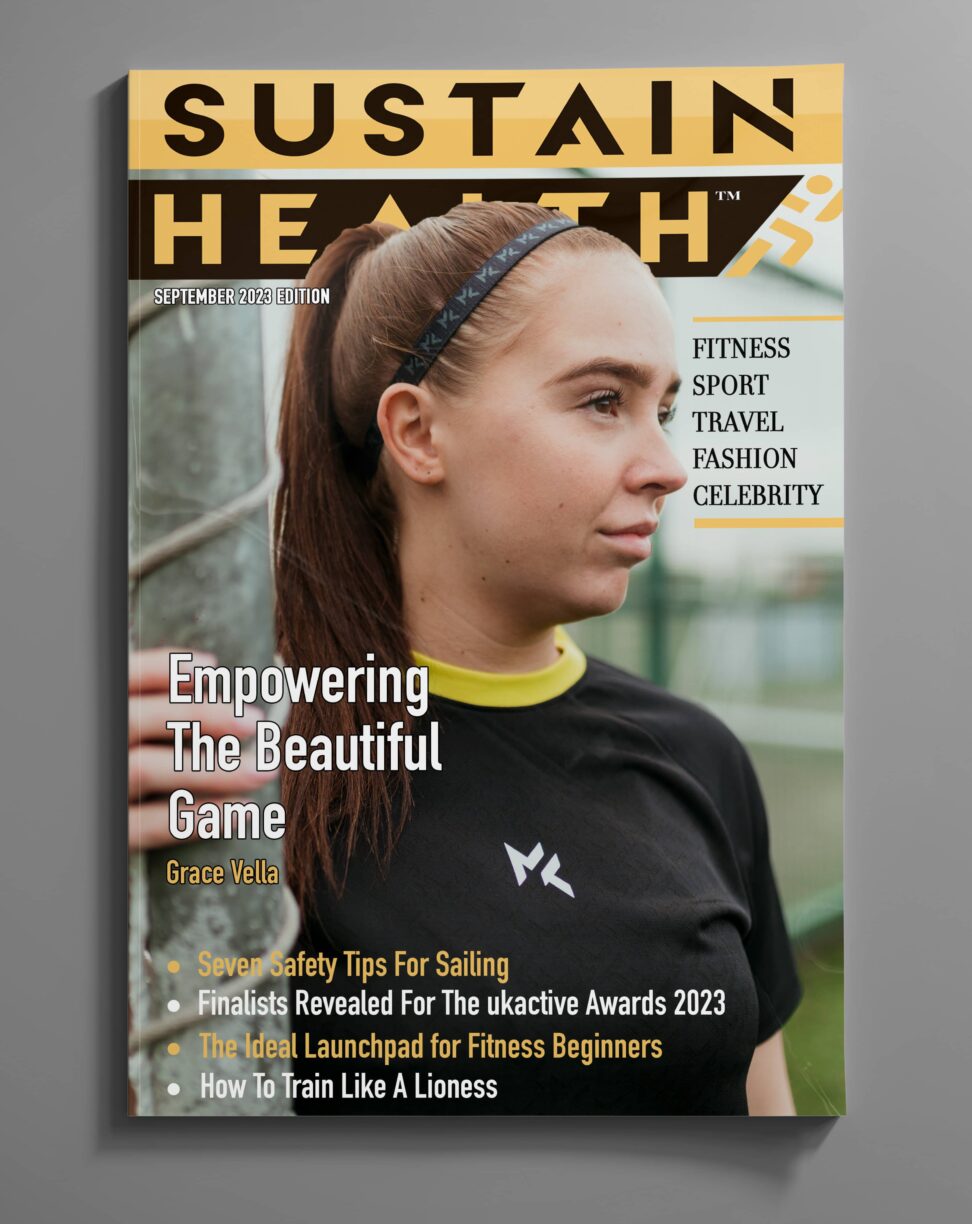 As a co-founder and driving force behind Miss Kick, Vella is a visionary entrepreneur whose vision extends beyond the pitch, empowering females to embrace their strength, confidence, and love for soccer.
Vella's journey into the world of soccer and empowerment has been nothing short of inspiring. A visionary co-founder of Miss Kick, Grace's mission to level the playing field for women within the soccer universe has struck a chord with countless individuals globally.
Born from her own fervor for the sport and her fervent belief in gender equality, Miss Kick has evolved into a powerful platform that combines fashionable soccer apparel with an unyielding commitment to inspiring and empowering women and girls.
SH: Can you share more about the inspiration behind starting Miss Kick and the moment you realised there was a need for a clothing range specifically for female soccer players?
Originating from my personal experiences as a young female football player, I noticed a distinct lack of inclusivity. This stemmed from kits that different fit as they were originally designed for men and consistently being relegated to poor quality pitches.
Conversations with current young female footballers revealed that this issue persists today. Therefore, driven by a desire to instigate positive change, I aim to enhance the footballing environment for present-day girls. Not only to encourage girls to play, but keep them playing for years to come and break down barriers to entry in the sport.
SH: What motivated you to focus on empowering and inspiring girls through your clothing range, and how do you hope Miss Kick will impact young women who play soccer?
Fueled by my profound connection to football, which brought me valuable friendships and experiences, I was disheartened by the potential for girls to be excluded due to factors like inadequate clothing.
My aspiration with Miss Kick is to bolster girls' self-assurance, emphasising their place in the sport. Through empowering accessories like headbands and playing wear with t-shirts and shorts, I aim to help them feel a sense of empowerment and belonging within a larger sporting community.
SH: Could you tell us about the journey from launching Miss Kick as a pop-up stall at your dad's football tournament to growing it into an international clothing brand?
During my time at university studying psychology, I lacked a clear career direction. The concept for Miss Kick had been brewing, and I decided to take a leap of faith. Starting small, I initially printed t-shirts myself in my cousin's spare room.
The brand debuted at my father's football event in 2018, where we sold 174 t-shirts and the enthusiastic response from young girls solidified the potential for growth.
Despite limited funds and experience, my unwavering belief in the brand drove me. Over the subsequent years, I built a strong, supportive community around Miss Kick, attracting people who share our values.
With the guidance of mentors and a dedicated team, we navigated challenges like the pandemic and economic difficulties. I take pride in our achievements and the global impact we're making, empowering girls across the world.
SH: You have mentioned previously about wanting to provide clothing that caters to different body shapes and sizes. How important is inclusivity in the design and offerings of Miss Kick products?
Inclusivity holds significant importance for our brand. If girls don't feel included, they won't play – so we emphasise this value when engaging with suppliers and our community.
Notably, a recent achievement we're proud of is the introduction of Teamwear in response to feedback from girls who expressed discomfort with ill-fitting kits.
This season, we've launched shorts in two different lengths, catering to those seeking more coverage or a standard look. This unique approach sets us apart in the market.
We're also dedicated to expanding our size range and are actively collaborating with suppliers to achieve this. Currently, our Teamwear spans from 5-6 to 18-20, and in the coming 12-18 months, we plan to introduce differently shaped tops and shorts to boost confidence among our audience.
SH: As a former youth team player at Liverpool and Manchester City, how did your personal experiences in the sport influence your vision for Miss Kick and its role in the women's soccer market?
My passion for football and playing for big name teams was one of the main reasons behind Miss Kick. I aimed to provide girls with the same opportunities I had while addressing the deficiencies that existed during my own experience.
My personal journey as a football-playing young girl uniquely positions me to understand their challenges and obstacles. This perspective influences our product development and interactions with girls.
Despite the initial barriers, it's heartening to witness the encouraging progress that has taken place in recent years.
SH: What are the challenges you faced as a woman in a developing sport and did those experiences shape your determination to create positive change through Miss Kick?
When I was growing up, I faced challenges because people thought it was strange for girls to play football. It's hard to believe that there was a time when it was rare for girls to play.
I often found myself as the only girl in football camps, and people would be surprised by that. Back then, people mostly thought football was only for boys.
Even in academies, I would get old uniforms and be put on not-so-great fields just because I was a girl. This made me really frustrated, and it's why I started Miss Kick.
I want to make sure that girls in football get the respect they deserve and have the same opportunities as boys. This is why I'm so committed to helping girls in the sport.
SH: Could you give us a sneaky glimpse into some of the upcoming products and ideas that you're excited about?
We take pride in our pioneering approach to Teamwear, setting us apart in the market. Our commitment to inclusivity is evident as we consistently advocate for an expanded size range with our suppliers.
Currently ranging from 5-6 to 18-20, our Teamwear addresses diverse needs. In the near future, we plan to introduce tops and shorts of varying shapes to further boost confidence among our audience.
SH: How has the response been from the soccer community, both players and fans, since the launch of Miss Kick? Have there been any particularly impactful stories or feedback that stand out to you?
The launch of Miss Kick has sparked a multitude of inspiring stories. Our dedicated Discord and Facebook groups serve as thriving communities, uniting women, girls, parents, and supporters.
These platforms facilitate information exchange and friendship-building, leading to real-world connections and shared football experiences.
Notably, two girls from Scotland, brought together by their Miss Kick headbands, formed a friendship in an otherwise male-dominated football camp.
The impact of Miss Kick is evident through social media posts and messages that highlight enhanced confidence, self-esteem, and newfound friendships among children. Ultimately, fostering these positive changes is our core mission.
SH: In what ways do you envision Miss Kick contributing to the broader conversation about gender equality and representation in sports, particularly in the context of women's soccer?
Our approach is deeply rooted in community engagement, valuing input on crucial subjects like gender equality and representation.
By involving our community at grassroots levels, we ensure their perspectives shape our products, Miss Kick Foundation initiatives, and community efforts.
Our focus is amplifying girls' voices, providing a platform that resonates with their values. The global growth of women's football, evident through professional leagues like WSL and the Lionesses, is noteworthy.
However, our emphasis lies in creating impact at the grassroots, ensuring the upcoming generation's voices are heard and reflected both in the sport and the products they choose.
SH: What are your aspirations for the brand's future growth and impact?
Our aim is to inspire girls worldwide by continually enhancing our communities to be inclusive and welcoming. Personally, I have ambitious aspirations for our brand, envisioning it alongside prominent players in the market.
As the only female-specific football clothing brand, we see potential to rival larger brands, offering females a means to express themselves and amplify their voices amid the growing game.
Though the road is challenging, our focus is on inspiring through our creations and ultimately establishing a global brand.
Grace's innovative spirit and unwavering dedication have led to the creation of an inclusive community that resonates with soccer enthusiasts of all ages.
Beyond the stylish apparel and products that Miss Kick offers, Grace has nurtured a space where women feel empowered to embrace their love for soccer without limitations.
Her relentless drive to dismantle barriers and stereotypes within the soccer landscape has transformed Miss Kick into a beacon of empowerment, bridging the gap between the sport's legacy and its boundless future where every woman can boldly kick, score, and conquer.
Grace Vella's journey is not only a testament to her entrepreneurial spirit but also a testament to the transformative power of combining one's passion with a vision for positive change.