Last updated on May 22nd, 2022 at 09:00 PM
Nearly half (48%) of UK 16-24 year-olds (Gen Zs) won't exercise unless they can listen to music, whether through an iPod, smartphone or some other portable gadget. This compares to three in 10 people across all age groups.
The survey of almost 2,000 regular exercisers, by gadget insurance provider Protect Your Bubble.com, also found that women are more dependent on music for exercise than men, with 34% saying they wouldn't exercise without music, compared to 28% of men.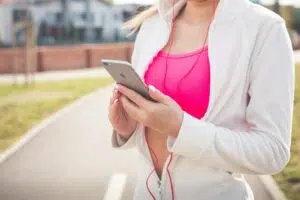 More than half (57%) of people said they use an app while exercising whether that's listening to music, tracking performance with an app such as MyFitnessPal or Runkeeper, using a fitness wearable such as Fitbit or watching a YouTube video on a treadmill.
Meanwhile, 17% of those polled said they only exercise if they are able to track performance. Women are slightly more committed on this front, with 19% requiring an app or gadget that tracks their performance to exercise, compared to 15% of men.
The age group most keen on tracking performance was 25 to 34-year-olds, with 26% saying they will only exercise if they are able to monitor their performance.
As for why people monitor their exercise, 37% said that it was in order to improve their performance, 34% said it was to be more health-conscious and 10% said it was to compete against family and friends.
Surprisingly, perhaps, just 5% of respondents published their results on social media. The age group most likely to post their exercise stats on social media were 25 to 34-year-olds (10%).
More than half (57%) of those respondents polled said they used a gadget for exercising, and the gadgets they're using are not cheap. Six in ten said they wear gadgets during exercise worth £100 or more. While more than a quarter (28%) said their gadgets costs £400 or over.
James Brown, director of gadget insurance provider Protect Your Bubble.com, comments:
"It seems music doesn't just make the world go round but the pedals, too. That nearly half of Gen Zs can't exercise without Apple Music, or whatever other music player blasting out, shows the phenomenal impact of light and portable gadgets on our lives. It's no exaggeration to say that, these days, music isn't just good for the soul but for the body, too.
"What's also clear is that the wearables and gadgets people are carrying around on them while exercising are not cheap, so they need to protect them from damage and loss. An Apple Watch itself can cost upwards of £400, which is a significant sum of money."