Last updated on April 5th, 2023 at 02:10 PM
Côte restaurants have launched their most creative Spring menu designed by Gordon Ramsay's former executive chef Steve Allen.
The highly respected chef who has worked at Michelin-starred restaurants joined Cote last year and has focused on fresh seasonal ingredients to showcase classic French cuisine.
Steve's new menu additions celebrate La Saison Délicieuse with a collection of timeless dishes, sharing plates, seasonal spritzers and French classics with a Côte twist.
The result is a beautiful and innovative new menu which says Au revoir to winter and officially welcomes Spring with the fresh selection of seasonal delights.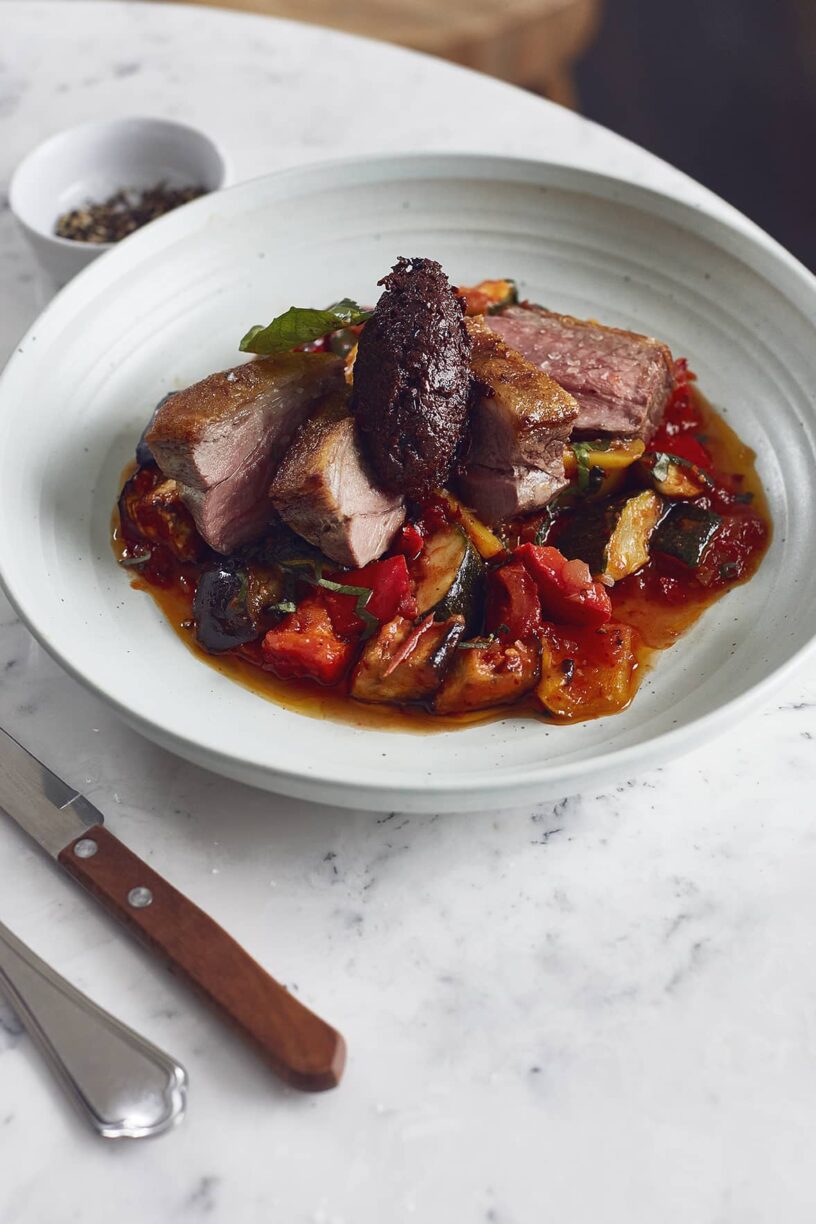 Côte believes the best way to feast is with friends and family which is the basis for the Spring menu. Steve has elevated La Cuisine Française at Côte with the new dishes, created with produce from trusted British and French producers.
To celebrate the French tradition of sharing enjoy the varied tastes of the new 'For the Table' dishes. Begin with Cote's classic Charcuterie Board, a satisfying selection of Bayonne ham, truffle saucisson and coppa ham, served with sharp cornichons, Brittany salt butter and a crusty sourdough baguette.
Try the perfectly baked Camembert, which comes with a herb and lemon breadcrumb crust, honey-marinated cherry tomatoes and Cote's freshly baked sourdough baguette.
The Cheese Gougères are not to be missed, perfectly flaky, golden baked choux buns and Emmental cheese served with tangy Dijon mustard mayonnaise. 
Oh, and the Smoked Salmon and Potato Croquettes are made with yellow peppers, dill and red onions, coated in golden breadcrumbs. Pour le table, toute suite!
The hero of the Starters is the cheese Soufflé which Steve designed for a little extra luxury. No dish says indulgence à la française like a classic Cheese Soufflé and while most soufflés are made with Comté, Steve has given this elegant Normandy classic an indulgent twist. Cote's is made with rich, creamy Camembert, topped with a golden cheese crust and paired with a punchy mustard and chive cream sauce for that extra je ne sais quoi.
For the new Mains try the Roasted Lamb Rump. Springtime and lamb go hand in hand. This perfectly tender, blushing pink free-range grass fed lamb rump is an all-time classic hailing from Nice and served with ratatouille.
This moreish vegetable stew gets its name from 'rata', which means large chunks, and 'touille', which means 'to toss'. Steve has kept Cote's traditional, combining aubergine, courgette, peppers, onions and perfectly sweet tomatoes. And to top off the whole soirée, a salty black olive tapenade and fragrant basil.
And a highlight of the new desserts is the Elderflower & Strawberry Crème Brûlée. Steve created a springtime twist on a traditional Crème Brûlée. Literally translating to 'burnt cream', this is perhaps France's most celebrated dessert, and has been satisfying sweet tooths since 1691.
Cote's has all the trappings of a classic – creamy, smooth texture, the perfect golden brown, sugary crust – but is made with smooth vanilla and the delicate taste of elderflower. Topped with a juicy strawberry, elderflower and basil salad. Could there be a better way to say 'bonjour spring'?
These are just a few of the new dishes, the full spring menu can be found below.
Cote's Executive chef Steve Allen has worked at Michelin starred restaurants, Restaurant Gordon Ramsay, Petrus and he opened Gordon Ramsay at Claridges which won a Michelin star within its first year.
During Steve's time at Claridges, where he went from Junior Sous Chef to Head Chef and then Executive Chef, he worked on all of Gordon Ramsay's books From "Secret's" to "World Kitchen".
Steve said of Cote's new menu: "I have been cooking French cuisine since the age of 13 and this menu is a reflection of everything I love about French food in the Spring. 
Our main focus is and always will be about the  taste of our food at Cote.  Simple, yet complex and delicious."
FOR THE TABLE
Cheese Gougères V
Baked choux buns with Dijon mustard
Smoked Salmon Croquettes
Red pepper aioli
Baked Camembert V
Honey tomatoes, toasted sourdough baguette
Charcuterie Board
Bayonne ham, truffle saucisson, Coppa ham, cornichons, toasted sourdough baguette
STARTERS
Cheese Soufflé V
A twice-baked Camembert soufflé with a chive & mustard sauce
Tomato Tarte Fine V
Puff pastry, tapenade, caramelised red onion, goat's cheese cream
Salade Rachel VG
Artichokes, fennel, mangetout, French beans, truffle mayonnaise, sourdough croutes
MAINS
Sea Bream Nantais
Roasted chicken velouté, samphire, courgettes, new potatoes
Confit Duck Bigarade
Glazed golden beetroot, fennel, mangetout, bitter orange sauce
Roasted Lamb Rump
With ratatouille, tapenade & basil. Recommended medium
Quiche aux Champignons V
Mushroom & thyme quiche, watercress, tomato & courgette salad, frites
Tomato Tarte Fine V
Puff pastry, tapenade, caramelised red onion, goat's cheese cream. Served with salad & frites
SIDES
Sautéed Garlic Greens VG
French beans, mangetout & fennel
Ratatouille VG
Peas à la Française VG
Peas with Gem lettuce & baby onions
DESSERTS
Almond Financier V
Warm almond butter cake with sour cherry compote & vanilla ice cream
Strawberry & Elderflower Crème Brûlée V
An elderflower infused custard with a strawberry & basil salad