Last updated on May 19th, 2023 at 12:50 PM
PUMA has unveiled the highly anticipated second CP collection in collaboration with soccer sensation Christian Pulisic, marking another milestone in their successful partnership.
Building on the triumph of his inaugural signature collection, Christian has infused his personal inspiration into this latest offering, aiming to continue inspiring the next generation of soccer players to dominate the field.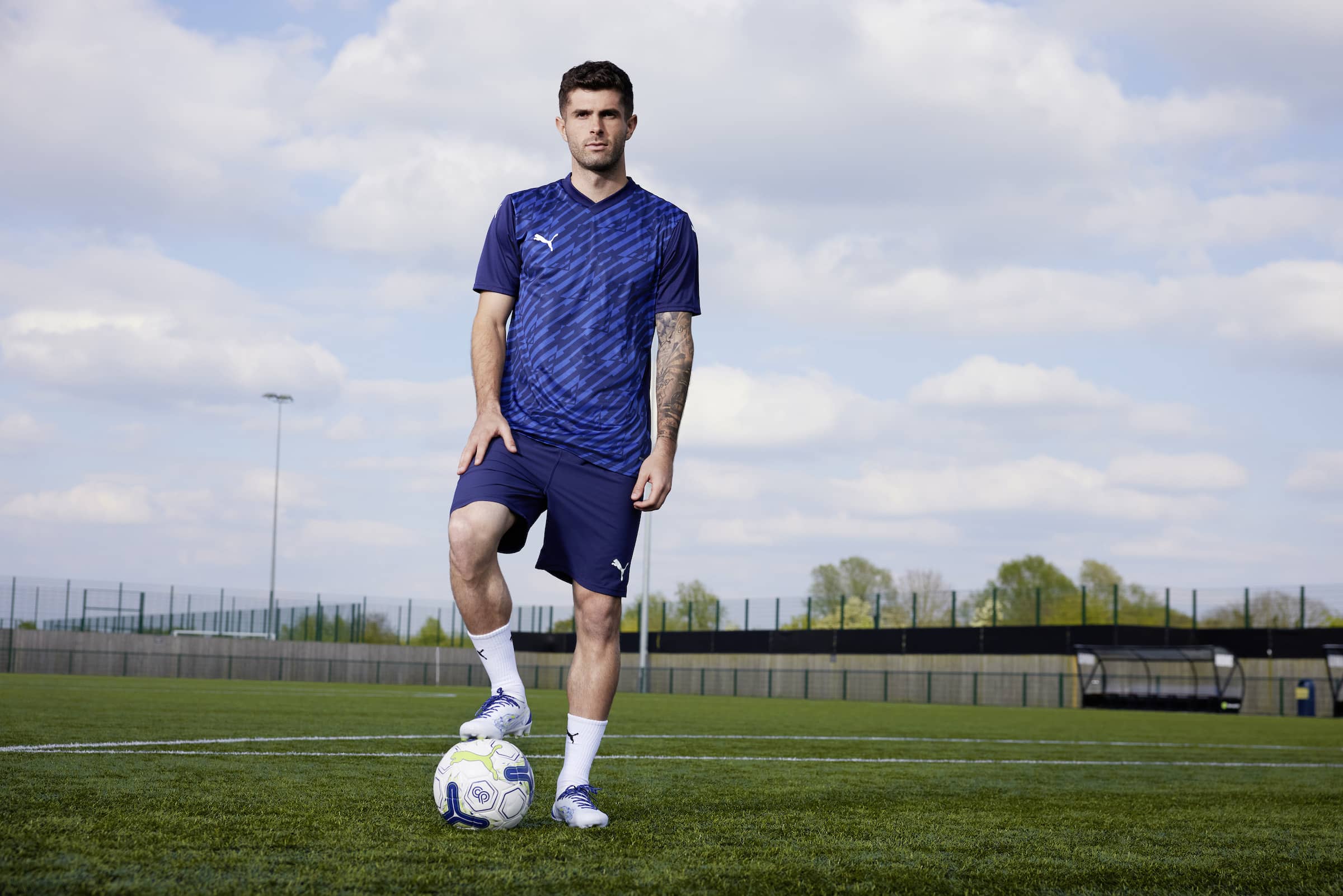 This remarkable collection draws inspiration from Christian's own tattoos, showcasing captivating designs of eagle wings and tiger eyes in striking geometric patterns across all its products.
Christian explained, "When collaborating with PUMA on my second collection, the inspiration behind the design elements you will find throughout were two of my favourite tattoos.
Each tattoo I have represents a special piece of my journey and how I got here. I'm excited to bring this collection to soccer players everywhere and inspire them to accomplish any goal they set their mind to."
The centrepiece of the new CP collection is the highly sought-after ULTRA ULTIMATE, designed to be the epitome of speed on the pitch. This exceptional cleat boasts a lightweight ULTRAWEAVE upper and a firm ground sole plate, enabling players to sprint faster, outmanoeuvre opponents, and find the back of the net with precision.
Crafted to deliver unmatched speed, the ULTRA ULTIMATE showcases PUMA's commitment to pushing the boundaries of innovation in football boots.
Accompanying the ULTRA ULTIMATE are other noteworthy products in the collection, including the CP10 Graphic Ball and the CP10 Backpack with a convenient ballnet.
These items feature the prominent CP logo, serving as a symbol of Christian Pulisic's legacy and his impact on the sport. With this collection, PUMA aims to empower athletes to wear their victories proudly, both on and off the field.
The eagerly awaited CP signature collection will be available exclusively on the PUMA app starting May 16th, and from May 18th, fans can purchase the collection on PUMA.com, DICK's Sporting Goods, and select soccer speciality retailers worldwide.
This widespread availability ensures that soccer enthusiasts across the globe can experience the quality and style synonymous with the CP collection.
PUMA's partnership with Christian Pulisic continues to demonstrate the brand's commitment to supporting and collaborating with exceptional athletes who inspire greatness.
By merging Christian's personal journey, his tattoos, and his unyielding drive, the second CP collection represents more than just sportswear—it serves as a catalyst for motivation and achievement.
As fans eagerly anticipate the release of the collection, PUMA and Christian Pulisic are poised to leave an indelible mark on the soccer world once again, empowering athletes to chase their dreams and conquer new heights.
The fusion of PUMA's innovation and Christian's passion is set to ignite the aspirations of countless soccer players, leaving a lasting legacy that transcends the sport.