Last updated on August 22nd, 2021 at 05:38 PM
You may have seen over recent months Casey Batchelor documenting her pregnancy journey and weight loss across her social media platforms with her 311,000 Instagram followers.
And Casey , 34, captured her four stone weight loss in amazing snaps as she credited her high intensity workout app Yoga Blitz for the transformation whilst also shooting down the keyboard warriors out there who chose to have a swipe at her.
We wanted to find out how the former glamour model and Celeb BB contestant shed the post baby weight and what she thinks of the internet trolls out there.
Read on to find out her amazing story.
Many of us find it difficult to lose even a stone in weight but you lost an incredible four stone in six months, was it hardwork or did you find it easy to shift the weight?
'I would never say it was easy but it was fun because I did it doing something I love – Yoga! Actually a combination of yoga and high intensity exercises that I called Yoga Blitz.'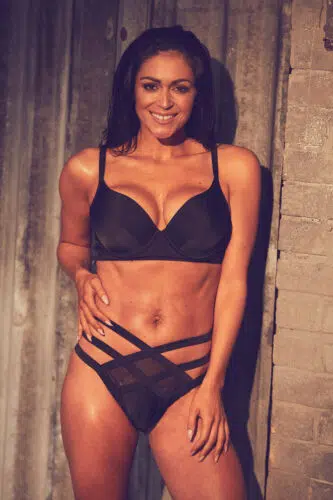 What was the secret to the weightloss?
'The secret was that combination of simple yoga poses mixed with intense fat burning moves like jumping 'Goddess squats'. Plus I followed a calorie controlled diet because as we all know no exercise can work off a bad diet. So it was doing them together that really worked.''
 For those fans who are putting "lose weight" at the top of their goals for this year, what tips would you give to them?
"I would say 'don't quit' is my number one tip. I think most people can stick to a weightloss plan for a few days or even a couple of weeks, but for it to really work, you have to make it part of your life. So choose something you enjoy – like I did, have a plan and if you fall off the wagon – just make sure that you don't go 'oh well that's it I've blown it, I'll just give in. I've had one donut, so I may as well have 6!!' Just say 'tomorrow is a new day and I'm going to get back on it."
What advice would you give to those who struggle to lose weight?
'I would say that you've got to find a way to fit it into your lifestyle. So if you always go out at the weekend, have a few drinks and some junk food, then plan for that, so that you really cut back during the week and save the calories up for your days off.''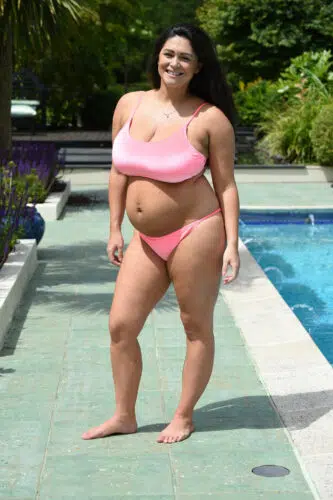 How long have you been practising Yoga?
'I've been practising yoga for 5 years now and qualified as a yoga teacher two years ago.'
I saw that you are indeed a qualified Yoga teacher, how did that all come about?
"I just loved it so much and wanted to take it to the next level, so thought learning more and getting qualified was the way to do it."
Apart from Yoga do you do any other activities to keep you fit?
"Not really to be honest – Yoga Blitz is such a full body workout and on my plan it's all broken down into short five minute routines so you can fit it round your day, so apart from that I don't really need to do anything else."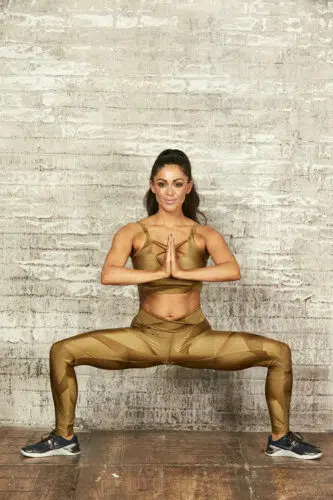 Do you advise long workouts or short bursts?
"It doesn't make any difference in terms of your fitness (in fact HIIT – High Intensity Interval Training) is more effective than aerobic (slow and steady) exercise but I love working out in short bursts because it fits round my baby Florence's nap time!"
What advice would you give to stay on track with 1. Losing the weight and then 2. Keeping the weight off?
"1. Choose a plan – and get organised for it. I really believe if you fail to plan, you plan to fail! So decide, then shop for your diet plan and schedule in your diary when you are going to workout – set alarms on your phone if that helps. And consistency is the key – it doesn't matter if you only lose a pound a week as long as you keep going you will get there in the end. 2. You have to make sure it's part of your lifestyle otherwise if you just go back to your old habits, the weight will slam back on super quick. So yes have a night out but the next day rein it in a bit to make up for the calories you've 'spent'. Or do an extra workout."
Do you get sweet cravings? How do you deal with them?
"Yes I have a sweet tooth! I have found lots of great no-sugar or low sugar alternatives – like Halo Top ice cream which is only 360 calories for a whole tub or rice cakes dipped in chocolate which are only 30 calories each but give you a sweet hit."
 Certainly sounds like we should be looking into that then haha.
Tell us about your Yoga app YogaBlitz, how did that idea come about?
"I developed this because I was in desperate need! I'd just over-indulged during pregnancy – eating for 6 never mind 2! So I piled on four stone and no, it didn't just drop off when I gave birth sadly! So I started doing my usual yoga but then realised I need to add in more fat-burning moves to really get the weight off. So this is really the first ever fat burning yoga system in the world! And I'm super proud of it! I managed to lose the weight myself and am now getting a buzz helping others do the same."
What sets your YogaBlitz app apart from the others out there?
"I've lived this myself – I'm not one of those perfect fitness influencers who's never had any weight problems. Despite being a trained yoga teacher, I got totally unfit as well as overweight during pregnancy but found a way of losing it which works and is really fun. Also the workouts are broken down into short 5 minute routines so you can fit them round your day and the diet is delicious – just what I call 'normal' food like sarnies and egg, beans and chips!"
Are there recipes to follow on the app?
"Yes there are loads of recipes – some of them with demo videos to show you how to cook the meals and all super easy to follow and cheap to cook for – no fancy ingredients!"
What's your favourite recipe to cook?
"I love the Spag Bol because I am always so thrilled to think you can eat that on a diet!"
Do you have a cheat day? And what meal do you go for?
"I definitely go out and have cheat meals – I love a steak with chips and of course a gorgeous pudding – like a chocolate mousse!"
 Now I'm feeling hungry myself, think I need to get to the gym to stave it off!
How do you find time to practice your fitness regime with two little ones around? Well it's really so much easier with Yoga Blitz because each routine is only five minutes long – they add up to half an hour in total  – but you can do them in segments. I designed it that way so I could fit it round looking after my baby and doing the housework!
What would you say to those who say they can't find time to fit Yoga into their lives?
"Honestly everyone has five minutes don't they? Or even half an hour. So you just have to make it important."
Do you get your lovely partner Dan working out with you as well?
"Yes!! It's hilarious – he was so impressed as he saw me getting into shape, he started asking if he could join in! So he started setting his alarm to do it before work with me – couples goals eh?"
How do you feel the industry can make further moves in shifting the change from body image to true health?
"I think there have been lot of positive changes – girls now aspire to have a more healthy look than years ago when super skinny was the goal. But yes it would be great for everyone to be taught in schools about the benefits of exercise – and how not exercising can shorten your life."
What do you think about the keyboard warriors and trolls out there who feel the need to abuse people like yourself trying to do good and make change in their life?
"I think a lot of the trolls are very sad people who get a feeling of power by attacking people in the public eye. I try not to focus on them though or complain too much because I know I'm very lucky to have had the breaks I have and make a living doing what I love."
What's next in the pipeline for Casey?
"I've got a new Yoga Blitz programme launching soon – Beach Blitz so am going to be filming in some lovely beach locations for that – told you I was lucky! So can't wait to share with everyone!"
Casey's Yoga Blitz – 90 Day Challenge is available for £14.99 a month Sign up at  www.yogablitz.com