Last updated on August 22nd, 2021 at 03:35 PM
Lost your lockdown workout mojo? Cory Wharton-Malcolm aka '@bitbeefy'' founder of Track Mafia, brand consultant, Nike+ running coach and 'Chief Vibes Man' has plenty to spare. He is Nike's go-to advisor for tips on keeping your workouts fresh.
Cory is on a mission to make working out and running fun and accessible to all. His weekly Instagram live workouts set to DnB and grime tunes have been going viral thanks to his infectious energy and use of spoons, bowls, and baking trays in place of expensive gym equipment.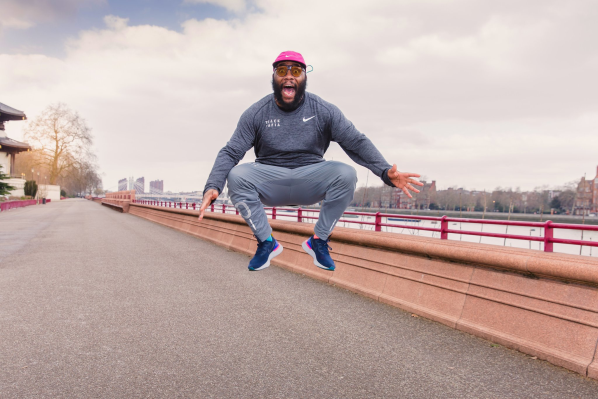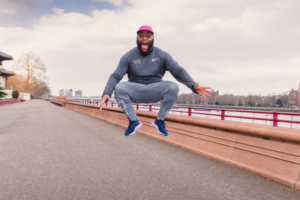 In a bid to get his guests fully relaxed and open, Cory's new podcast The Tub Hub takes place with both Cory and his guests in the bath while they chat and explore the topic of 'asking for help' in all its forms.
Cory says 'the bathtub for me is typically a place of ultimate relaxation and reflection, so I'm hoping my guests will feel the same'.
'At the start of 2020 I was working with Nike and other coaches as part of Project Fearless, a journey preparing people to run the London Marathon. As news broke that things would be changing this year I decided to focus on offering fun indoor workouts that people with no equipment could do in their homes, keeping workouts fun.
The spoons workout was picked up by Nike reaching an audience of 715k. I've also used books, bags, pots, pans and umbrella's. Next up is toasters and the fridge.'
'Fitness from time to time can be far too serious. What happened to just enjoying
yourself? Doing things that bring you joy? Going for a run or a ride with no set distance, destination or time? Remember exercise is just play with a little bit of focus.'
'Fitness has changed everything for me, before this I can honestly say I wasn't living my best life, or showing people the best version of myself. Fitness has giving me peace of mind, free therapy and counsel, my relationship, my friendships, my business, a healthier happier lifestyle and a full passport.'
'I can vouch for the benefits first hand both as a participant and as a coach. I can see how it's changed a persons entire mindset on life. It's giving them cardio confidence which in turn gives them more confidence in other parts of their lives, their eating and sleeping habits change, the meet new people wh
o are also doing positive things.
All of this? Just from getting a little fitter? Why wouldn't we want EVERYONE to access this? Wouldn't all of this help to make the world a better healthier more balanced place to live in?
Who is Cory Wharton-Malcolm?
Cory Wharton-Malcolm is the founder of London's cult TrackMafia club, host of new Podcast The Tub Hub, one of Nike Running's Head Coaches, Voice-Over-Artist, fitness facilitator, consultant and all-round creative.
In 2018 Cory graced the front cover of Runners World magazine and was heralded for changing the world of running with Track Mafia, a social running club for all. TrackMafia partnered with Patta Running and Nike to release a special edition Nike React Running shoe in 2018, and Cory has partnered with brands such as Apple Watch, ClassPass, and Deep Heat for ad campaigns since.
For years Cory has used innovative ways to help build communities through sport and movement. After working in the public sector with local government organisations, authorities and charities, his methods and infectious enthusiasm were noticed and he was asked to be a keynote speaker at The Houses of Parliament and Buckingham Palace.
Cory has hosted events and Q&A's all over the world with the likes of Paula Radcliffe, Gold Medallist Dina Asher Smith, Mo Farrah, and Charlotte Purdue, as well as hosting and teaching at many London fitness events including the Hackney Weekender with community partners Badu Sports, Tropical Isles, Julie Adenuga and Clara Amfo. A highlight event was being invited to be a guest on a panel hosted by Highsnobiety magazine exploring the relationship between street culture and running.
Other highlight moments of Cory's are working with Michael Dapaah and Ilana Glazer on a Nike Audio guided runs, and hosting a Golf/Football event at Wembley Stadium with Tiger Woods and The Ox.
Cory worked at Ministry of Sound as a fitness coach where he created the hit class "Forge", a mix of running drills and HIIT all choreographed beautifully to the music. He also started 'Beef's House' based out of the Ministry of Sound where he would invite a live DJ to play whilst he taught Forge, and on completing the class your reward was his mother's cooking.
Where it all started for Cory…
Cory found running in 2005 after friends laughed at his weight and eating habits when he said he was inspired to run a marathon. This laughter motivated him to move and he hasn't looked back. Since then Cory has completed races all over the world ranging from 1 mile time trials to running as part of a relay team from LA to Vegas.
In 2012 Cory co-founded RDCWest after an introduction to Charlie Dark of the already popular RunDemCrew, and the following summer Co-founded TrackMafia with friends Jules and Jeggi.
His highlights of 2020 have been being spotted on Instagram by the head of PE at a school in Lima, Peru and being asked to put on a Live Zoom for the all the students in their all girls school. And he recently partnered with Major League Baseball on a Mini Docu series trying to get more brits into playing baseball, throwing the first pitch at a Detroit Tigers Baseball game.
In 2019 Cory travelled to Ethipoia to be reunited with the Girls Gotta Run Project that he had been out to visit a few years before.
The purpose of this visit was to document and help a group of girls running from 12000 feet in the Bale mountains down to Bekoji and of course to run and train as well. That same year Cory would travel to Miami, New York, LA, Berlin, Amsterdam, Shanghai, Bali and beyond to train, to run, to learn and also to spread his infectious energy and excitement about running, community and its benefits.
Some of these trips were part of his role as a Nike Ambassador and Nike Coach but many were self funded projects put together purely to spread the positive energy that he has benefited from for so many years being part of both the Nike and Bridge The Gap family.
New Podcast Tub Club here https://shows.acast.com/the-tub-hub/episodes