Last updated on December 5th, 2021 at 11:56 AM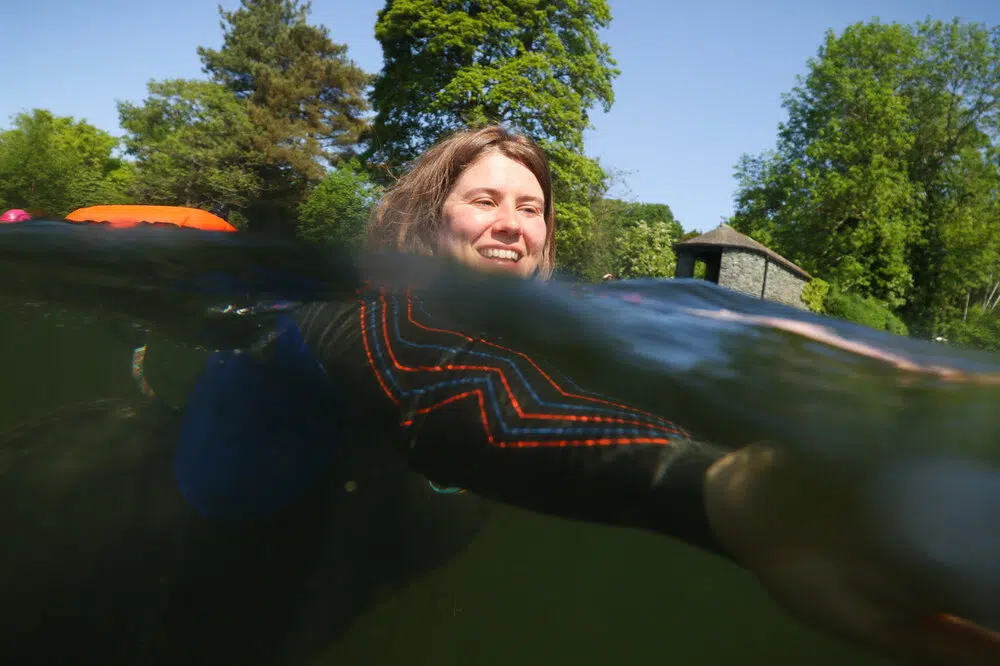 WILD swimming meets the Winter Solstice in the English Lake District and Laura Clarke wouldn't miss it for the world.
Laura, whose outdoor adventures include trekking to Everest Base Camp, loves nothing more than an early morning dip in the tranquil waters of the Lake District.
"There's just you and the water surrounded by amazing scenery at the first light of day," said Laura.
"It takes your mind off anything that you are concerned about or worried about, anything that is in your head.
"When you've done that first thing in the morning you end up going on to have a really productive day."
The day job that Laura heads off to after her weekday wild swims are the reason she is able to live in the Lake District, and why this weekend's Winter Solstice swim is only a stone's throw from her work and home.
After landing a dream job as a private client executive with the leading legal firm Cartmell Shepherd Solicitors, a member of the innovative UK200 Group, Laura was delighted to make the move north from Teddington in southwest London with her fiancé Dan earlier this year.
"Cartmell Shepherd is a fantastic company to work for. They are caring and supportive and like to see their people flourish and succeed.
"They are a highly regarded law firm, excellent at what they do and offer a level of expertise and advice akin to any large national law firm."
Based at Cartmell Shepherd's West Cumbria offices on the Dovenby Estate near Cockermouth, Laura specialises in Wills, Lasting Powers of Attorney and Administration of Estates.
She said: "Cartmell Shepherd is an innovative firm which likes to work collaboratively with other businesses to explore new opportunities.
"As a family-orientated business, Cartmell Shepherd encourages a good work life balance and is supportive of me pursuing my activities, including wild swimming."
Crummock Water and Buttermere are near to Laura's office and home, making it possible for her to make wild swimming a regular part of her exercise routine.
"For the last seven years, the Lake District has always been the place where Dan and I have wanted to live. I am so lucky to live and work here. I've still got to pinch myself that this is all on our doorstep.
"Wild swimming wakes you up. At first light is when the Lake District looks its best. No-one else is around. It is really beautiful. I find it really refreshing."
This weekend Laura will join wild swimming expert Suzanna Cruickshank for a special Winter Solstice wild swim in Derwentwater, near Keswick. Suzanna has her own guiding business and she runs events for wild swimming enthusiasts all year round.
"We've been out with Suzanna a lot. It's so accessible to enjoy wild swimming here. You just don't have the chance to do that in London," said Laura.
The Winter Solstice swims are aimed at regular outdoor swimmers. Those taking part may only be in the water for up to 20 minutes due to the low temperatures at this time of year.
But when they get out of the water, Laura knows it will all have been worth it.
"It will be incredible," said Laura. "That moment when you get out after a wild swim in winter, get dressed into your dry, warm clothes as quickly as you can, and enjoy a hot chocolate sitting by a fire, is a fantastic feeling.
"I have never felt so alive as I do at that moment. It's invigorating. It gives you a lot of energy. I would highly recommend it," said Laura.
Laura takes all her advice from wild swimming expert Suzanna who will lead the Winter Solstice swims. "Suzanna gives you all the advice on what to do and what not to do which is great. It gives you a lot of reassurance and confidence," said Laura.
Suzanna has in turn seen Laura progress from beginner to experienced wild swimmer during her time in Cumbria.
As the interest in wild swimming goes from strength to strength across the UK, Suzanna warns those who are less experienced to take their time adjusting to the activity and not to plunge straight in.
Suzanna said: "People who are considering wild swimming in winter need to know that it is a real challenge, mentally and physically due to the low temperatures and often inclement conditions.
"It is not easy. You might find yourself a long way out from your comfort zone. It's not impossible, but I wouldn't recommend winter as the ideal time to take up wild swimming," said Suzanna.
Instead beginners would be best advised to make it their New Year's resolution to take up the sport in the spring.
Suzanna runs beginner classes from April to September and for first-timers favours the quiet, clear waters of Crummock Water where there will be no risk from any passing boats.
There's also no need to be put off wild swimming if you think you haven't got the physique of an athlete, and certainly no need to go on any New Year crash diet.
"It's an activity where if you're very slim it's actually a disadvantage. It helps if you have a bit of meat on your bones, to help insulate you from the cold," says Suzanna who believes in a no-nonsense approach to her advice.
"It's also good to eat something nourishing and comforting afterwards – a slice of cake or soup. I favour a meat pie! Any food which will warm you up and reward you after a wild swim."
When it comes to advice, Suzanna has some really important 'dos'. "Do take food, drink, and plenty of warm clothes. There's no changing room to get changed in, so it is really important to change into your warm clothes quickly afterwards.
"Ideally you should wear a down jacket, waterproofs on top to protect you from the wind, thermal base layers, and gloves and a hat.
"I've seen people turn up with just a thin waterproof and think that will do the job. They might as well pull on a paper bag for all the protection it will give them."
Wetsuits, swim caps or woolly hats are recommended for beginners. Over time people will graduate to just wear their swimsuits if they want.
There are also some life-saving 'dos' when it comes to how you actually enter the water.
"It's really important that you enter the water slowly and get acclimatised," said Suzanna. "If you jump in, there is a risk your body will go into shock."
As for the 'don'ts'? "Don't go on your own. Always take someone with you. Go with a trusted friend.
"Don't ignore the weather. When there's rain hitting the windows and wind whipping across the water, it's going to be extremely challenging. Don't go that day. Leave it for another day.
"Don't bow to peer pressure and 'do it for the gram' (Instagram photo). It's easy to get suckered in by an inspirational photo on social media but you don't know how much time went into setting up the photo and how long they ultimately spent in the water. Put your safety first."
Suzanna is a big advocate for the benefits of wild swimming.
But again she puts the benefits – mental and physical – down to common sense, rather than some magical medical mystery.
"I see wild swimming as good for everything and I see the mental health benefits as a by-product of all those things that you are doing.
"You are spending time with friends, in a beautiful place, doing an activity that pushes you mentally and physically, and when you get out and you have achieved something, there's that wonderful rush.
"Also swimming is something that everyone can do. It's very accessible and isn't dependent on your fitness or size, or lots of specialist equipment."
On wild swimming's booming popularity, Suzanna said: "I don't see the bubble bursting."
And as for the best places to go? Well for all the best information you will have to wait until April.
That's when Sheffield-based publishers Vertebrate, who specialise in rock climbing, walking and cycling publications, including on Britain's best known mountaineer Sir Chris Bonington, will publish Suzanna's guide – Swimming Wild In The Lake District.
It will be Vertebrate's first swimming book and has been five years in the making for Suzanna who has researched all the best places for wild swimming in 13 of the Lake District's lakes.
"When I first came to Cumbria from Coventry where I am from, I was interested in hill-walking. I walked, I ran and I cycled. I could not bear to be
apart from the landscape," said Suzanna.
"Ever since I started wild swimming that's become the thing I can't do without. It's the freedom, space, somewhere to escape to. You can just step in and swim."
And this weekend that will be celebrated in style when Suzanna takes small groups, including Laura and Dan, for Winter Solstice swims in Derwentwater.
"It's the chance to celebrate something a little bit different. It's celebrating the days getting lighter from here. And what better place to do that than surrounded by nature in the Lake District?" said Suzanna.
Back at her desk in the office, loving her job at Cartmell Shepherd Solicitors, and having thrown herself into the Cockermouth business and sporting community, Laura couldn't agree more.
To find out more about wild swimming in the English Lake District visit www.suzannaswims.co.uk or follow Suzanna Cruickshank on Instagram @suzannaswims