Last updated on August 22nd, 2021 at 03:04 PM
Lockdown has brought us many things – the joys of home schooling (ahem), the virtual fitness revolution, and a newfound love of banana bread.
Not to mention the difficulties of balancing work and childcare, getting the kids away from the TV and having to think about every single meal of the day.
But one thing is certain – keeping children engaged, active and positive, without the routine of going to and from school, is hard work.
"All that pent-up energy can be a challenge – even for us grown-ups," says Dr Sunni Patel, rising chef, fitness expert and founder of Dish Dash Deets.
So, he's come up with Cookercise – simple, effective exercises that will keep children mobile, flexible and let them release energy, whilst creating meals and snacks that can be enjoyed together.
Here are Patel's top suggestions for getting the kids cooking and moving…
Mocktail motivator
"It's OK to play with food (sometimes!) – play catch, do frog jumps and roll lemons, oranges and limes, before squeezing to make a simple morning 'mocktail'.
"Putting 100ml orange juice, 100ml coconut water and a squeeze of lime, shaken (not stirred) in a container or bottle, will get those upper arms pumping."
You 'can' do it
"Add excitement to beans on toast! Hold a can of baked beans in each hand and do a series of jumping jacks or lunges (forward and reverse) before opening the beans to add to the meal."
Do the monster mash
"Get the kids to dress up in their favourite monster outfits and help mash up the potatoes for dinner. Or better yet, make gut-healthy pancakes by mashing the bananas in a bowl whilst doing some on-the-spot sprints for 30 seconds, then 30 seconds of low switch kicks that progress into high switch kicks."
Jump for the meal of your dreams
"Put plates of food at different levels and get children to do a controlled squat or jump to get their portions. This also teaches them to serve themselves and appreciate how they made up their own meal."
Beat the dough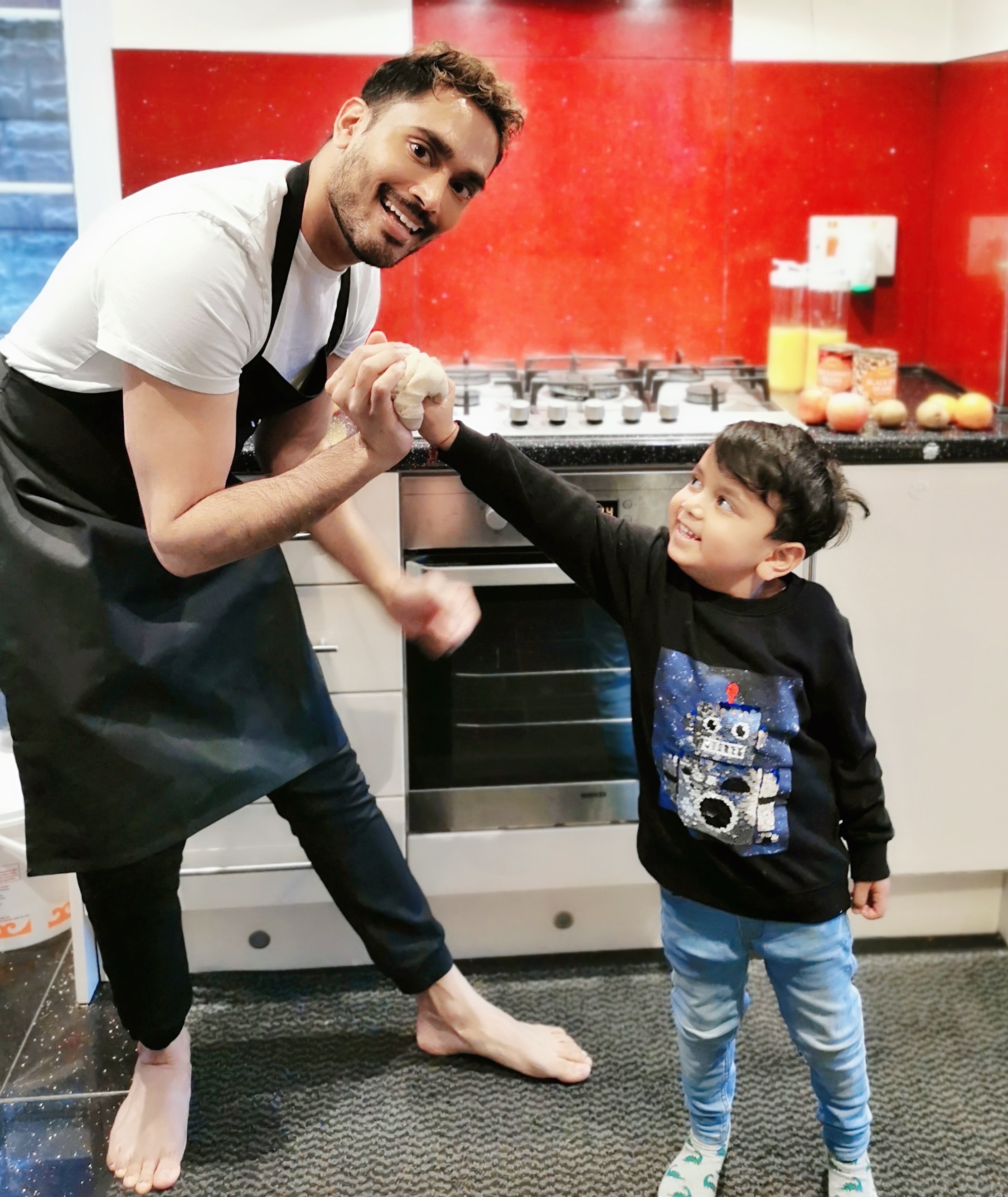 "This basic gut-healthy pizza base doesn't require yeast and will make four individual pizza bases. Get the kids to do the kneading by shadow boxing!
"Add 1kg self raising wholemeal flour, 4tbsp of ground mixed seeds (linseed, sunflower and pumpkin) mix, 1/2tsp of pepper and salt, and 6tbsp olive oil to a bowl. Mix well and then slowly add 600ml of lukewarm water until the dough binds into a ball. Once bound together, let it rest for 5-10 minutes before kneading and separating into four equal dough balls.
"Lots of kneading and pounding will activate the gluten and make the base soft and pleasing. So, hold up the dough balls and gently box away (at different heights) before pounding out the bases on the counter.
"Then comes the fun of adding toppings placed at different levels and places around the kitchen for children to jump, lunge or jog to.
"Finally bake at 180°C for 10-15 minutes, or longer, depending on the thickness and size."
The possibilities are endless, says Patel. "Change things up, involve the kids and who knows? They may even appreciate the work and effort behind getting a meal together, as well as burning off some energy."
You can follow Dr Sunni's live celebrity cookalongs, and view his cookalongs for kids at @dishdashdeets.