Though this year marks the WNBA's 25th anniversary, it also ushers in a newfound support for the league's athletes.
Season after season, WNBA players have raised their voices about inequities from the gender pay gap to racial injustice, but the public has only recently begun to listen.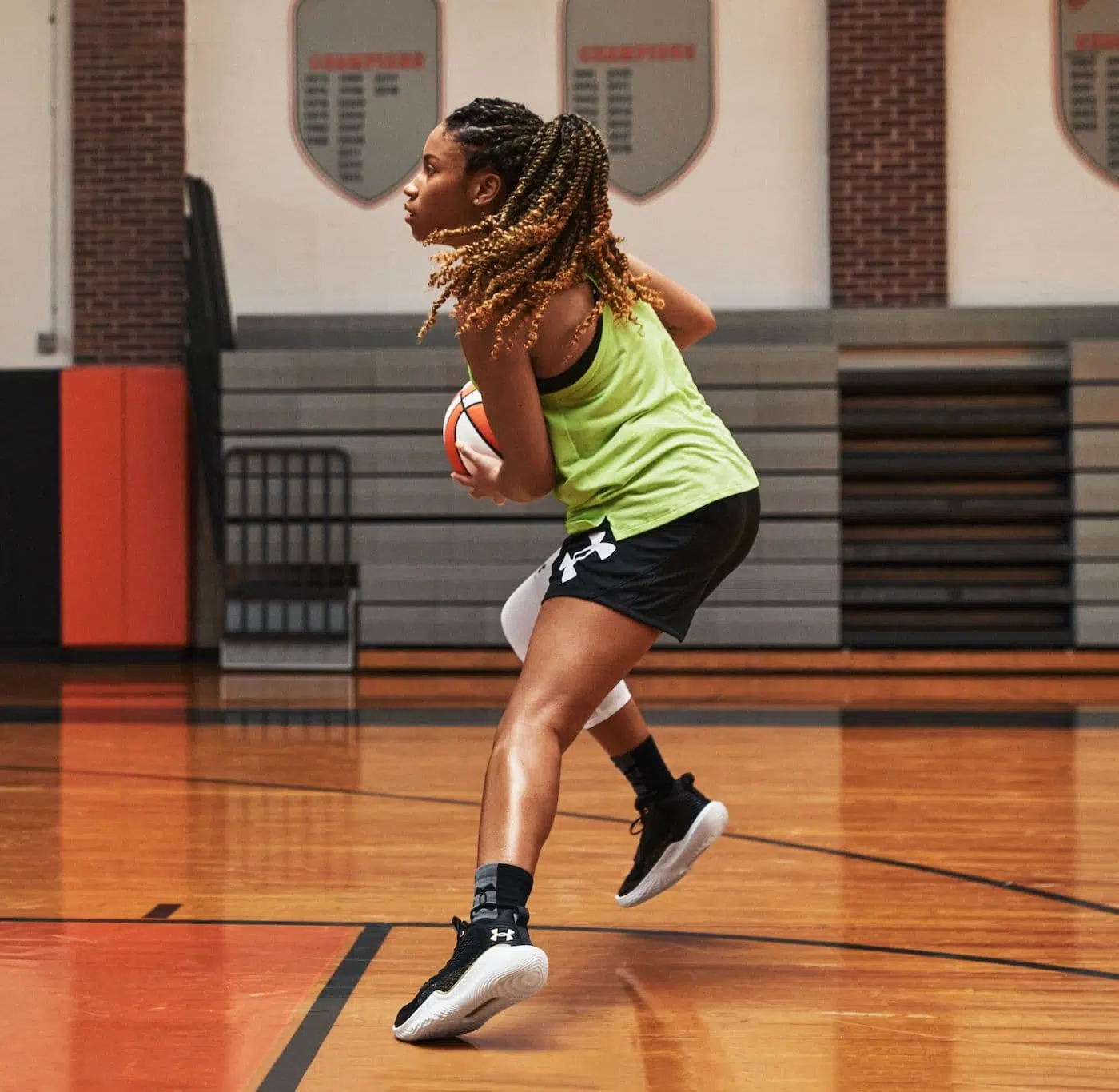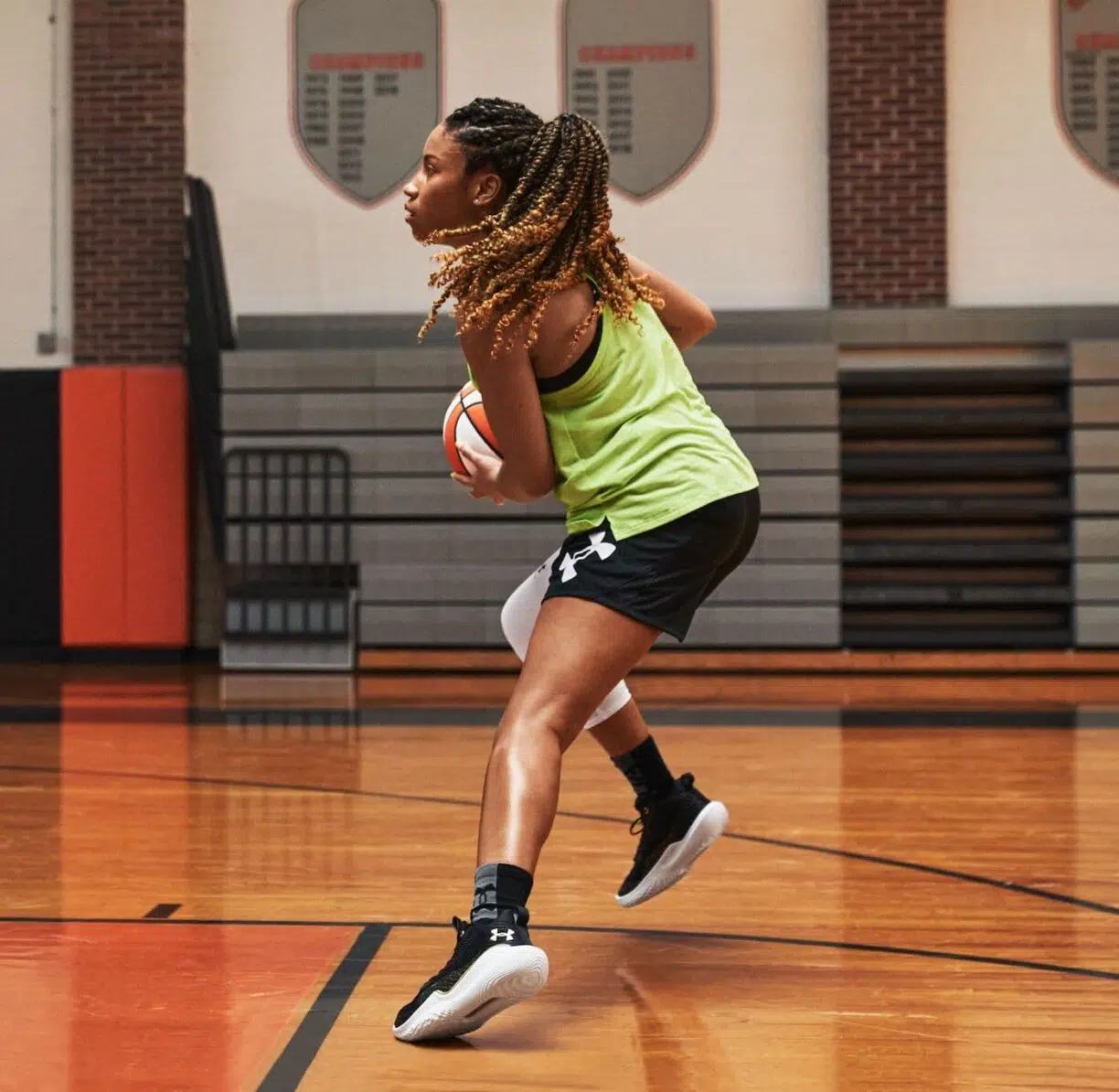 While Dallas Wings guard Tyasha Harris has a few theories as to why this is, she cares less about the past and more about future results.
"I've found power and strength in raising my voice as a young female professional athlete because I'm able to set an example for all the girls who look up to me. I show them that it's OK to speak your truth."

Tyasha Harris
Under Armour has been collaborating with female athletes such as Harris, who joined the UA family last year.
That ongoing dialogue led to the previous release of the HOVR Breakthru, Under Armour's first basketball shoe made for a woman's foot, available exclusively at DICK'S Sporting Goods.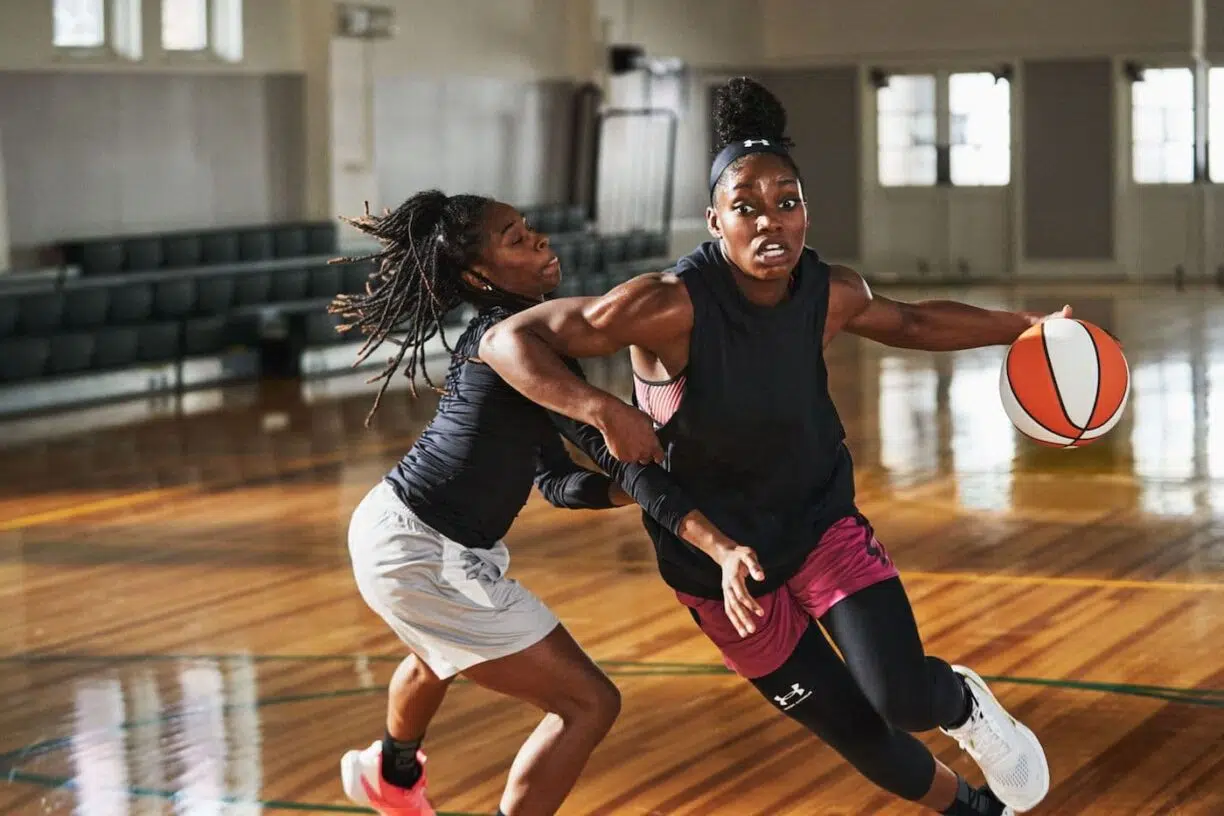 Today, Under Armour builds upon that progress and unveils the FLOW Breakthru 2.
The sneaker pairs the made-for-women innovation of the HOVR Breakthru with the company's groundbreaking UA Flow sole technology, offering female hoopers enhanced grip, traction, and comfort.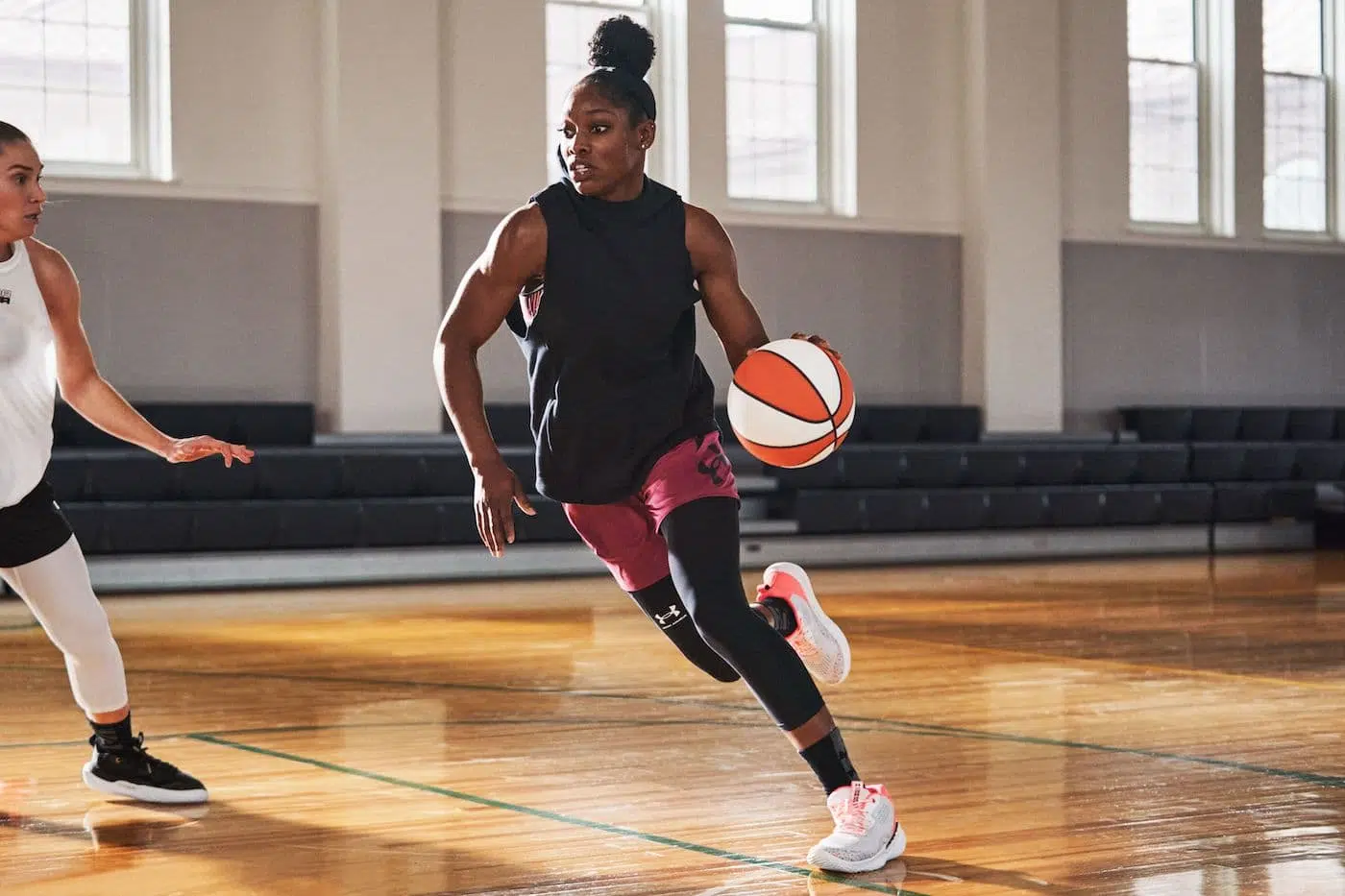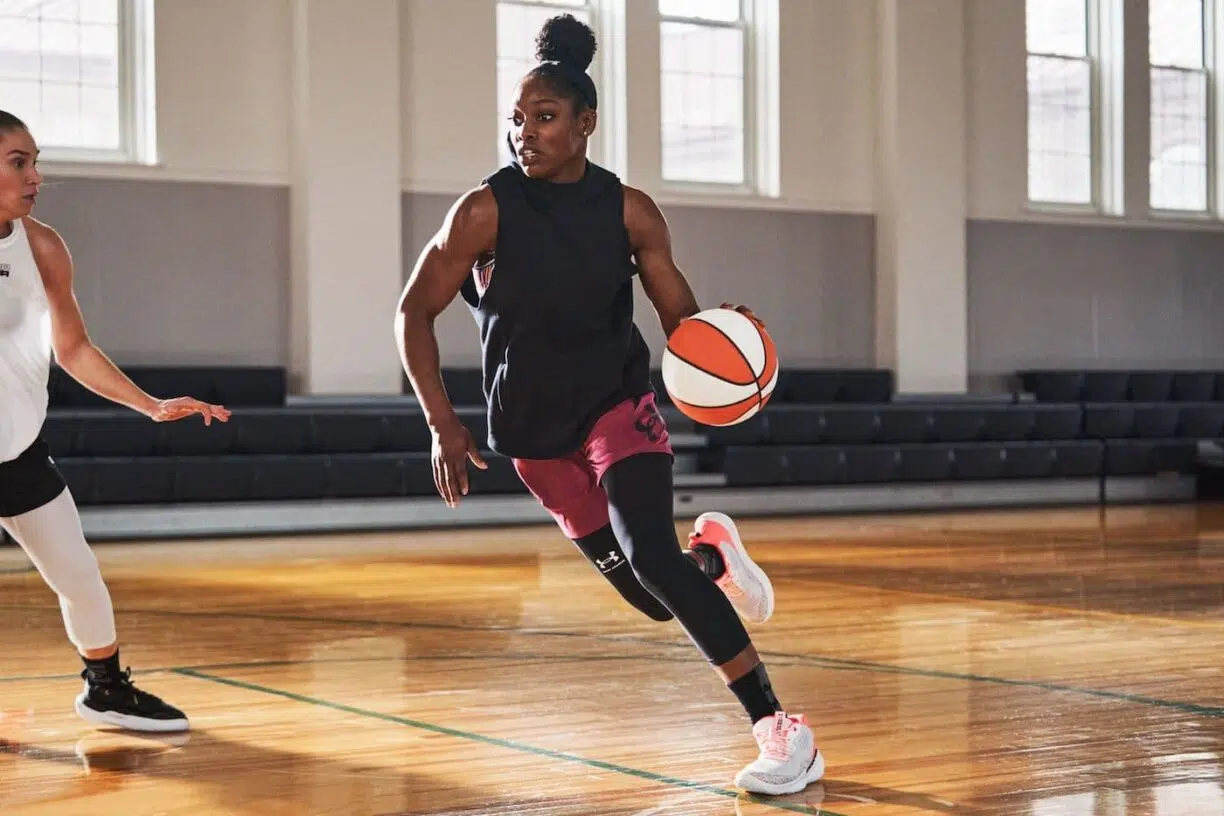 "The basketball footwear space has been fairly male-dominated, but the female foot is different from the male foot. By creating a shoe that addressed those differences, we felt like we had an opportunity to lead the industry by providing female players access to tools that support a better playing experience." – Gabe Heller, director of basketball footwear at Under Armour.
Under Armour designed UA Flow with the modern player in mind. Its cushioning eliminates the rubber outsole and a layer of glue found on traditional sneakers, elements that create stiffness beneath the foot.
The UA Flow's lightweight, grippy features enable players to move with greater efficiency in the flow of today's game, which is seeing more and more players create new patterns of movement in hybrid positions.
Heller says that a woman's foot is more flexible than a man's and has more sensory receptors.
Given those physiological differences, it's no surprise that many women in the past had felt uncomfortable wearing basketball shoes that had their design roots in products made for men.
"In college, we used men's shoes, and sometimes we would have problems with stopping and cutting and stuff like that, but as soon as I stepped into the FLOW Breakthru 2, it was formfitting to my foot," Harris says. "It gives me an advantage. I can change pace anytime I want, change direction anytime I want—more so than with other shoes—because the grip is crazy.
Like the WNBA, the college game has also become a platform for activism. University of Maryland women's basketball coach Brenda Frese, for one, wants her players to empower young athletes everywhere.
"As a team, we always talk about the responsibility that we have to be role models," she says. "We're doing that even more now that our voices are being heard. These young women understand that there's an even bigger role for them off the court than on it."
Harris played college ball at South Carolina for Hall of Fame player and coach Dawn Staley, who showed her players how to have a voice and speak out about issues that go beyond the game.
"She set an example as a powerful Black woman who is highly decorated and says whatever she wants to say," Harris says. "That's part of the reason why being a face for Under Armour means so much to me. I am a Black woman, so I face barriers for being a woman and for being Black, but my success shows younger Black women that you can break down any barriers that come your way."
While Harris and fellow UA WNBA athletes Bella Alarie (Dallas Wings) and Kaila Charles (Connecticut Sun) have helped put their teams in the playoffs, the trio recently took time to collaborate with Under Armour's innovation team on the development of the Breakthru 3, which will launch next year.
In the meantime, the FLOW Breakthru 2 is now available at UA.com and exclusively at DICK's Sporting Goods, the official retail partner of the WNBA.