Last updated on August 23rd, 2021 at 04:31 PM
Many athletes–runners or non-runners alike–have at some point in their sport journey hit the track or pavement in attempt of a mile personal record or "PR".
From dedicated short to mid-distance runners, to team sport athletes trying out for the team at the beginning of the season, or those new to running who are lacing up for the first time, the mile is accessible, while also requiring focused training and preparation to run a personal best. 
UA recognizes the physical and mental benefits of running – even if it's just a mile a day. It's for that reason, and our unwavering mission to help athletes get better, that Under Armour is paying tribute to a globally revered event–the mile.
This year, unique stories from around the world will highlight runners achieving their personal best and getting stronger both physically and mentally. With the UA All Out Mile Challenge, the brand is helping runners world-wide go all out.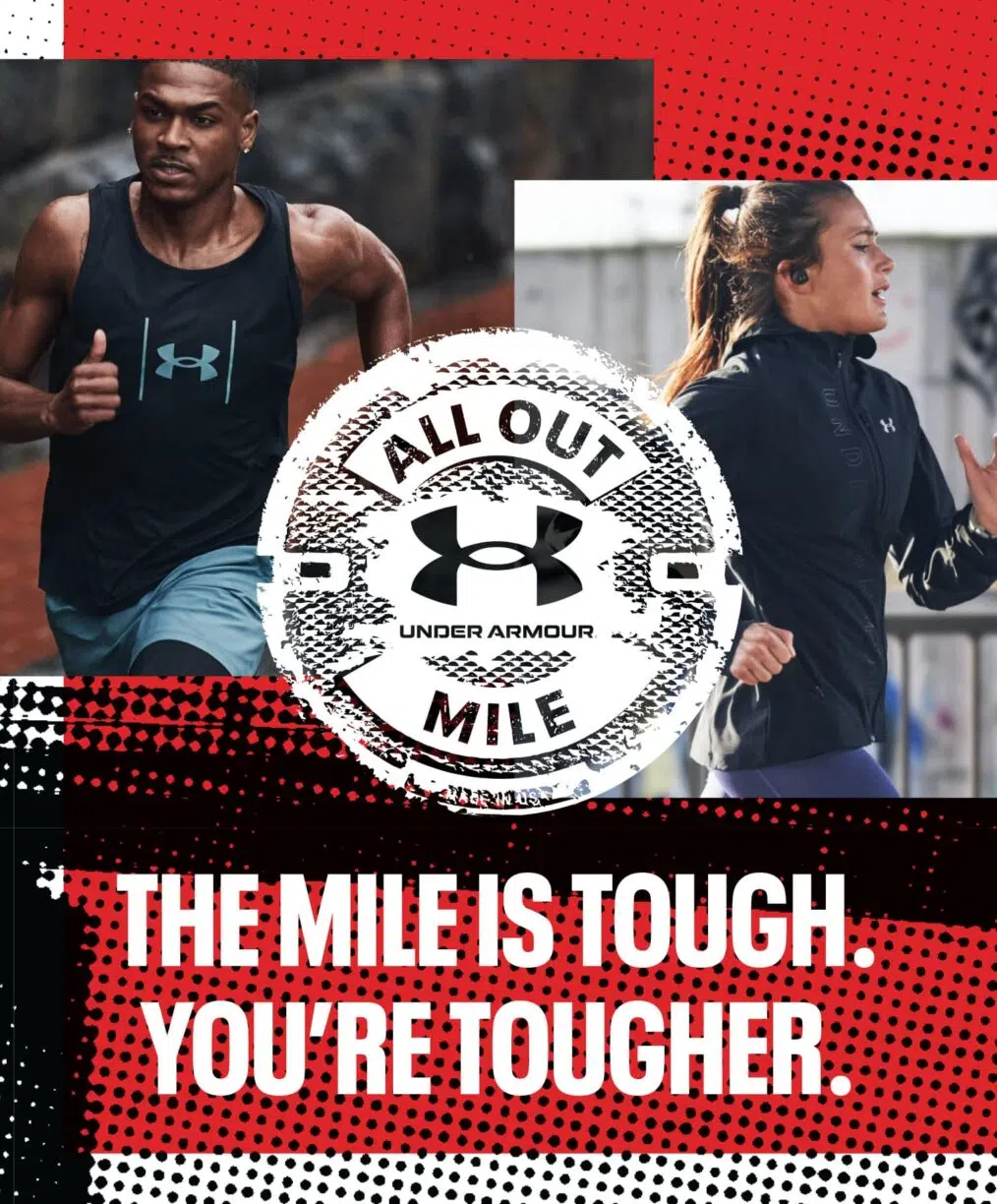 GOING ALL OUT
Under Armour is aiming to inspire thousands of runners around the world to come together as a community and get better.
No matter what getting better means for you, this is a chance to connect with others and achieve your goals.
The pandemic has proven to be challenging for all, but it has encouraged many runners, nearly 40% nationally, to become more active as compared to life before lockdown.
As the pandemic has disrupted many runners' training and routines, the UA ALL OUT MILE is here to help runners maintain routine by motivating and setting new goals.
"When a runner races in the mile, they realise the transcendence of the event, which takes one through a journey of emotions of sensations from dreaming, to discomfort, to pain, to doing whatever it takes to finish strong."

– Mark Pinales, 2020 UA All Out Mile Crew Clash Champion
WHY THE MILE?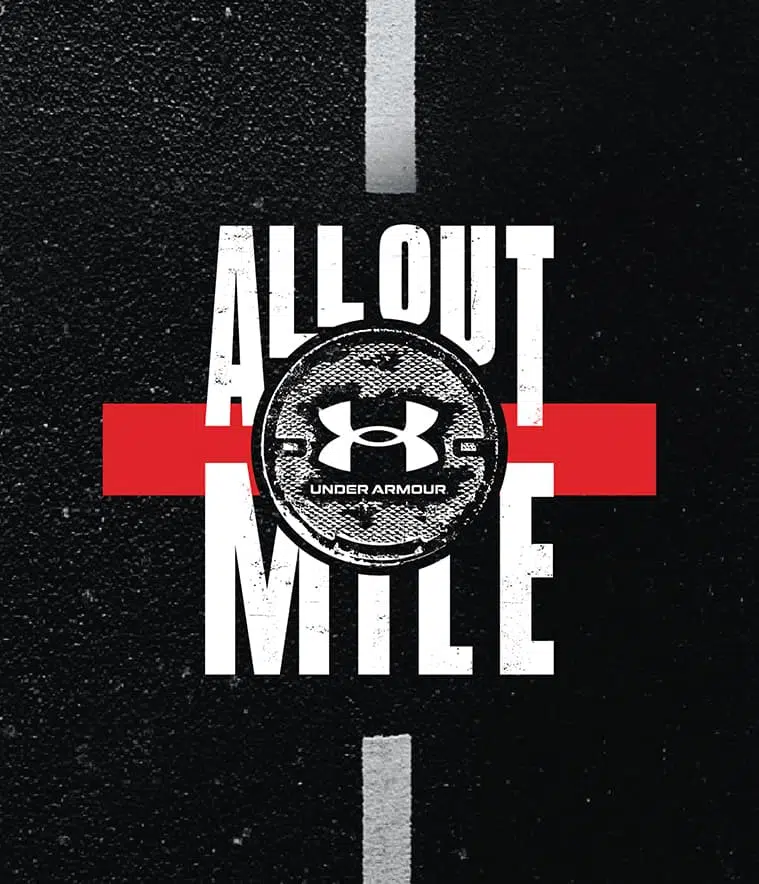 The mile is accessible to runners of all abilities. Whether you're just getting started or have run countless races, the mile challenges the mind and body without beating up your legs.
For the majority of runners, training for longer races can take a serious physical toll.
The time and commitment to training for a longer distance event can prove to be a pretty hefty task.
Although the mile is technically an endurance event, it is on the shorter end of the scale, and luckily, training for the mile looks very different and much more approachable.
Most runners can improve their time with lower mileage weeks and shorter workouts.
"The mile is a discipline that challenges the mind and body. High demands are placed on all areas of our Energy System and also requires a high level of strength and muscular coordination. The mile is technically an endurance event even though it is on the shorter end of the scale, it requires both Anaerobic and Aerobic pathways to be developed in order to run your fastest mile."

– Michael Watts, Director of Athlete Performance at UA's Human Performance Science & Research Center in Portland
Embracing the mile also means that you can set new goals and challenge yourself much more frequently.
For most marathoners, the most they can race is only a few times per year. The common 5ks and 10ks can be run more often, but they still require a decent amount of recovery.
The mile is long enough to bring on a sense of accomplishment and short enough that you'll be able to get back to your training the next day.
WHAT IS THE UA ALL OUT MILE?
The Under Armour All Out Mile is a challenge to improve your mile time with training plans and video tips provided by UA's professional athletes, coaches and Human Performance experts.
Start by registering for the challenge here. Then, automatically track all of your runs by linking your UA MapMyRun™ account on FitRankings. 
Set your benchmark mile and train from AUGUST 30 TO SEPTEMBER 30.
Take advantage of the weekly training plans and video tips directly from UA's professional athletes, coaches and Human Performance experts.
During the UA All Out Mile competition period, go all out and crush your PR from OCTOBER 1 THROUGH OCTOBER 11.
After completing your UA All Out Mile (you can try more than once), your results will automatically be pulled from UA MapMyRun™ and appear on the FitRankings leaderboard. See how you stack up against runners from around the world.
MAKING OUR COMMUNITIES BETTER
Do you remember the pure joy of playing sports as a kid? Or the first time you put on a uniform as part of a team? That feeling is POWERFUL.
Now, imagine not having those opportunities. 78% of low-income children won't experience that same joy or powerful moment due to the ever-growing list of barriers. 
At Under Armour, we believe sports are critical to youth development. As a result, we're dedicated to increasing access and opportunity for all young athletes.
That's why we have committed to awarding the top three teams in the "Most Milers" UA AOM competition with a monetary donation back to a charity of their choice that focuses on increasing access and opportunity for all young athletes. 
Sign up your local crew, club, or create a team for your social followers to support youth sports in your community.
Make a team. Run your UA ALL OUT MILE. Make an impact.
KEY DATES:
17/8/21 – Registration opens 
30/8 – 30/9/21 – Benchmark & Training Period
1/10 – 11/10/21 – UA ALL OUT MILE Week 
From inspiration to perspiration, the UA All Out Mile provides the motivation, the coaching, and the training to run your fastest mile.
Join the UA All Out Mile TODAY by registering at http://uaalloutmile.com/.