Last updated on October 16th, 2021 at 09:40 AM
It is not often all five Dragons offer investment following a pitch but that is exactly what happened after Hanna Sillitoe – best-selling author of 'Radiant – Recipes to Heal Skin from Within' – pitched her all-natural vegan skincare range.
After some deliberation Dragons, Tej Lalvani, and Peter Jones emerged victorious investing a combined £60,000 in exchange for 20% of the business.
Inspired by her personal skincare struggles, Hanna created an all-natural, vegan skincare range formulated specifically for people with skin conditions such as acne, rosacea, eczema, and psoriasis.
Hanna herself suffered from severe psoriasis, eczema, and acne for over twenty years until she began a natural healing process which meant a complete transformation of her diet and lifestyle.
Hanna also took a closer look at what she had been applying to her skin and was shocked at the number of toxic ingredients in seemingly harmless lotions.
So taking matters into her own hands she collaborated with one of the UK's best natural skincare formulators and created a range of skincare and hair care products combining the powers of science and botanicals.
It made complete sense that Tej – CEO of Vitabiotics – UK's number one vitamin company, was keen to get involved with a brand that has such a focus on health and wellbeing.
"Tej was always top of my list," Hanna says. "His brand is centred on wellbeing and he proved in the Den that he completely understood my vision. His connections with some of the UK's biggest health store retailers is obviously massive for me.
Peter focused on my desire to reach out globally and conquer America, so much of my work is online, I don't doubt his tech experience will prove absolutely invaluable to take that side of the business forward. My day in the den was just the beginning. Together we're going to prove a powerful trio and I'm excited for the weeks and months ahead!"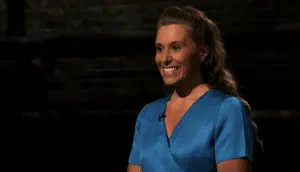 About Vitabiotics
Vitabiotics is a British company committed to human health and research which has pioneered advances in nutritional healthcare for over 45 years.
As the UK's No.1 vitamin company, Vitabiotics has created a unique portfolio of products at the forefront of scientific developments in key sectors, with no fewer than nine brands in the top 20 VMS brands in the UK, including Pregnacare, Wellman, and Wellwoman. 
Vitabiotics is widely acknowledged as leader in innovation and in 2013 became the first vitamin company to receive the Queen's Award for Innovation, awarded for its groundbreaking clinical research.
In 2018, Vitabiotics once again received the Queen's Award for Innovation, becoming the only vitamin company to receive this accolade twice.  
As the fastest-growing major vitamin company in the UK, Vitabiotics exports to over 100 countries and has twice received the Queen's Awards for International Trade.
Designed to provide maximum efficacy by supporting the human body in its own natural processes, each product is developed using the latest research available and is produced to the highest pharmaceutical standards. www.vitabiotics.com