A special variety of super-strength broccoli has been used to create a 'super-soup' that could help people who are looking to lower their blood sugar – a key risk factor for type-2 diabetes.
The benefits of broccoli have been gaining traction as a super-food, but not all broccoli varieties are the same.
This new, unique variety of broccoli is called GRextra. Grown in the UK, it has now been formulated into a 'super-soup' called SmarterNaturally.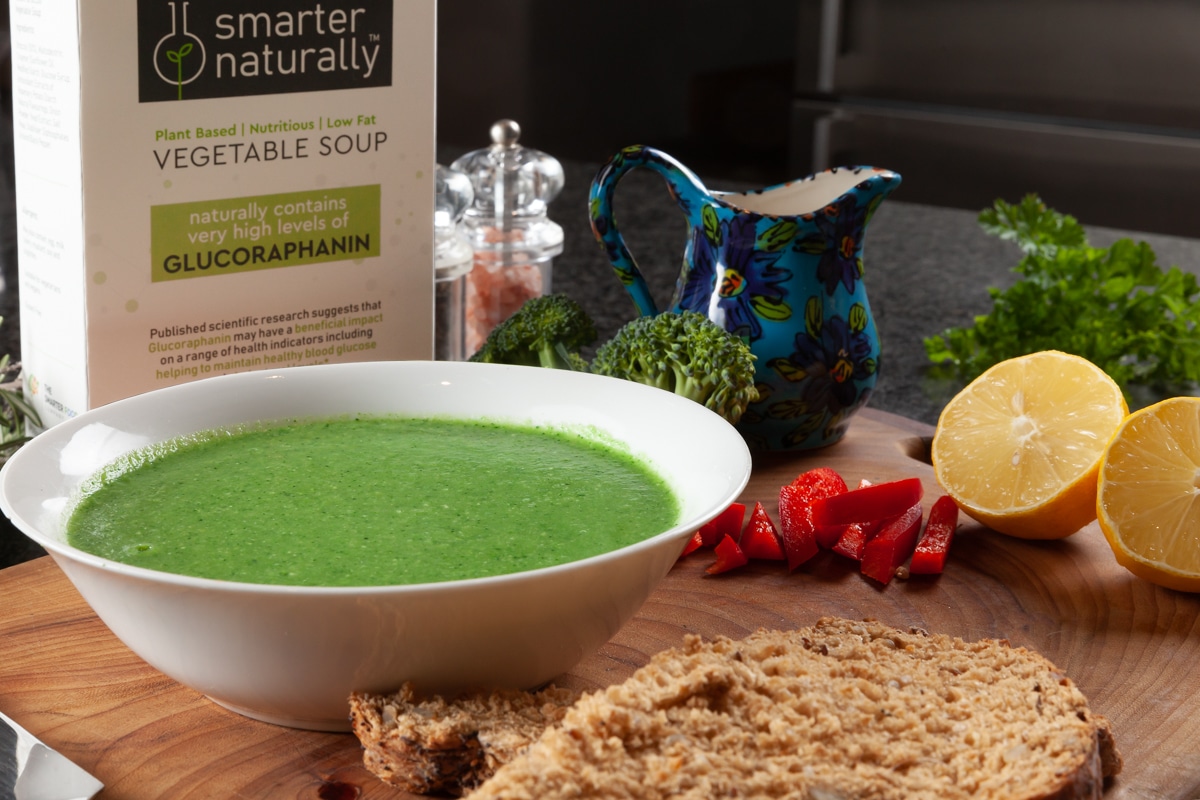 What makes the soup special is its very high levels of a health-boosting molecule called glucoraphanin. Once in our gut, this molecule's active form (called sulforaphane) turns on anti-oxidant genes in our cells, which can help maintain a healthier metabolism – particularly as we age.
A healthier, younger metabolism is linked to all kinds of health benefits, including, lower blood pressure, protection against heart disease and reduced risk of some forms of cancer. But for now, SmarterNaturally is focussing on supporting people with high blood sugar levels.
The soup has been developed by scientists at the Quadrum Institute, a centre for food and health research that combines the Norfolk and Norwich University Hospitals' endoscopy centre and the University of East Anglia's Norwich Medical School.
Lead scientist for SmarterNaturally, Professor Richard Mithen, said: "SmarterNaturally Soup aims to help keep our metabolism young.
Research suggests that eating one bowl a week could deliver enough glucoraphanin and other healthy nutrients to help people maintain a healthy metabolism, which is associated with a reduced risk of developing age-related health conditions like type 2 diabetes, cancer and heart disease."
"What Sulforaphane does is turn on a set of genes that are regulated by the protein NRF2, involved in blood sugar control," said Steve Morrison, a medical biochemist who is head of clinical research for SmarterNaturally.
"Stored sugar is drawn out of the body and we are prevented from laying down more sugar, so that blood glucose levels are lowered when the glucoraphanin-rich broccoli is consumed regularly."
The special broccoli was discovered growing wild in Sicily by professor Richard Mithen. After more than 2 decades of research, it's now finally available to people looking to stay healthier as they get older.
One bowl of SmarterNaturally Soup contains the same amount of active glucoraphanin as eating 5+ heads of raw broccoli, and at a similar cost (£5).
Cooking broccoli often inactivates the enzyme needed to see health benefits from glucoraphanin, hence the stipulation of it being raw. It can be very difficult to get any meaningful glucoraphanin intake by eating broccoli that's been well-cooked.
Active glucoraphanin supplements do exist, but eating one bowl of SmarterNaturally Soup is equivalent to taking 14 supplement tablets in one go– or taking two pills every single day, rather than eating just one bowl of soup a week, and at a similar cost (£5 a week).
SmarterNaturally soup also contains many other vitamins, minerals and health nutrients from eating broccoli which are absent in supplements.
SmarterNaturally launched the delicious 'Super-Soup' last year and many already see it as a game-changer for the many patients at risk of developing type-2 diabetes.
Most pre-diabetics are simply told to change their diet and take more exercise, but figures show that compliance is low and that 20% go on to develop full-blown diabetes within five years. 
SmarterNaturally soup is tasty, affordable and simple to serve, making it a completely new way to support those people working to bring their blood sugar down to healthier levels and hoping to avoid going on to develop type-2 diabetes.
A spokesperson for SmarterNaturally said: "There's a growing body of research suggesting that eating high levels of glucoraphanin in your diet could have a range of health benefits beyond reducing elevated blood sugar too – such as contributing to reducing cholesterol, helping to prevent heart disease and even helping slow or prevent the growth of some cancers. 
And since one bowl of SmarterNaturally soup contains much more glucoraphanin (our current harvest contains five times more glucoraphanin) than any other product on the market, it has a very low impact on lifestyle and it is easy and simple to stick to."