Last updated on July 13th, 2020 at 02:00 PM
By David Saunders | UPDATED: 11:28, 29 April 2020
The vigilant practice of social distancing is key in the battle to reduce COVID-19 infections and the avoidance of follow-on outbreaks.
Whether at today's essential locations or at public spaces opened as restrictions lift, the safety of us all relies on maintaining awareness of this important practice.
To support this need, Indyme, a leading provider of the retail industry technology solutions, introduces The SmartDome.
This new device heightens real-time awareness of social distancing in retail stores, office lobbies, medical clinics, cafe entrances, and other areas where people may be inclined to cluster together.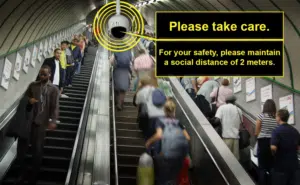 The SmartDome. Heighten awareness and advise your staff and customers with real-time reminders of social distancing in retail stores – especially in areas frequented by multiple shoppers.
A top priority of retailers in this volatile COVID-19 environment is ensuring the safety of everyone in their stores. Social distancing measures are likely to continue for the foreseeable future, even after the UK comes out of the current lockdown until a vaccine is found and made available. Visits to food, chemists, and DIY stores remain essential to most of us.
However, since each visit represents added risk to shoppers and staff alike, retailers have adopted increasingly rigorous cleaning practices and other measures to assure shoppers of their safety, but ensuring compliance of social distancing by hundreds of visitors every day is a challenge. This is where SmartDome is invaluable.
The SmartDome looks like a dome security camera. However, upon detecting people in the monitored area, it will trigger an announcement, such as "For your safety, please maintain at least six feet of social distance." Simple but effective.
The SmartDome is battery operated and a potentially life saving measure that can be simply and quickly deployed; no wiring or technical expertise is needed to install.
Once this pandemic is under control, SmartDome can be repurposed with the flip of a switch to help reduce theft and increase customer engagement, thereby contributing to store operations long after social distancing is no longer necessary.