Purpose. Intent. Progress. We must push forward. Because it's through the work that we rise up in the face of adversity, lifting ourselves and those around us.
And now it's time to raise the bar again–in whatever your "gym" looks like these days, as well as out in the world.
Engineered by Under Armour in partnership with Dwayne Johnson and tested in the Iron Paradise, the most innovative shoe in the Project Rock collection has been through the grind and is now ready for you.
The Project Rock 3 is designed at the intersection of comfort and stability, and for those who choose action and progress.
"Today we choose to move forward WITH FOCUS and with accountability. We appreciate and are inspired by the motivation around us–OUR LOVED ONES, the first responders, the frontline workers, the parents, the people courageously returning to their jobs in spite of the uncertainty–We lift each other up and we fight on, because progress will only come through the work we put in to achieve it. ONWARD." – Dwayne Johnson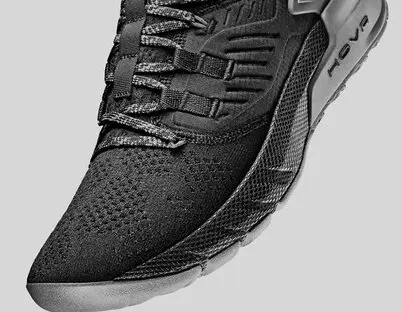 Johnson wears his past proudly and pursues progress boldly, so he and Under Armour collaborated to incorporate his journey into the aesthetic of the Project Rock 3. The texture of the new all-knit upper was inspired by his approach to training and life:
Embrace The Cracks, They're Earned. The knit upper has the added benefit of allowing for maximum breathability during training, and provides stability by locking the foot in place with an external heel counter to power through every rep.
The Project Rock 3 boasts a combination of Under Armour's latest innovations, including UA TriBase and UA HOVR technologies that drive pure performance with plush comfort.
UA TriBase maximizes ground control and forefoot flexibility, driving explosive plyometric movements. Simultaneously, UA HOVR technology lays a soft and responsive cushioning in the midsole that provides a comfortable foundation that can withstand Johnson's heaviest of lifts.
The Project Rock 3 comes in men's, women's and youth sizes, and retails for $140 USD ($120 USD Youth).
The shoe can now be purchased on UA.com, at UA Brand Houses and in select global retailers.