Last updated on September 3rd, 2021 at 08:38 AM
By Luke Rix-Standing, PA | UPDATED: 08:28, 29 May 2020
Matthew 'Ollie' Ollerton spent six years on the frontline in Iraq, faced down child sex traffickers in Thailand, and was one of five out of 350 to be selected for the SAS, but his greatest foe is and always will be an aggressive chimp.
At just 10 years old, a family trip to the circus was cut short when a 50kg primate went rogue, pinning Ollerton to the ground and swiping at him wildly.
It sounds surreal, even comical, but in reality it was anything but. "It was hideous," he says, "I nearly lost my life. At that age, you're greatly influenced by your environment, and I've only unravelled the complexity of that trauma recently. I might not even have joined the special forces if not for that chimp."
Ollerton's brush with mortality left him in constant search of danger, and he resolved to join the army by age 14. Fast forward to 2020 and he stands the other side of a glittering military career that helped him land two book deals, and a job as DS on Channel 4's SAS: Who Dares Wins.
But his journey has had as many troughs as peaks, and come at great personal cost. His latest book, Battle Ready: Elimina
te Doubt, Embrace Courage, Transform Your Life, draws on a decades-long struggle with, and victory over depression and alcoholism.
He describes his younger self as "an extremist in all things" and his need for intensity developed into something bordering a death wish.
A tour of Northern Ireland was followed by deployment on Operation Desert Storm, but Ollerton still felt unfulfilled. "I wanted to go to war," he recalls, "and fighting every day made me feel alive, but there was something massive missing in my life and I couldn't work it out."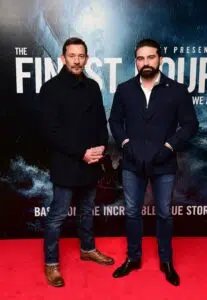 He may not have been satisfied with the military, but the military was extremely satisfied with him, and he was recommended for the SAS at the tender age of 24. One gruelling six-month selection process later, Ollerton was a qualified frogman and mini-sub driver, deployed on everything from hostage rescue to covert counter insurgency.
But it still wasn't enough, and after hanging up his uniform, Ollerton worked as a private contractor in Iraq. "I didn't think I'd come back from there," he recalls, "I was working out of a war zone and we were being attacked regularly. I was drinking too much, I was taking valium, I was taking steroids. It had such a detrimental effect on my mental state, and there were many times in Iraq that I was in a bottomless pit."
Brought up in a brewery town, Ollerton was surrounded by booze from a young age, and slipped into alcoholism in ea
rly adulthood. "I used to have so much stuff in my head and I would always reach for alcohol to numb the noise. I was either working, or having a few drinks."
His personal life was strained, and provided little stability. "I had quite a contaminated view of relationships," he says, "and I was moving from one to the next like a car lease – there was always an overlap. There's a big difference between being supportive and just enduring. People think they're supportive just by being there, but it takes more than that."
Ollerton finally found purpose as part of a civilian team freeing child sex slaves in Thailand. But a political situation led him to flee the country and, having self-funded the operation, Ollerton again found himself at home with nothing to his name.
SELF CRITICISM IS AN ACCEPTANCE SPEECH FOR FAILURE
Good morning all ???? Don't allow yourself to be over self critical and whatever you do don't allow the acceptance of failure encourage you to give up. Breathe through the short term discomfort and amazing things will happen. pic.twitter.com/RSc7RpQktB

— OLLIE OLLERTON (@ollie_ollerton) May 11, 2020
"That was the worst stage of my life," he says, "but it was the most humbling thing I've ever done. The thing I took away from it was understanding the gift of helping people. It's the most powerful thing, and something you can't buy."
Despite the darkness, Ollerton returned to the UK with a renewed personal and professional purpose, and after a period of self-imposed isolation, he constructed a road map to lift himself from the funk. He stopped drinking – "a mental milestone, a win that affected everything in my life" – and gained an almost philosophical approach to human frailty.
"No one could achieve the four-minute mile before Roger Bannister," he says, "but as soon as he'd done it, everyone else was smashing it within months. Suddenly people understood it could be done. We create so many limitations and barriers for ourselves."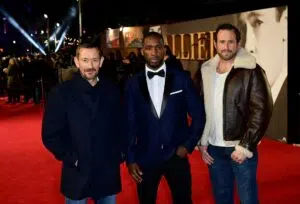 In 2014, Ollerton started developing Break Point, a company devoted to helping members of the public achieve positive growth and development, which shares its title with his first book. Channel 4 came calling not long after, and Who Dares Wins recently concluded its fifth civilian series and second celebrity one.
Now 49 and a fount of energy and positivity, you might think lockdown would be unkind to the reformed Ollerton, but with the right frame of mind, he insists the pandemic can be an opportunity.
"A lot of what's going on is similar to when people leave the military. The scaffolding to their day has fallen apart, the camaraderie is gone, and they're suddenly left with this void. At the end of the day, the one thing we can control is our immediate environment, and my life used to be dictated by external factors. It's when you start looking within that you become more resilient, more robust, and stronger from the inside out."
Nothing beats a day out to clear your head, get some clarity and really appreciate all you have.
There's someone out there that would pay to have your problems!
Happy Sunday ????????#activelifestyle #positivequotes #mentalhealthawareness pic.twitter.com/5mVUiZLM98

— OLLIE OLLERTON (@ollie_ollerton) May 24, 2020
Ollerton gets up at five in the morning, and until nine o'clock is scheduled me time – for meditation, nutrition, physical and mental health. "When I get up on my terms, I take myself to the day and I dominate. Put some structure into your day where you're investing in yourself, and it will pay back tenfold."
Ollerton is still fighting, but now he's fighting on his terms. "I'm in a battle every day, just like everyone else, but I'm fighting to create a better version of myself. It's all about short-term discomfort for long-term gain."
"It all stems back to getting attacked by that chimp," he continues. "I was laying under the chimp, and it was ripping me to bits, and I had to retaliate to avoid being killed, even though it could have made the chimp angrier. That's why my company is called Break Point, because of that moment."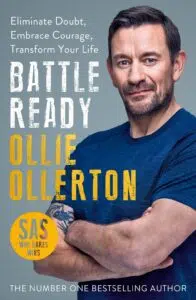 Battle Ready: Eliminate Doubt, Embrace Courage, Transform Your Life by Ollie Ollerton is published by Blink Publishing, priced £20. Available on Amazon now.